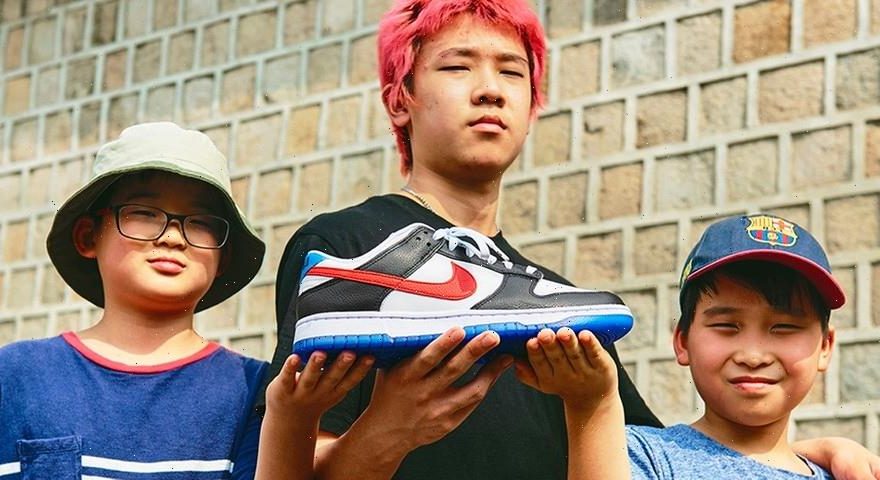 The Nike Dunk Low "Seoul" Is an Ode to South Korea
Set to arrive ahead of the National Liberation Day of Korea (August 15), the day the nation gained independence, the
The patriotic release is fittingly inspired by the flag of South Korea, also known as the Taegukgi. The colors of red, blue, black and white found on the shoe are drawn directly from the flag. The tones serve to represent the key components of a nation the land (white background), the people (the red and blue circle) and the government (the four sets of black bars or trigrams).
To mark the upcoming release of the shoe, HYPEBEAST KR took the shoe to celebrate the citizens of South Korea's capital, Seoul. The exploration throughout the city involved people from various walks of life highlight the excitement around the shoe that serves as an ode to the nation they call home.
Founded in 1968, the Sewoon Shopping Center served as Korea's first electronics market under the mission of creating a thriving business community complex and has been around for over decades. An elderly truck driver in the parking lot of the shopping center touched on the lightweight quality and striking design of the Nike Dunk Low "Seoul." Elements that are essential for any shoe regardless of gender or generation. While an of a hardware store located in Seoul's longstanding and thriving Euljiro district noted that Dunk Low was a model that his now-adult son asked for more than 20 years ago. Highlight the everlasting relevance of the silhouette introduced all the way back in 1985.
A high school student enjoying a self-photo studio in Seoul's happening neighborhood of Hongdae. revealed that she had her sights set on the Dunk Low "Seoul." Already making plans with her friends to get the shoes despite the inevitable difficulty. While a seamstress in the bustling Myeong-dong district and office worker on his way home from work on the Airport Railroad both wondered about the hype surrounding the shoe with the latter asking about the resale price.
Three brothers gathered at Gyeongbokgung, the main royal palace of the Joseon dynasty, collectively marveled at the look of the Dunk Low "Seoul." Growing up abroad, the group talked about the shoe, asking how they could buy the release while their mother stood watching. A Taekwondo instructor that had just finished teaching a children's class in Seoul's Seogyo-dong neighborhood showed off a variety of kicks while wearing the shoes. Sharing how they perfectly synergized with her natural foot movement in every way. Finally, a traditional cafe owner in the aforementioned Euljiro district shared how the shoes matched her pants and would be great for walking while setting down kudzu (arrowroot) tea with a glass of ice.
Priced at $110 USD, the Nike Dunk Low "Seoul" is set to release August 12 on Nike SNKRS Korea as a South Korea exclusive.
View this post on Instagram

A post shared by HYPEBEAST Korea (@hypebeastkr)
View this post on Instagram

A post shared by HYPEBEAST Korea (@hypebeastkr)
For more footwear news, Hiroshi Fujiwara recently revealed the fragment design x Nike Dunk High "Black/Navy."
Source: Read Full Article