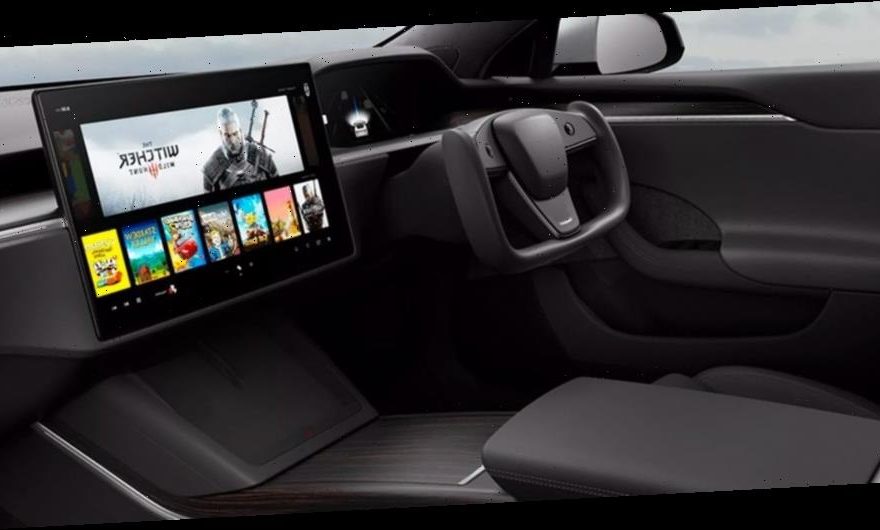 Elon Musk Reveals 'Cyberpunk 2077' and 'The Witcher 3' Are Playable in the New Tesla Model S
Last week, Elon Musk asked fans on Twitter if they wanted to see The Witcher game available on
The latest Model S update boasts a 10-teraflop gaming computer that supposedly "enables in-car gaming on-par with today's newest consoles." Every Model S will also come with "wireless controller compatibility that allows gaming available from any seat."
The interior redesign is the Model S's first major update since its 2012 debut. Similar to the Model 3 and Model Y, the center screen commands attention at 17-inches while rear-seat passengers get an 8-inch screen that offers the same gaming functions as the main screen. With its main screen, Tesla promises "2200×1300 resolution, ultra-bright colors with exceptional responsiveness and left-right tilt", further claiming that "the new center display is an ideal touchscreen for entertainment and gaming anywhere."
To ensure that passengers can enjoy Tesla not only for its automotive capabilities but as an alternative gaming den, the interior features includes three-zone climate control, heated and ventilated seats all around, and more sculpted rear seats, and a new fold-down armrest with cupholders. Its 22-speaker audio system, ambient lighting, and glass roof add to the comfortable gaming atmosphere inside the Model S.
Though the interiors appear to steal the show, the refreshed Model S will see a new front bumper, new 19- and 21-inch wheel designs, and a tweaked rear diffuser. Matching the Model Y exterior trim, the Model S is finished in black, however, the white color palette is still the only no-cost option.
According to recent tweets from Elon Musk, both Cyberpunk 2077 and The Witcher 3 will be available to play on Tesla.
Those interested can check out the claims for themselves on Tesla Model S.
In case you missed it, the Bloodhound LSR is a potential 1,000mph rocket-car selling for $11 million USD.
Source: Read Full Article