Danai Gurira, aka general Okoye of Wakanda's badass Dora Milaje, sat down for an interview on Thursday night's episode of Hell of A Week with Charlamagne Tha God and emotionally shared what it was like to film the highly-anticipated Black Panther sequel without the late Chadwick Boseman.
In response to Charlamagne's question of if she felt like doing the movie without Chadwick was "even possible" given the heartache of his absence, Danai said, after a momentary pause, "There's an extent to which it was an act of faith. It was an act of belief that what he went through, and what he did to give what he gave to the world, we had to give our all to give back to him."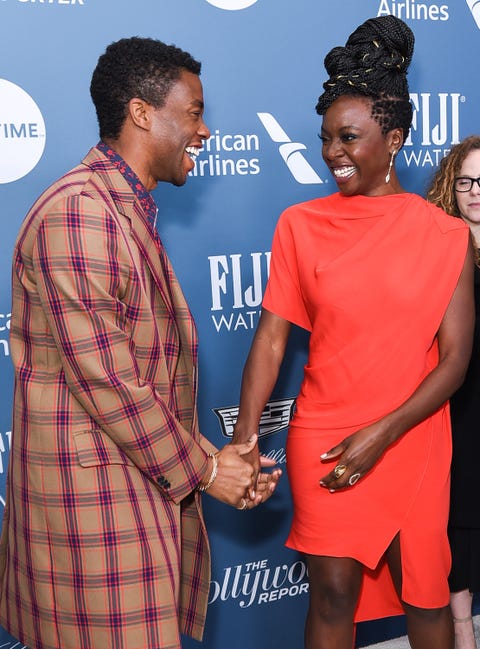 Danai also said "there were changes [to the script], of course," after Chadwick passed, and she was "surprised" when director Ryan Coogler said they were still going to do the movie and he was going to write the screenplay. "But then when he said, 'I know this is what he would have wanted. He would have wanted us to carry the story on,' I knew immediately that that was accurate. That's who he was."
The actress also dished on how she prepped for all the swimming in the film, which she "got really excited about" since she "was a competitive swimmer as a kid" and it's still her favorite sport. "I went all in," she said. "I got—on my own—an Olympic swim trainer and went all in and tried to learn as well as I could." Love the commitment, truly!
Danai also mentioned she "thought it was a really cool thing just to see Black folks swimming. I don't think we get to see that enough."
Black Panther: Wakanda Forever immediately grossed $331 million worldwide during its opening weekend last week, having the second-largest opening weekend of the entire year, according to Forbes. So, basically, this is required viewing:
Get 'Black Panther: Wakanda Forever' Tickets Now
Hell of A Week with Charlamagne Tha God airs every Thursday at 11:30 p.m. ET on Comedy Central. Streaming is available on Paramount+.
Source: Read Full Article