The new horror film is a sequel to the 1973 original and also the start of a new trilogy, from Blumhouse and the director of the recent Halloween films, David Gordon Green.
Chris MacNeil is back, facing off against a pair of possessed children in a new sequel to The Exorcist.
Universal's The Exorcist: Believer is a direct followup to the 1973 horror classic and features the return of Ellen Burstyn as MacNeil, an actress whose daughter Regan (Linda Blair) shared a body with a demon back in the day.
The legacy sequel comes from David Gordon Green, who pulled a similar move with the Halloween franchise by bringing back Jamie Lee Curtis for a trio of films from 2018-2022. Like that series, Believer is also the start of a new trilogy.
Unable to render YouTube Video.
The new movie follows the families of two girls who appear to be possessed after going missing for three days. As the footage shows the children looking a lot like Regan, speaking in tongues and popping up covered in blood, their parents — including Leslie Odom Jr. — reach out to MacNeil for help.
When asked if she has experience with possession, she tells Odom Jr.'s character, "Yes, more than I'd like."
It also appears the demon possessing the two girls is the same one who inhabited her daughter, as she tells the entity, "We've met before."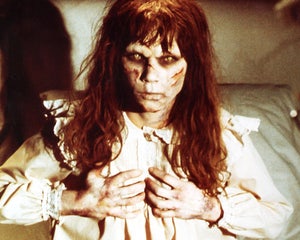 Linda Blair Reacts to New Exorcist Trilogy — Says She Has Not Been Asked Back!
Read the official synopsis below:
Since the death of his pregnant wife in a Haitian earthquake 12 years ago, Victor Fielding (Tony winner and Oscar® nominee Leslie Odom, Jr.; One Night in Miami, Hamilton) has raised their daughter, Angela (Lidya Jewett, Good Girls) on his own.
But when Angela and her friend Katherine (newcomer Olivia Marcum), disappear in the woods, only to return three days later with no memory of what happened to them, it unleashes a chain of events that will force Victor to confront the nadir of evil and, in his terror and desperation, seek out the only person alive who has witnessed anything like it before: Chris MacNeil.
For the first time since the 1973 film, Oscar® winner Ellen Burstyn reprises her iconic role as Chris MacNeil, an actress who has been forever altered by what happened to her daughter Regan five decades before.
The movie also stars Ann Dowd, Jennifer Nettles and Norbert Leo Butz and opens October 13.
Universal also confirmed Tuesday that the second installment of the trilogy, The Exorcist: Deceiver, will hit theaters in time for Easter weekend on April 18, 2025.
Source: Read Full Article