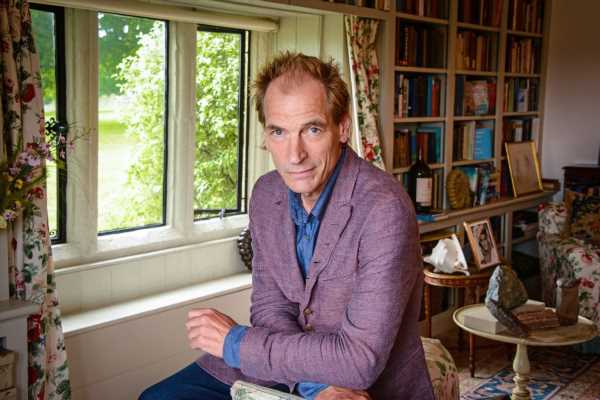 Julian Sands' cause of death remains unknown weeks after his remains were found on Mount Baldy in Southern California.
"The cause is Undetermined due to the condition of the body and the fact that no other factors were discovered during the coroner's investigation," the coroner for the San Bernardino County Sheriff's Department told CBS News in a statement on Monday, July 24. "This is common when dealing with cases of this type. This is the final determination."
Authorities confirmed last month that hikers discovered human remains near the site where Sands disappeared in January. Days after the remains were found, the sheriff confirmed they belonged to Sands.
"The identification process for the body located on Mt. Baldy on June 24, 2023, has been completed and was positively identified as 65-year-old Julian Sands of North Hollywood," the police said in a statement at the time. "The manner of death is still under investigation, pending further test results. We would like to extend our gratitude to all the volunteers that worked tirelessly to try to locate Mr. Sands."
In order to view the video, please allow Manage Cookies
Sands was identified as one of two hikers who went missing on January 13 in the San Gabriel Mountains. Gloria Huerta, a spokesperson for the San Bernardino County Sheriff's Department, said at the time that Sands' wife, Evgenia Citkowitz, reported her husband missing.
Rescue groups began looking for Sands that same day, but the ground search was suspended because of weather conditions in the area. In the meantime, searchers used helicopters and drones to look for the missing actor.
The second hiker, Bob Gregory, was reported missing by his family on January 16. Gregory's remains were recovered in February near Mount Slip in the Angeles National Forest.
Celebrities We've Lost in 2023
Prior to Sands' death, he was best known for his work in films including A Room With a View, Leaving Las Vegas, Warlock and The Girl With the Dragon Tattoo. He also appeared in the TV shows 24, Dexter, The Blacklist and more.
When he wasn't acting, Sands was known as an enthusiastic mountaineer. "I love climbing mountains, I've spent a lot of time in the Alps over the years, a lot of time in the Andes, Alaska and the American ranges," he told Thrive in May 2020. "It's about supplication and sacrifice and humility, when you go to these mountains. It's not so much a celebration of oneself but the eradication of one's self-consciousness."
Sign up for Us Weekly's free, daily newsletter and never miss breaking news or exclusive stories about your favorite celebrities, TV shows and more!
Sands is survived by Citkowitz, 59, and their daughters Natalya, 26, and Imogen, 23, and son Henry, 37, whom he shared with ex-wife Sarah Harvey.
For access to all our exclusive celebrity videos and interviews – Subscribe on YouTube!
Source: Read Full Article