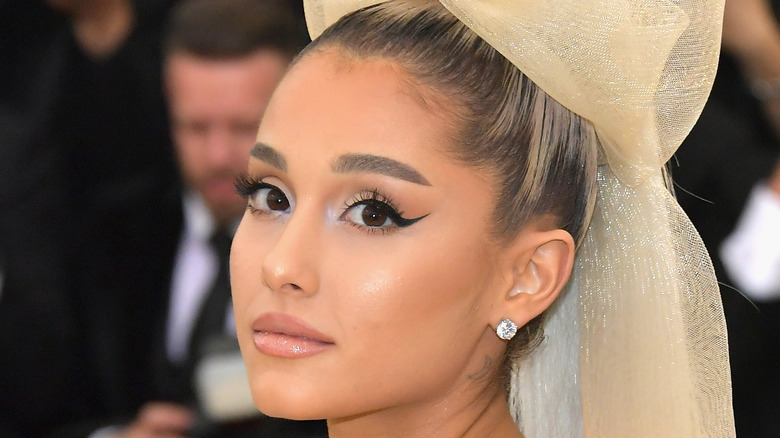 Neilson Barnard/Getty Images
By Mike Nied/Aug. 30, 2021 11:09 am EDT
With her sky-high ponytail and winged liner, Ariana Grande is instantly identifiable. The pop princess has a distinct look that's almost as beloved as her solid-gold tunes. Although she has a trademark singing style that she rarely strays from, the hitmaker does mix it up a bit more when it comes to fashion.
The pint-sized diva has proven time and again that she can give us Hollywood glamour on the red carpet. She's also been known to throw in a fashionable reference to decades past. Take her "thank u, next" music video (via YouTube) for example, which featured fashion and scenes inspired by teen movies popularized in the early aughts. Of course, there's her appreciation for animal ears, such as the unforgettable black bunny ear mask she wears on the cover of her "Dangerous Woman" album (via Instagram) or the cat ears she used to love (via Bustle). That's just scraping the surface of the superstar's wide-ranging aesthetic.
Clearly, she's got the range in a vocal and fashion sense. However, while she's capable of pulling off any look, Grande is arguably at her most recognizable when she's a little dressed down.
An oversized sweatshirt is a staple in Ariana Grande's offstage uniform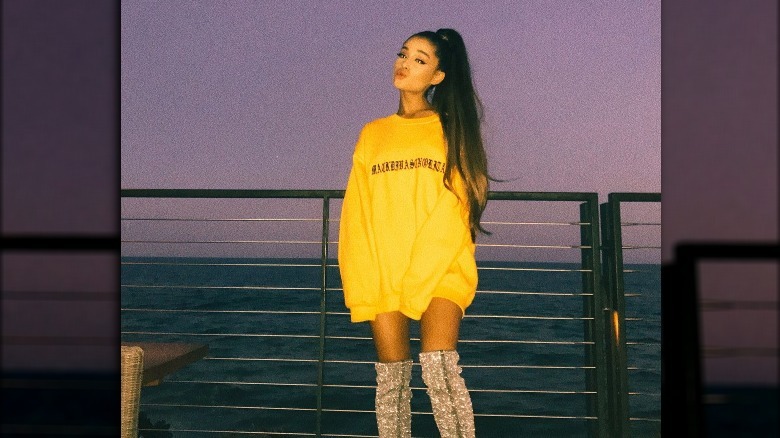 If there's one thing that Ariana Grande loves as much as her signature ponytail, it would have to be an oversized sweatshirt. There's a reason Seventeen told readers that the easiest way to cop the singer's style is by "diving into a pile of sweatshirts." She seriously wears them all the time. And she's proven just how versatile the relatively simple article of clothing can be by wearing it in a variety of ways.
The "One Last Time" siren paired a One Love Manchester sweatshirt with relaxed denim and sleek black booties during her 2017 benefit concert for the victims of the Manchester bombing (via Harper's Bazaar). Similar looks popped up on her Instagram account over the years. She's also frequently snapped by the paparazzi rocking the supersized top out and about. In those cases, the sweatshirt is often so large that she wears it as a dress paired with knee-high boots.
It doesn't even necessarily have to be a sweatshirt. A hoodie or jacket works in a pinch, like when she stepped out sucking a lollipop alongside former beau Pete Davidson in a yellow hoodie and taupe thigh-highs (via The Cut). All that really matters is that the article of clothing is at least two or three sizes too big. Grande's affinity for the look is so well documented that Vogue UK dubbed her the "Queen of cosy style."
Ariana Grande's penchant for oversized sweatshirts sparked a meme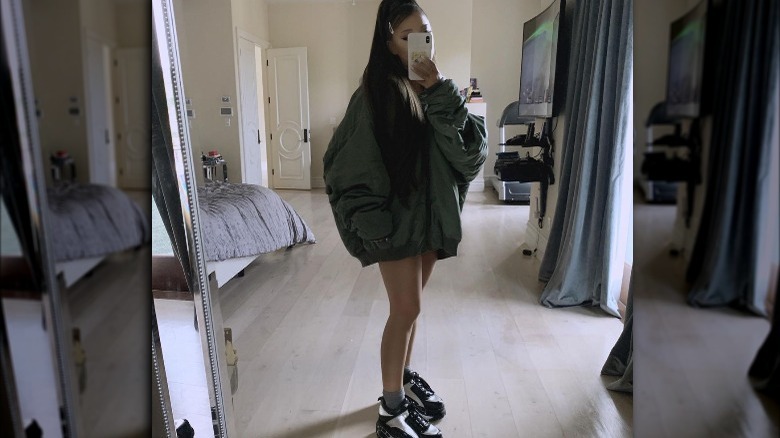 You know something is truly iconic when it becomes a meme. Well, that's exactly what happened with Ariana Grande's appreciation for oversized sweatshirts. In 2019, Insider noted that a series of TikToks popped up poking fun at the diminutive diva's penchant for extra-large clothing. The meme, identified as Ariana Grande's Sleeves on Know Your Meme, finds users completing everyday tasks such as making a sandwich or washing their hands without rolling back their sleeves.
According to Know Your Meme, the first such video popped up in November. It's since been deleted, but a multitude of others exist on TikTok. The post format translated over to Instagram where Grande noticed it. The "34 + 35" pop star is familiar with the art of being memed. Remember when she almost got bowled over by a supermodel at the Victoria's Secret Fashion Show and thus spawned an incredibly iconic meme format (via Us Weekly)?
She handled almost being slapped by a pair of angel wings with grace and a renowned sense of humor on Twitter. And she had an equally funny response when her sweatshirts were memed. "Man if y'all don't leave me alone," she wrote in the comments section of one of the Instagram posts (via InStyle). "This makes me so anxious."
Memers can poke fun all they want, but considering the overwhelming popularity of oversized sweatshirts thanks to her style game, it's safe to say Grande had the last laugh.
She turned oversized sweatshirts into a seriously popular style trend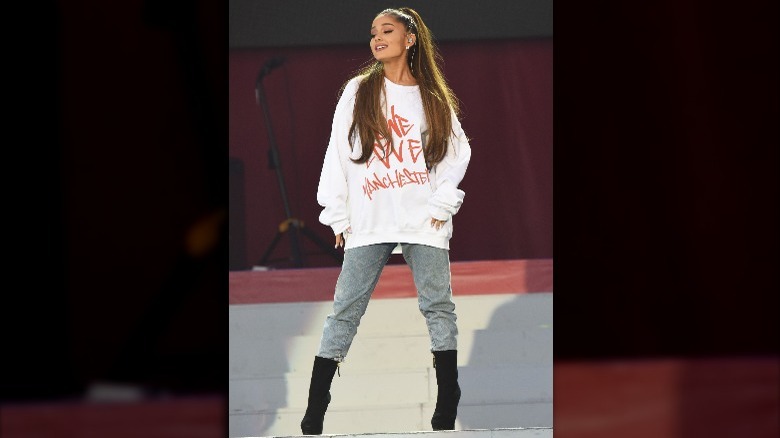 All it takes is a passing glance at Ariana Grande's history on the Billboard Hot 100 to recognize that the hitmaker is a force to be reckoned with. She has six number-one hits on the chart, after all. Grande's cultural relevance extends well beyond the realm of music, though. Her extra-large fashion style is a prime example.
The ponytail aficionado's love of comfy fashion is well-documented. It's even mentioned in a 2019 profile with Vogue. It turns out that Grande's tendency toward rocking oversized sweatshirts sparked a trend. In 2018, Lyst dubbed Grande the 10th most influential celebrity in terms of styling trends. The honor put her in a class featuring fellow chic pop stars such as Rihanna, Beyonce, and Cardi B.
According to Lyst, what they called "the Ariana effect" inspired a 130% surge in searches for oversize sweatshirts. Teen Vogue explained that the singer's love of pairing these sweatshirts with extra-high boots was called lampshading and showed readers how to cop her style. Thanks to these helpful how-tos and evidence that the public envied her style, it's safe to say that Grande's style game is seriously legendary.
Ariana Grande is the queen of oversized fashion in general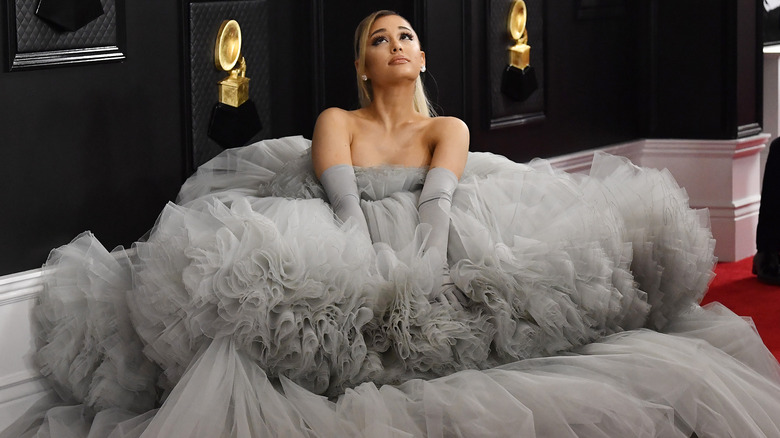 Obviously, Ariana Grande has a thing for oversized streetwear. But that's not the only time the "Into You" hitmaker prefers over-the-top fashion. For instance, she rocks a bulky top in the music video for her Social House collaboration "boyfriend" (via YouTube) and showed out in dramatic balloon sleeves in the campaign video for her 2019 Givenchy collaboration (via YouTube). There have also been several examples from her red carpet appearances.
A standout example is potentially the one with the pettiest backstory. Grande is generally low on drama; however, she made a statement by skipping the 2019 Grammys after allegedly clashing with the showrunners about a performance (via Elle). That means she also lost an opportunity to serve a fierce look on the red carpet, but the singer was not deterred. Instead, she turned to Instagram to showcase the stunning and absolutely supersized Zac Posen gown she planned to wear at the show.
That story has a happy ending, too. While Grande didn't attend the biggest night in music in 2019, she was very much in attendance for the 2020 awards show. If possible, her red carpet dress that year was even bigger than what she had planned for the year prior (via Elle). One thing you can say about Ariana Grande is that she continues to one-up herself.
Source: Read Full Article