Luke Tadashi is a basketball zealot. The game has permeated his life, from scoring baskets on his Little Tikes hoop to playing on the AAU circuit as a young adult to the present day. Growing up in Los Angeles, CA, Tadashi didn't just view basketball as a sport, but a vehicle for expression, which is why he gravitated towards the fashion sensibilities that his favorite players like Michael Jordan and Kobe Bryant were exhibiting during their careers. This lifelong fandom manifested into a fervor for sneakers and ultimately led to him co-founding Bristol Studio, an imprint that intersects hoops and design.
Plenty of sneakers have traveled in and out of Tadashi's personal stash. Throughout his time as a sneaker die-hard, he recalls being a fan of Kobe's signature line with adidas as well as the Swoosh's Flyknit lineage, but if there's one silhouette that he has the biggest soft spot for, it's the Air Jordan 13. Its under-the-radar status has always resonated with Tadashi and allowed him to appreciate its unique blend of materials and its iconic hologram. He also rocked the classic "Flint" colorway on his wedding day. If that isn't any indication that he's a stan of the Tinker Hatfield-designed sneaker, then we don't know what is.
For this new Sole Mates installment, Tadashi sat down with Hypebeast to talk about his favorite Air Jordan 13 details, why basketball is a cultural catalyst and how his mother helped him develop his creative personality.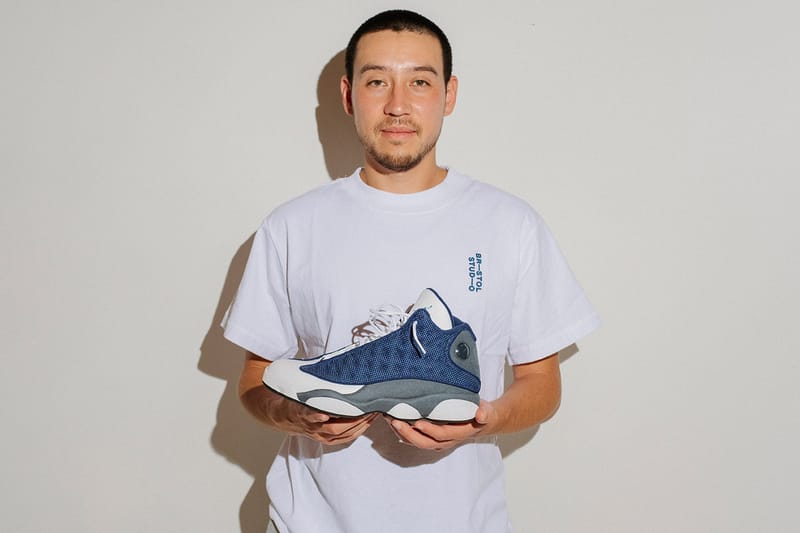 Ian Flanigan
Who or what got you into sneakers?
Basketball. I remember being in preschool and always shooting a little basketball on my mini hoop. Growing up in LA, Kobe was everything to me. I was coming of age as his career was happening and he was someone I followed closely. I wanted to emulate anything he did or wore. He was an adidas athlete first, and I was obsessed with his shoes, especially The Kobe and The Kobe 2 — even though it looked like a toaster!
Was there a moment when collecting started to get serious for you?
As middle school came around, I started to obsess over things like shape, proportion and how pants draped over your kicks. I was never intentionally amassing a collection, but I was quick to embrace the sneakers that I felt a connection to, not necessarily what was trending at the time. It started out with silhouettes like the Air Jordan 13, the Air Jordan 14 and all of Kobe's models. Later on, I was heavily into Nikes. From '04 to '10 I remember being super into the Prestos and the first Flyknit kicks like the Trainers and the Racers.
"I was a firm believer that if my kicks looked good then my game would reflect that."
Los Angeles is a mecca for streetwear and sneakers. What was sneaker culture like for you growing up in there?
My peers were into sneakers but I was definitely the most enthusiastic out of all of them and took it to another level. I remember flipping through Eastbay magazines all the time and constantly studying and learning about new sneakers on the market, especially Jordans and hoop shoes. I was a firm believer that if my kicks looked good then my game would reflect that. And it was just a way that I felt like I could express myself both on the court and off the court.
For your Sole Mates selection you chose to highlight the Air Jordan 13. What was your reaction when you first learned about it?
When I was around four or five years old, I remember going to a sneaker store with my mom and she let me pick out any shoe I wanted. I immediately gravitated towards the Air Jordan 13 "Chicago" colorway. It was the signature Jordan of that year and they just meant more to me than something you that you just wear.1 of 4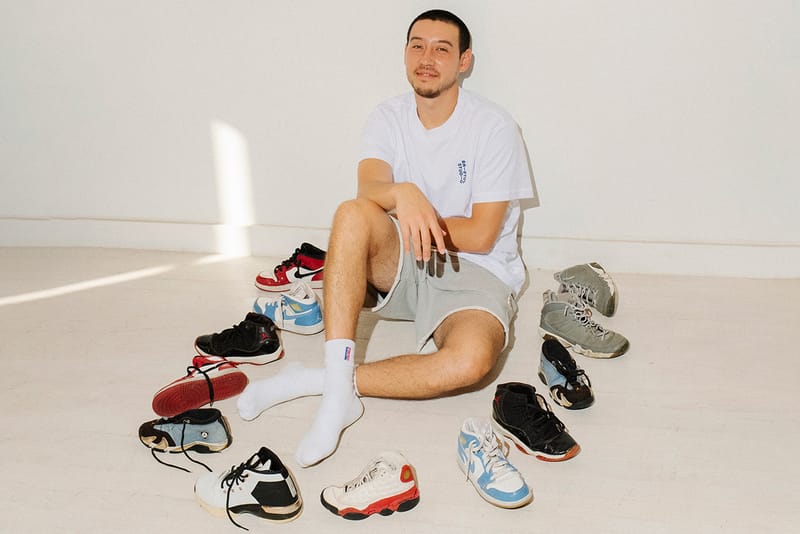 Ian Flanigan2 of 4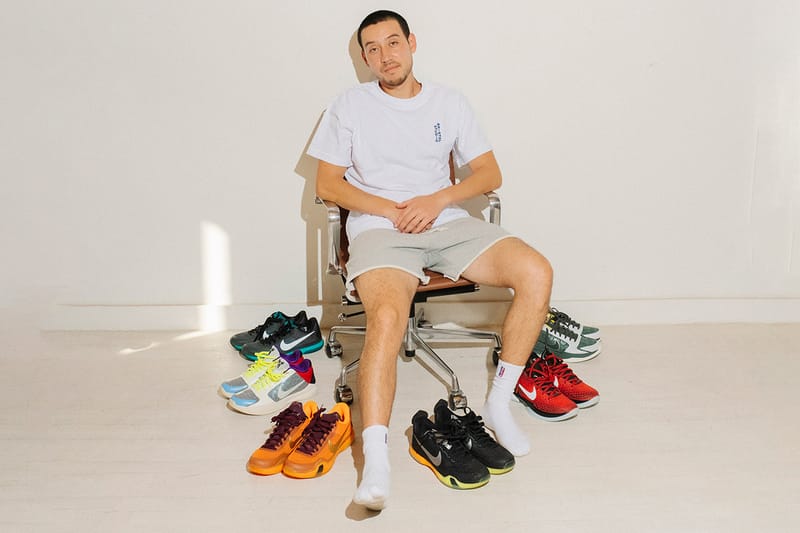 Ian Flanigan3 of 4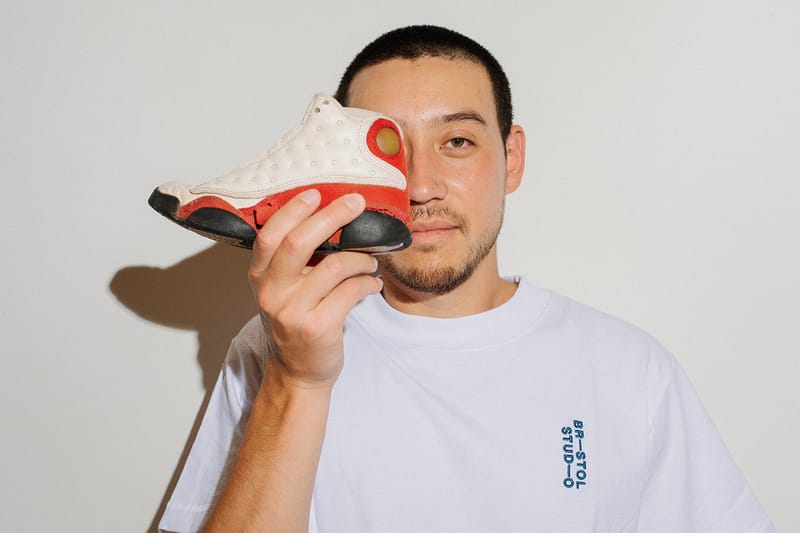 Ian Flanigan4 of 4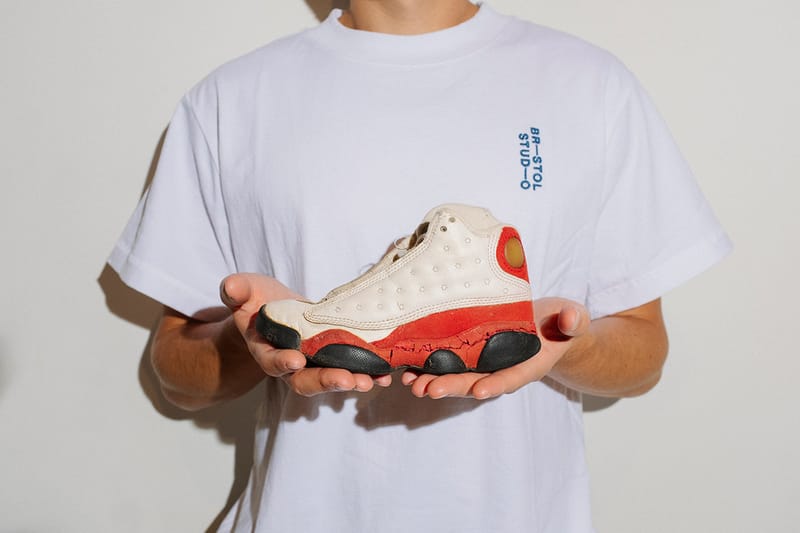 Ian Flanigan
What are your favorite elements about the model?
I was obsessed with every part of them. The hologram is definitely an element that I've always loved and the materials also caught my eye. I love how the nubuck suede and smooth leather create a striking contrast. The pockmarked uppers are super interesting as well because I don't believe that I've seen that on any other shoe. I also really like that 13s fly under the radar. I've always loved having a connection to things that don't necessarily resonate with the masses. When I wore them I was saying something about who I am and showing my affinity for Michael Jordan.
What other fond memories come to mind when you think about the Air Jordan 13?
I actually wore the Air Jordan 13 "Flint" at my wedding. I've never been a formalwear and dress shoe type of person. I even rocked Air Force 1s to my prom back in the day. But I felt that the "Flint" was a sophisticated option that I could style appropriately and was on par for the occasion.
If Bristol Studio got the chance to work on an Air Jordan 13 collaboration, what would it look like?
One thing that I would be really excited to do is play with its materials in a subversive way. I'd think about finding a way to utilize different materials than we're used to seeing on the Air Jordan 13 and tell a story through that juxtaposition. It'd also be really fun to rework the hologram and pockmarked panels and to either go away from it or subvert it.1 of 6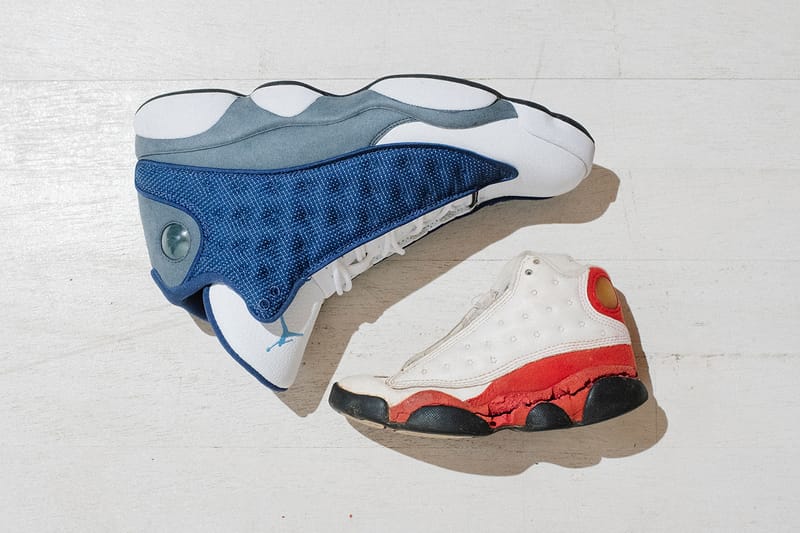 Ian Flanigan2 of 6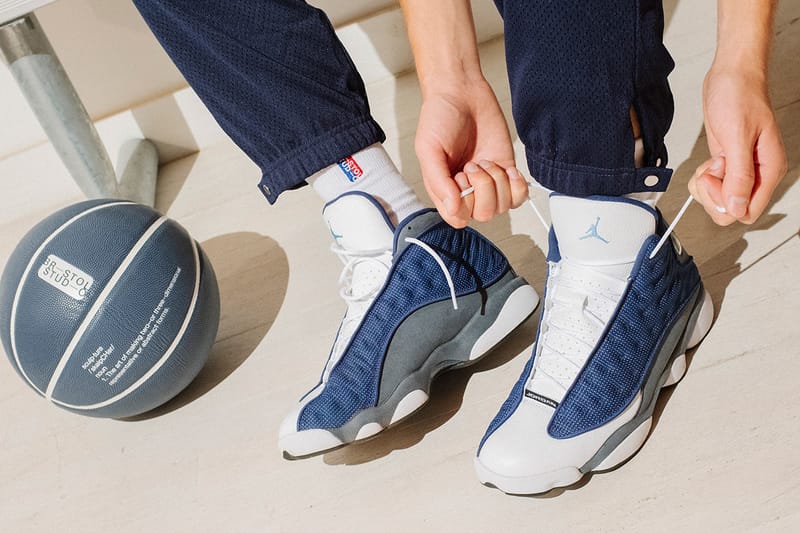 Ian Flanigan3 of 6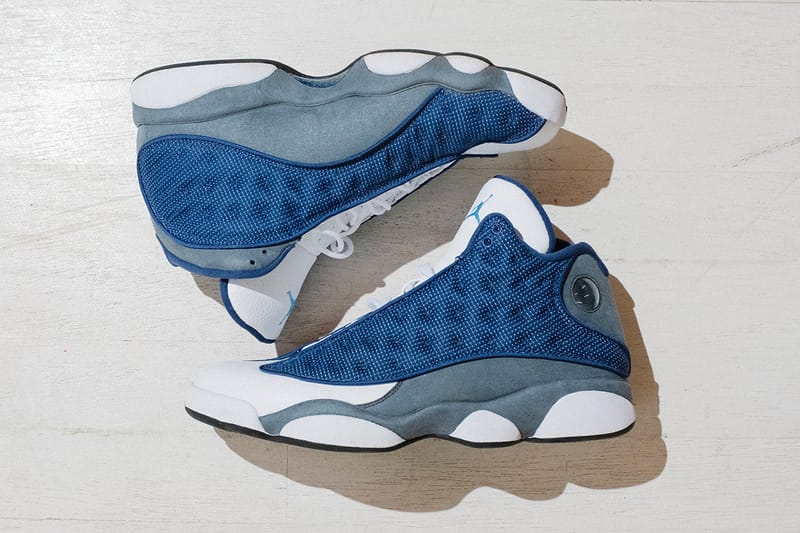 Ian Flanigan4 of 6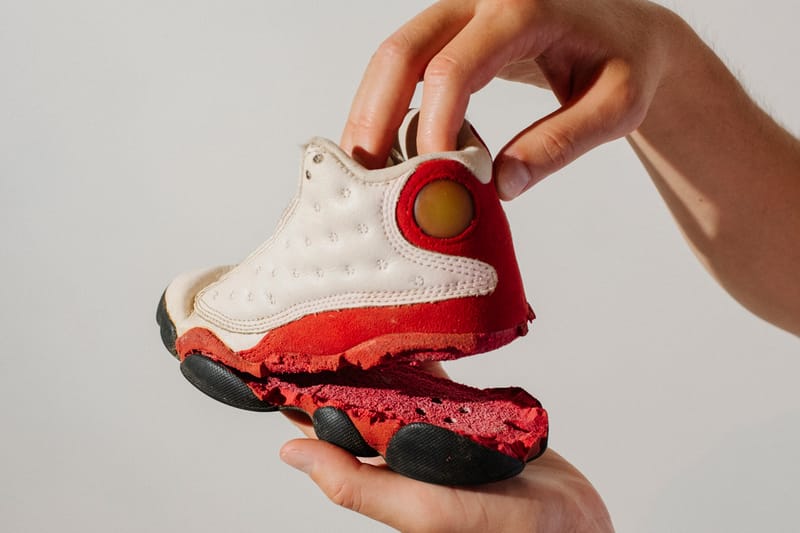 Ian Flanigan5 of 6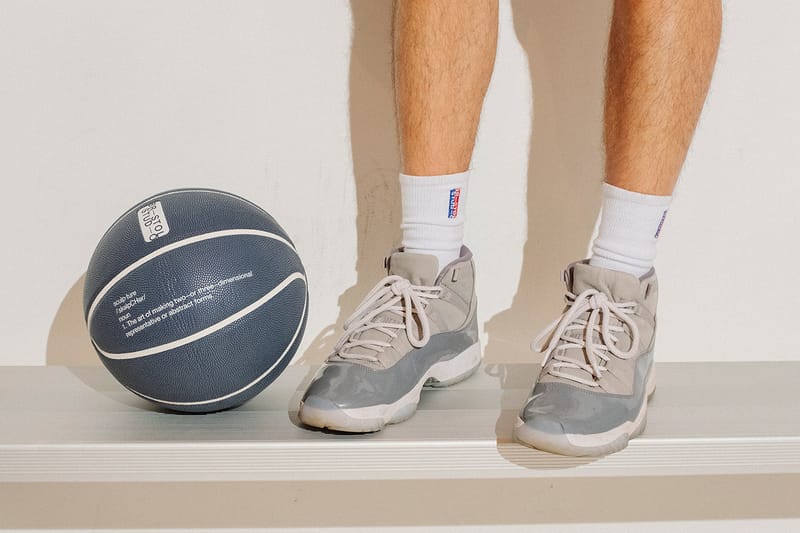 Ian Flanigan6 of 6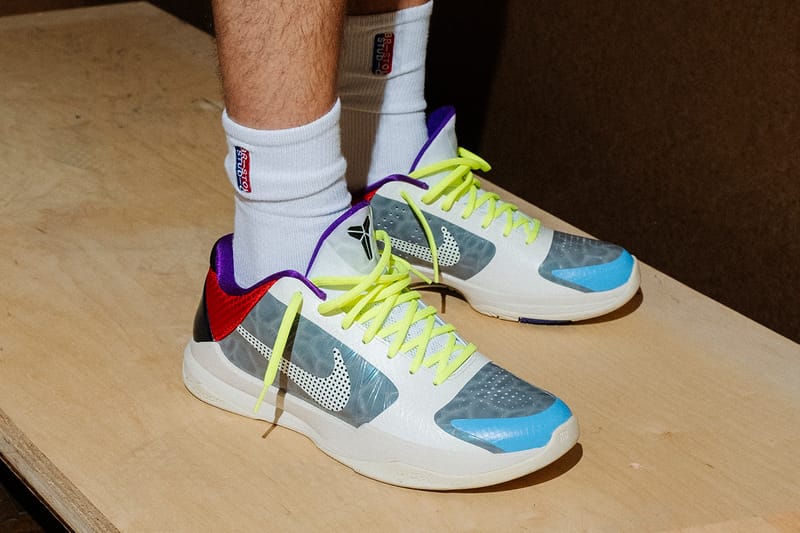 Ian Flanigan
How did Bristol Studio come to be?
Maasai Ephriam [Bristol Studio co-founder] and I go way back. We knew each other from afar through the Boys & Girls Club that we grew up going to in elementary school, and when sixth grade rolled around, he came to my middle school. We were the two best basketball players in our grades and ended up playing AAU ball through middle school. We have these hilarious hoop mixtapes that we made of each other with our old camcorders.
We reconnected post-college, when I had already started Bristol Studio and flirted with the idea of what a basketball lifestyle brand would look like. Around 2017 I did one collection — which looks very different to what we are today — but it had hints of blending high-fashion influences and unique design with a basketball lens. The brand caught adidas' eye because I styled the collection with the Kobes I mentioned earlier, and they'd never seen anyone interpret their products in that way. The timing of that aligned as well because Maasai had asked if I wanted help with Bristol [Studio] since I was essentially running around doing everything myself. He came on board and the rest is history.
Japanese-inspired design plays a huge role in your brand's ethos. Can you describe the thought process behind this?
My mom is Japanese and she had a real keen eye for design. She always had a great level of taste and was into finer art, higher fashion and substantive design. I remember she was always obsessed with Yohji Yamamoto and she would expose me to these things early on by taking me to department stores in Japan when we'd visit family. I don't think I got it at the time, but she would give me her digital camera and tell me to go out and take photos which sparked my artistic side. And that is reflected in various ways, since we use deconstruction as a key theme in a lot of our collections, which you'll also find as a theme from great Japanese designers.1 of 2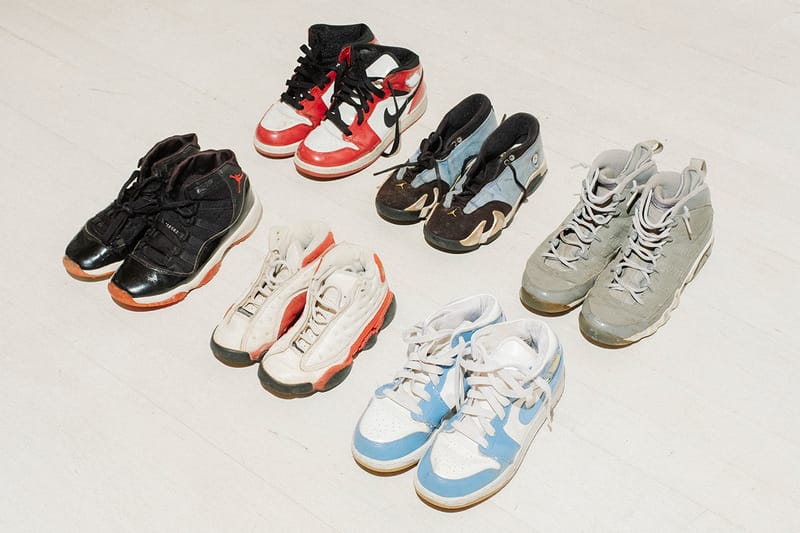 Ian Flanigan2 of 2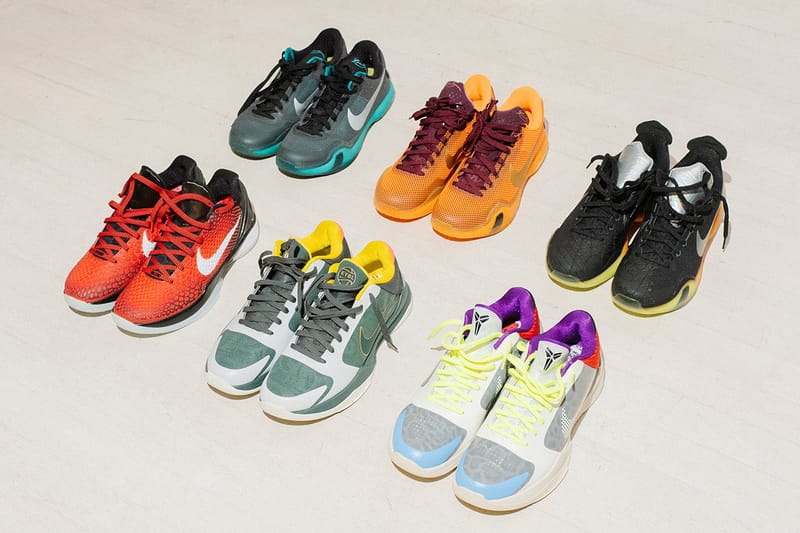 Ian Flanigan
"I've realized that basketball is just as expressive as art and it's not always about dominating the competition. Sometimes it's about playing to lose yourself in the moment."
You were subconsciously trained to appreciate great design without even knowing it.
Exactly! That challenged me to think differently about design and helped me realize that things don't have to look like they do in America to be cool. If you look at our logo, the reason we have the I's as dashes is because Japanese is read from the top down and when you tilt the logo vertically, they become I's. That's a subtle reference to the Japanese characters and my grandma who would always be reading books.
Nostalgic basketball references are also omnipresent in your designs, how did you land on incorporating that element into the brand?
The early 2000s was a time where basketball, hip hop culture, pop culture, skate culture and sportswear were meshing together in a way that they hadn't previously, so that will always be something that's near and dear to me. Basketball helped me understand style and expression because players were participating in the cultural conversation. I always look at how players would rebel against David Stern's dress code policies, and how that's helped me learn about how fashion can be a deeper way to tell people about who you are in a way that is one, personal, and two, in a style that other art forms can't accomplish.
What about the brand's success makes you the proudest?
I feel that we've had some amazing collaborations and have asserted our own design language into the world. I've done this in a way that I've managed to stay authentic to who I am. Our brand doesn't necessarily look like what I know is popular or trendy, but I know that what I'm putting out is an expression of me.
I've realized that basketball is just as expressive as art and it's not always about dominating the competition. Sometimes it's about playing to lose yourself in the moment. I think what's really exciting is we're the first brand that's approaching the sport from that angle. It's about the themes and the qualities that basketball brings out in you and the community that it creates. The friendships that Maasai and I have made through the game have allowed us to forget time, forget where we are and be in the present moment. All of those things are worth celebrating, and what I feel gets overlooked with how current brands are approaching basketball. I'm excited to continue to develop that and speak that message to people.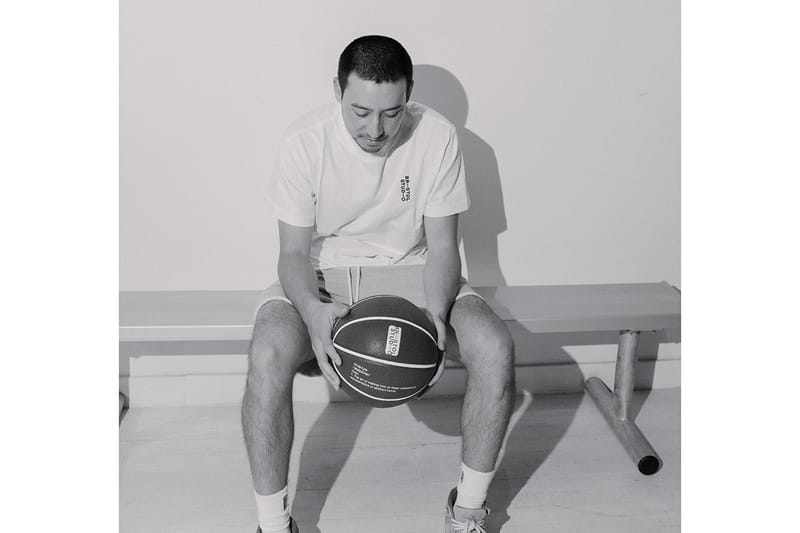 Ian Flanigan
Why are sneakers and their stories important to you?
It all ties back to the idea that what you put on your body is a personal form of expression. You can paint things, photograph things, write things, tell stories through film, all of those mediums. But anything you put on your body, I think of it as a step down from tattooing. The personal quality of expression is what I gravitate towards. I like to be able to track certain moments in my life and connect them to sneaker culture. I love looking at it like a scrapbook or a timeline but through the sneakers that you were wearing or excited about.
Source: Read Full Article