There's only one Prince Harry. Even as he has stepped away from the royal family with his wife, Meghan Markle, and carved out a new life for himself in California, his presence remains deeply embedded in the narrative of the royal family. 
Part of it is because he's Princess Diana's son, and the poignance of her memory makes Harry and Prince William all the more treasured. But Harry's also an interesting character in his own right. His journey into adulthood was not without its own scandals, but he's risen above them to become, by all accounts, a devoted father and loving husband to his two children. 
However, Harry made the choice to leave the royal life, creating something of a vacancy in the chain of actively working royals. As such, rumors have been circulating that one young royal is slated to become "the next Prince Harry." Here's who it is.
Arthur Chatto is taking a major step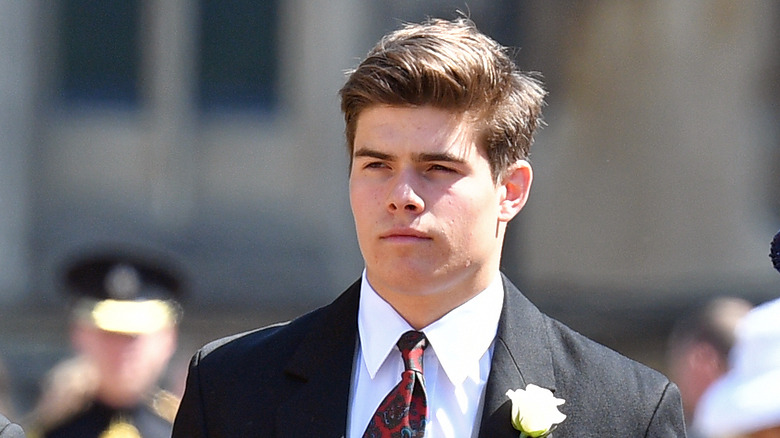 Arthur Chatto, grandson to the late Princess Margaret and grandnephew to Queen Elizabeth II, is slated to become "the next Prince Harry," via Insider. Chatto, son of Lady Sarah Chatto, according to the Evening Standard, is 29th in line for the throne. Chatto has become something of a conversation topic as he broke the news that he was accepted to train for the position of an officer in the Royal Marines, per the Evening Standard.
For the record, the only other royal who tried this was Prince Edward, but he dropped out after four months. (No judgment to him! The training sounds grueling.) Edward quit the Royal Marines in 1987, per The New York Times. An insider told the outlet about Chatto's recent decision and the queen's reaction. "He told the queen all about it, and she's pleased and proud," the source said. "Arthur has even been going off into the wilds at Balmoral with all his kit and camping out as he prepares for the commando training."
Chatto kicked off his training while he was a student at the University of Edinburgh, according to the Evening Standard, and he's following a long line of royal involvement in Britain's military branches. Harry was a "Major in the British Army, Lieutenant Commander in the Royal Navy, and Squadron Leader in the Royal Air Force," according to British Heritage, though his titles have been stripped since he stepped back. 
Source: Read Full Article