You know your ex-boyfriends/ex-girlfriends? And how they fully suck? Same, same. We all relate. And by "we all," I mean everyone but Kendall Jenner, whose exes are best described as hot/talented/cool/chill/💦.
Unlike some of her sisters who have been in highly-publicized relationships (oh, just a few come to mind—Khloé and Tristan, Kim and Kanye, Kylie and Travis, Kourt and Scott), KenKen seems to prefer that her love life stays out of the public eye. Which I totally respect. But I also respect ~your~ commitment to staying parched. So on that note, enjoy a somewhat thirsty trip through Kenny's dating history, from her recent Insta flirting with Devin Booker, to her on-again-off-again thing with Harry Styles.
DEVIN BOOKER: 2019-2020
Kendall and NBA star Devin Booker were first linked last spring, at which point Kendall dealt with some trolling and delivered the perfect response:
https://www.instagram.com/p/B_lMElNFACd/?utm_source=ig_embed&utm_campaign=loading
A post shared by Comments By Celebs (@commentsbycelebs)
The couple then low-key confirmed their relationship in August with this flirty moment: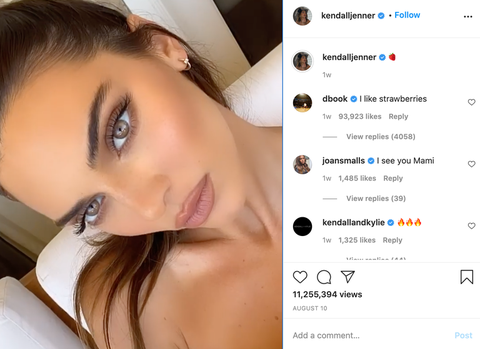 And things quieted down in the winter, until Devin went ahead and reposted Kendall's bikini pic in January: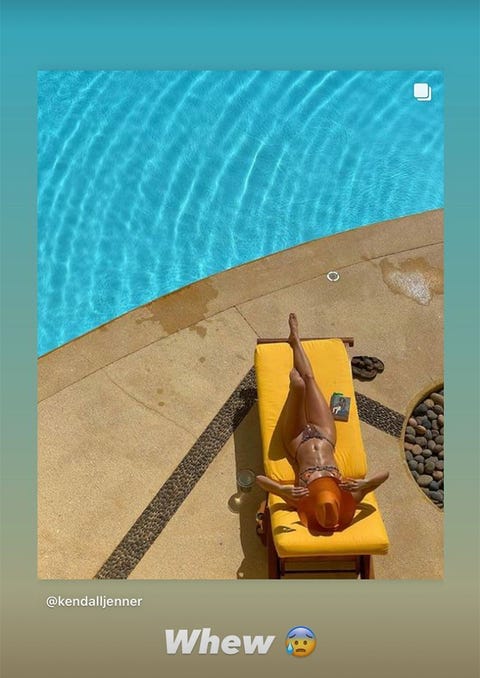 According to sources who spoke to People last spring, "Devin is very sweet to her. He spends a lot of time with Kendall's family and friends too. They seem to be on the same page. They haven't been working lately and have been able to enjoy quiet beach outings and dinners instead. They both seem to enjoy the quiet time together."
KYLE KUZMA: 2019
Back in ye olden days of 2019 (happier times, truly) news broke that Kendall was mayyybe dating Lakers forward Kyle Kuzma. Well, technically, the Daily Mail claimed Kendall and Kyle "took a romantic cruise" on a yacht during 4th of July weekend before she headed to a party in Malibu and avoided her ex Ben Simmons. Here's a blurry pic that proves approximately nothing!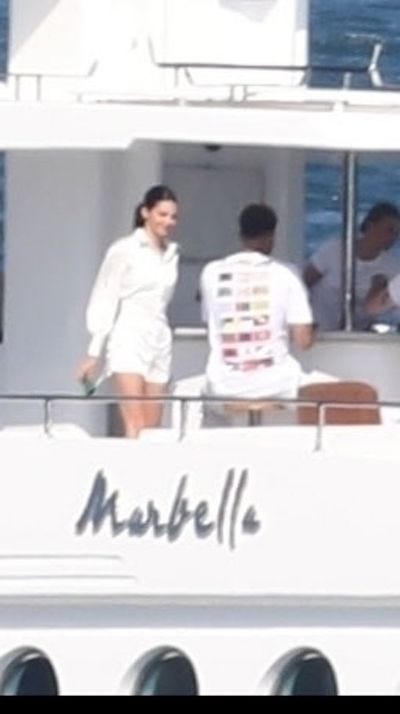 Meanwhile, TMZ claimed the pair *weren't* dating, so who knows what was really going on. Hate it when tabloids can't agree. Please, get it together, you guys.
BEN SIMMONS: 2018–2019
Reports that Kendall and Ben Simmons were an item hit the news cycle in summer 2018, but the internet refused to believe anything until they had receipts. Luckily, they got 'em when the pair were caught cuddling in the background of Khloé Kardashian's 4th of July Instagram:
https://www.instagram.com/p/Bk1dvcDhD9O/?utm_source=ig_embed&utm_campaign=loading
A post shared by Khloe Kardashian News (@khloesnapchats)
Bendall went on to have many public moments, including a canoodle while celebrating Ben's birthday:
https://www.instagram.com/p/Blgnk3SHx77/?utm_source=ig_embed&utm_campaign=loading
A post shared by The Shade Room (@theshaderoom)
Chilling (fine, from a distance) at basketball games:
https://www.instagram.com/p/BqjGyMIh9Ts/?utm_source=ig_embed&utm_campaign=loading
A post shared by House of Highlights (@houseofhighlights)
And attending Drake's party, which was awkward because Ben's ex Tinashe was also there:
https://www.instagram.com/p/BsHZ1fXh5VH/?utm_source=ig_embed&utm_campaign=loading
A post shared by The Shade Room (@theshaderoom)
Sadly for those of you who were deeply invested in this narrative (anyone?), Kendall and Ben broke up in May 2019, with a source confirming to People that "the relationship ran its course."
ANWAR HADID: 2018
Okay, so right before she started dating Ben Simmons, Kendall was spotted—as TMZ delightfully put it—"sucking face" with Gigi and Bella's little brother, Anwar Hadid, in early June 2018. She even Instagram Storied a picture of his hand on the night in question: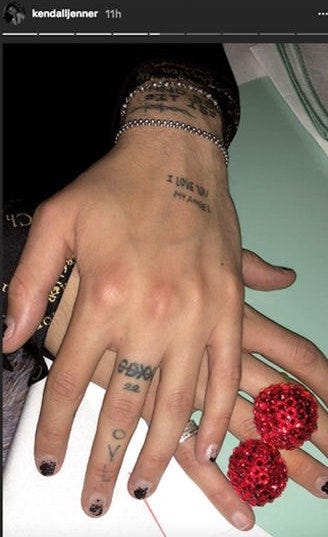 Apparently, Kendall and Anwar were "just having some fun while out with friends," but PLOT TWIST: A few months later she was seen making out with Anwar at a fashion week party. No photos were taken, but here's a pic of Kendall hanging with the Hadids that same night:
https://www.instagram.com/p/BnZg91VgNdN/?utm_source=ig_embed&utm_campaign=loading
A post shared by Kendall (@kendalljenner)
BLAKE GRIFFIN: 2017–2018
In July 2017, NBA player Blake Griffin broke up with his fiancée (and the mother of his kids), Brynn Cameron, and was seen with Kendall shortly after. Like, these two made sure to be photographed ev-er-y-where.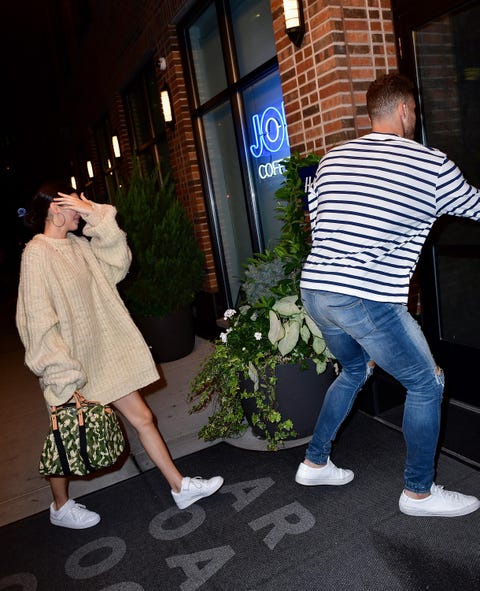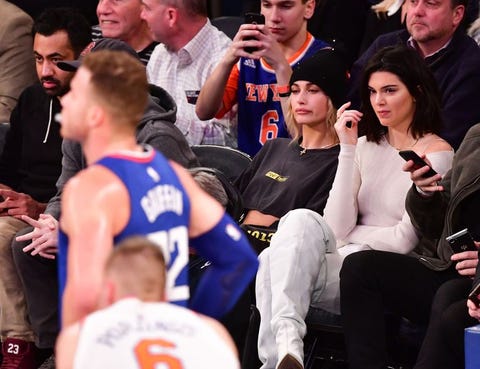 Around Valentine's Day in 2018, Brynn filed a child support lawsuit against Blake, in which she partially blamed Kendall for their split. Per court docs: "Griffin had no problem trading Brynn Cameron, his former fiancée and the mother of his two children, for reality television star Kendall Jenner….Griffin cared more about the glamour of dating a Hollywood celebrity than the day-to-day responsibilities of being a father and family man."
Truly, yikes. But it's cool: A few months later, Blake moved to Detroit, effectively ending his relationship with Kenny.
A$AP ROCKY: 2016–2017
Back in August 2016, Us Weekly broke the news that Kendall was "full-on dating" rapper A$AP Rocky. They even attended Kanye's show together: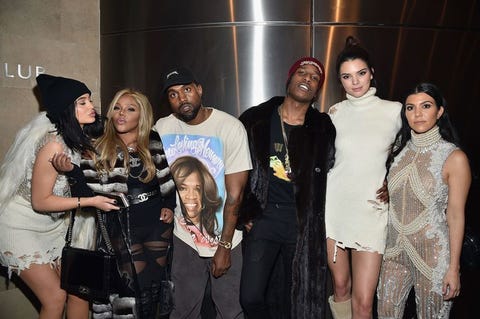 And, ah yes, he grabbed her butt at the 2017 Met Gala: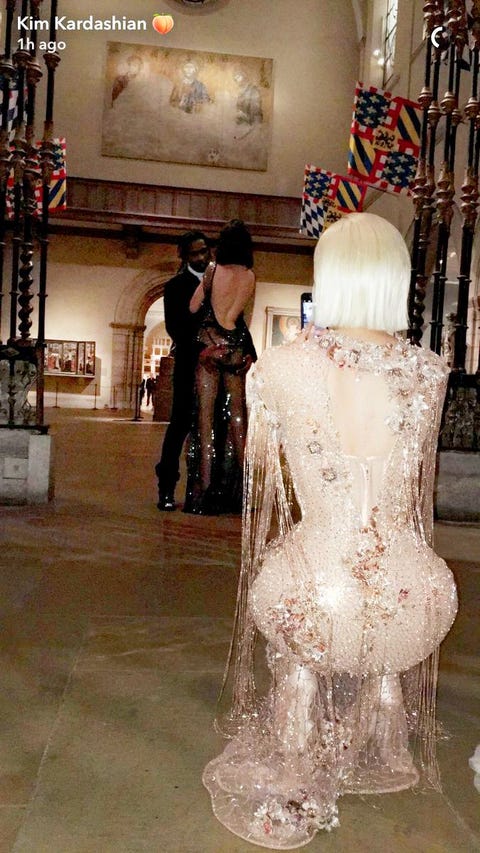 The pair were linked for more than a year, but eventually, Us Weekly reported that they "weren't seeing each other a lot. They weren't really official but were obviously dating. Their schedules are really hard."
JORDAN CLARKSON: 2016
Kendall was briefly linked to Lakers player Jordan Clarkson, with Us Weekly reporting in March 2016 that they'd been hooking up for "months."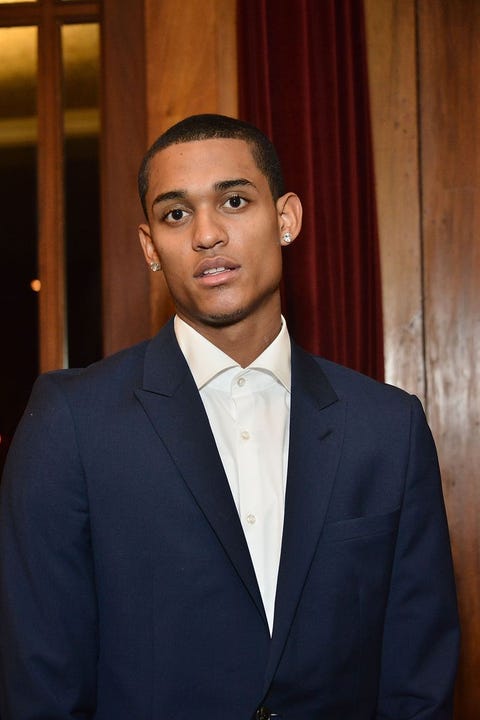 This one was short-lived and no pics were snapped, but a source told People that "they are super into each other. He is super sweet and a total gentleman and Kendall loves that."
HARRY STYLES: 2013–2016 (on and off!)
Remember when Harry Styles and Kendall Jenner were photographed hooking up on a boat? Classic. These two were dating on and off over the course of about three years—and most recently were spotted leaving the Met Gala together in 2019, which, 👀.
Here's a pic of their cute vibes a few years back for reference: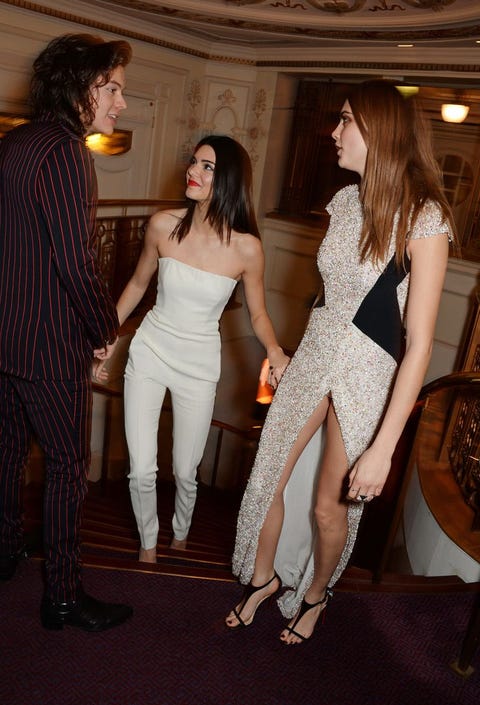 NICK JONAS: 2015
Dang, remember this? Kendall and Nick were linked right after he broke up with Olivia Culpo, with Us Weekly reporting that Gigi Hadid set up Kendall and Nick (makes sense: Gigi was dating Joe at the time).
That said, Nick shut down reports, telling E!, "We're not dating. Kendall is great, and naturally, with her being good friends with Gigi and with Joe and Gigi dating, there are times we'll be in the same place and we all hang out."
Cool, that's it, I'll let you hop in the shower now.
You love Kardashian drama. So do we. Let's gossip together. ✔️✔️✔️
Source: Read Full Article