The following article contains allegations of sexual assault.
Bill Cosby officially became a free man on June 30 when the Pennsylvania Supreme Court panel of judges overturned his 2018 sexual assault conviction, per CNN. At the time of his release, Cosby was serving a sentence of three to 10 years at SCI Phoenix, a state prison in Montgomery County, Pennsylvania, for allegedly drugging and sexually assaulting Andrea Constand at his home in 2004, the site notes. The surprise verdict came after the panel of judges ruled that "a former Montgomery County district attorney's decision to not prosecute Cosby in 2005 in return for his deposition in a civil case was ultimately used against him at trial," per the outlet.
News that Cosby was getting out of prison sparked uproar and only meager support, most notably from his "Cosby Show" co-star Phylicia Rashad, whose tweet garnered major backlash (and prompted her to apologize). His release also raised countless questions, like where will Cosby live and what will he do now? 
We've gotten some answers. We now know that, according to his spokesperson, Andrew Wyatt, Cosby is working on a book. Per the Los Angeles Times, it will be written by novelist Frederick Williams and will feature both Cosby and Wyatt talking about the trial, as well as his time behind bars, and "the strategies Cosby and his team used to get him through it all." But that's not all he has planned. 
Here's your look inside Cosby's controversial post-prison plans.
Bill Cosby was afraid to sleep after his release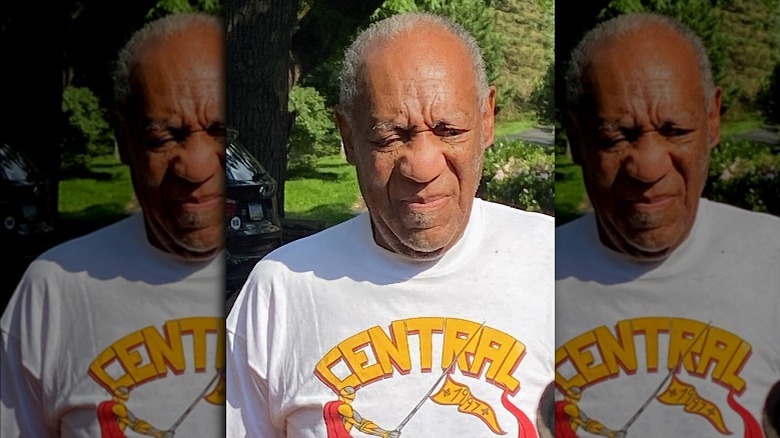 After spending about two and a half years in a Pennsylvania state prison, Bill Cosby was allowed to walk free — and perhaps no one was more surprised than he was. The "Cosby Show" star was sleeping in his cell when a guard came over to tell him to get ready to leave, his rep, Andrew Wyatt, told NBC News the day after his release. At the time, the comedian was confused and simply asked, "What are you talking about?" Per the New York Post, that's when the guard told him,"You're going home," and other inmates reportedly began shouting, "Get out of here!"
But while he may have been sleeping soundly right before his release, it seems Cosby couldn't get any sleep once he was home. According to Wyatt, the disgraced comedian was so shocked by the verdict that he had difficulty believing it and stayed awake until 2 a.m. on his first night back in his Philadelphia bedroom. Wyatt recounted how Cosby only slept for three hours and told him, "I don't want to go [to] sleep because I am afraid this [is] a nightmare." Cosby also told Wyatt, per the New York Post, "Andrew, I tossed and turned because I was [thinking], 'I hope this isn't a bad dream — I hope this is real.'"
He reunited with his wife who hadn't seen him in years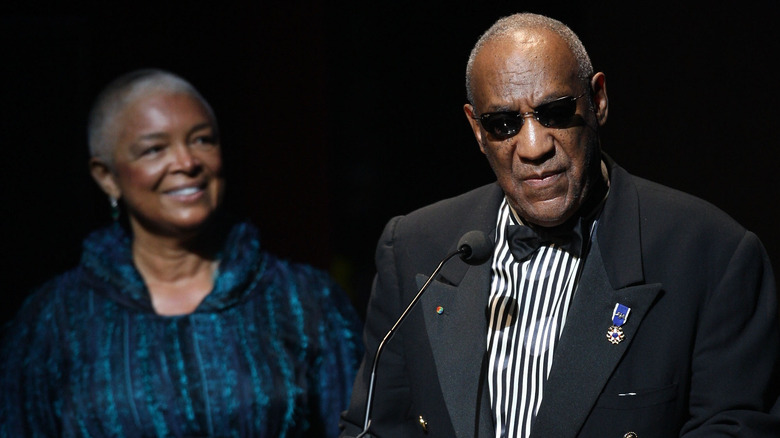 Throughout Bill Cosby's entire stint in prison, his wife, Camille, and children didn't visit him once. But it wasn't a case of the family abandoning him, per the Daily Mail. Rather, spokesman Andrew Wyatt told the outlet that the comedian asked them not to come. "He feels that when he left home, he left home the day of the sentencing as Bill Cosby, not as NN7687, the number they have given him, and he wants his family to see him in that light, not in the light of a prison uniform," he explained.
It came as no surprise then that one of the first things Cosby did following his release was reunite with Camille. After spending his first night as a free man alone in their Pennsylvania home and eating his first post-prison meal (a dinner of collard greens and fish, per NBC News), he left the following afternoon around 1 p.m., per the New York Post, and flew to their home in Massachusetts to reunite with his wife. Cosby's lawyer, Brian Perry, told Us Weekly that she was "ecstatic, relieved [and] happy" by the court's decision and, just two weeks later, the pair celebrated Cosby's 84th birthday. Cosby couldn't help but boast about Camille, telling the Daily Mail, "In the words of James Brown, 'It's a man's world but it wouldn't be nothing without Mrs. Camille Cosby.'"
Why are there rumors that Bill Cosby and his wife are getting divorced?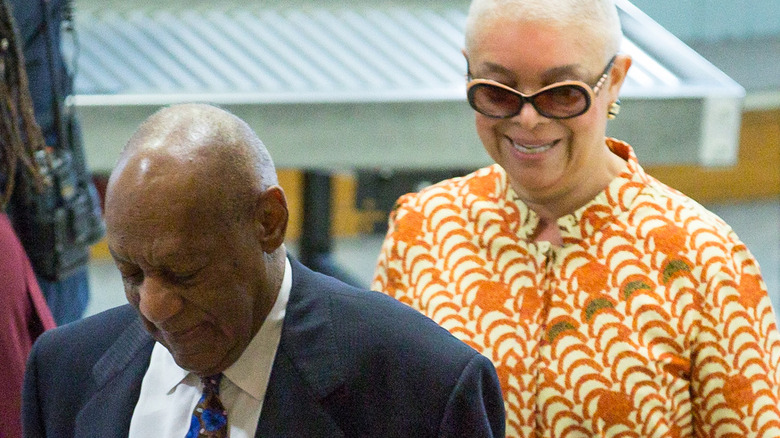 Watching Bill Cosby reunite with his wife, Camille, was "like watching teenage love," according to Cosby's spokesperson, Andrew Wyatt. Speaking with the Daily Mail, he recounted their passionate reunion, sharing how "she touched him and said, 'Billy.' He said, 'My dear Camille.'" Soon after, the couple celebrated Cosby's 84th birthday by hosting a dinner at their New York City townhouse, but just after that, rumors began circulating that they might be getting divorced.
Speculation of a possible separation began when Page Six shared photos of Camille walking around the Big Apple without a wedding ring on her finger. However, Wyatt didn't waste any time shutting down the rumor mill. Setting the record straight, he told Radar, "It's hilarious because Mr. and Mrs. Cosby have been happily married for 57 years and counting. They have not worn wedding rings in almost 30 years," he explained, alleging that the rumors came from "the same 'media insurrectionist,' who are angry that this intelligent, strong, and vibrant Black woman stood by her husband, as well as vehemently proclaimed Mr. Cosby's innocence."
He's working on a docuseries to help those who claim they were wrongly convicted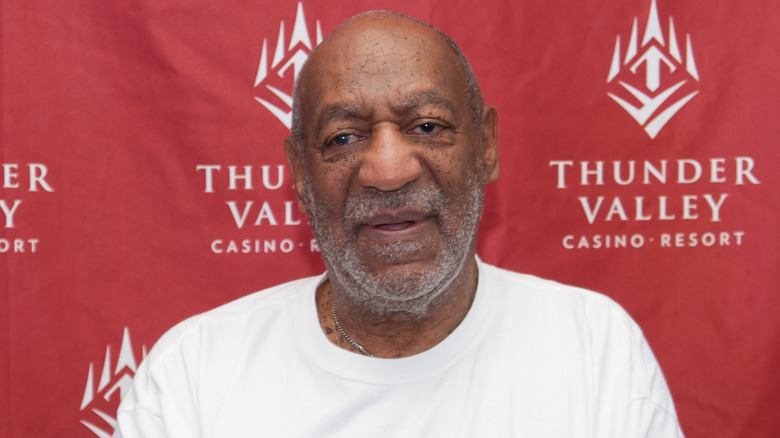 Bill Cosby is ready to tell his side of the story. According to the New York Post, he has teamed up with Michelle Major, a former producer on "Good Morning America" who attended Cosby's trial, to work on a five-part docuseries that will cover "his life, legacy, trial, and prison experience," per TMZ. According to the outlet, Cosby's family, friends, and fellow celebrities have already filmed interviews for the series.
The only thing missing is for Cosby to give an in-depth interview, per the New York Post, who noted that Cosby said his goal is to get "the truth out and get people to understand that this is serious. It must be revealed what happened," insisting that he wants to help others who have claimed to be wrongly convicted. "We can't let up. We've got to mobilize," he said. "We've got to get the NAACP and it's Crisis Magazine involved and Black journalists, Black men writers, Black women writers, everyone must put their pen to paper and get the truth out." 
And it doesn't stop there. Cosby reportedly also wants to take his story to prisons and schools to do his part towards "curbing violence," per TMZ. As one celebrity crisis communications specialist told New York Post, if he goes "highlighting and potentially financing successful appeals of others claiming egregious prosecutorial misconduct, [it] could potentially salvage something positive for his legacy."
Bill Cosby is planning a comeback comedy tour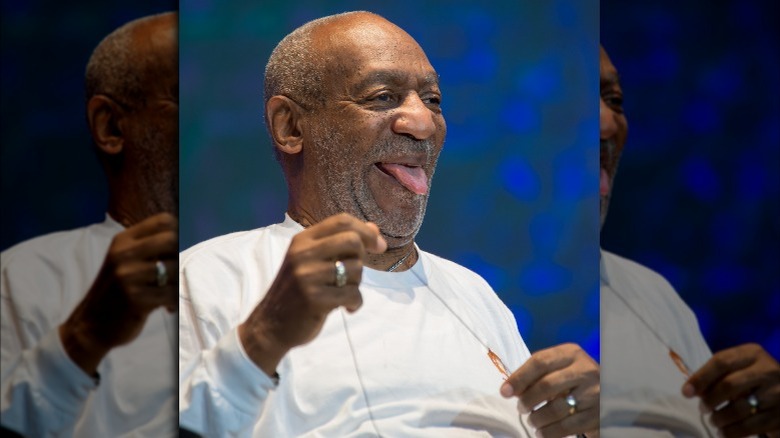 Bill Cosby doesn't just have plans to return to the small screen, he's also reportedly working on a comeback comedy tour. According to Cosby's rep, Andrew Wyatt, who spoke with TMZ, the comedian is ready to get back on the road and "the world wants to see Mr. Cosby!" Boasting that they've already contacted several promoters and comedy clubs, Wyatt told the outlet that many were "open to the idea." Well, the iconic Comedy Cellar in NYC's Greenwich Village isn't one of them. Owner Noam Dworman said to TMZ he's not interested and "doesn't want Bill to even step foot inside his club." Shooting back, Wyatt told TMZ, "That's one club owner and in the words of the King of R&B Bobby Brown, 'It's his prerogative to do what he wants to do.'"
Revealing more of Cosby's comedic plans, Wyatt also told the Los Angeles Times that he hopes to perform in the States, Canada and London, England and plans to blend "vintage storytelling" with anecdotes about his current life while being "inclusive of human rights and civil rights." Gushing about how ready Cosby is for a comeback, he continued, "In his physical appearance, he's exuberant. In his mental state, he's exuberant. In his feelings and humor, he's exuberant," he enthused, adding that Cosby is "colorful and powerful — more powerful than we've ever seen."
Will Bill Cosby find any support in Hollywood?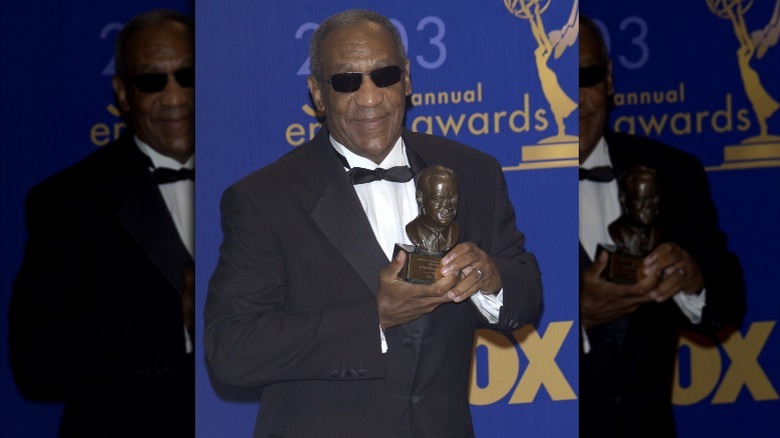 Bill Cosby may have lofty plans to get his career back on track, but is his reputation salvageable? Despite spokesman Andrew Wyatt boasting that "people want to hear and see this guy" and that "he can sell out shows" because "he is loved by millions," most industry experts agree that Cosby's future will not be in Hollywood. As crisis consultant Risa Heller told The New York Times, "There is no public appetite for Bill Cosby to have a comeback." Reputation crisis manager Sara Brady agreed, noting, "The #MeToo movement is real and strong and won't tolerate any public acceptance of him again." What's more, Joseph Cammarata, a lawyer who represented seven of the women who accused Cosby of sexual assault, pointed out that while "Cosby gets to say he is innocent, the Supreme Court didn't reject the claims of 60 women […] and it didn't reject the jury's verdict that he was guilty on all counts."
Crisis manager Howard Bragman shared a similar sentiment with Variety, noting that Cosby "was released on a technicality," adding, "I would say the world still believes him to be guilty for the heinous crimes he was charged with." As one talent agent simply proclaimed, "No one is going to work with him. No studio. No A-list actor or filmmaker. It would kill your reputation. Not to mention that you'd have to justify it to your friends and family," he reasoned. "How could you do that? He is toxic."
If you or anyone you know has been a victim of sexual assault, help is available. Visit the Rape, Abuse & Incest National Network website or contact RAINN's National Helpline at 1-800-656-HOPE (4673).
Source: Read Full Article