Bryce Xavier has opened up about his sexuality.
In an open letter on his Instagram account, the 18-year-old singer and actor came out as pansexual, and shared photos with his love, Matthew Jacob.
For those who may not know, pansexual means that those who identify as such are attracted to all gender identities, or are attracted to people regardless of gender. Learn more and see four other celebs who identify as pansexual on Glaad.com!
"the decision to write this came after a lot of evaluation of who i was in the past 18 years and who i wanted to be. all my life i never really was one to stress things or put myself into categories cause i didn't care," Bryce wrote. "if i fell in love with someone that'd be more of a miracle regardless of their gender. the more i came to term with my pansexuality the more i found myself."
"[I] had the honor of falling in love with the best person a few months back and it feels just as great now. i've kept this part of my life private because of my own comfortability and self judgement," he continued. "i never really stressed it because i was more concerned on what song i wanted to release contrary to who i'd one day marry. although these words are extremely overdue, i hope anyone who is coming to terms with who they are and their sexuality realizes that it's no ones life but your own."
"be who you are unapologetically, because only we can live our lives. devote as much time as you need to be comfortable being yourself… hell, i'm still terrified writing this and that's okay. facing your fears head on is how to overcome them. finally, i love you all. thank you for supporting my career and for being my extended family. i hope you continue supporting me, my music, and everything else i have in store. i am here for you, i love you, and i'm finally proud of who i am. – b"
A few days later, Bryce took to his Instagram story to share his appreciation for the massive amount of love he's received over the past few days. See what he wrote below…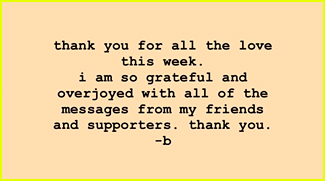 https://www.instagram.com/p/CKMu9SNhD5T/
View this post on Instagram
A post shared by bryce xavier (@brycexavier)
View this post on Instagram

A post shared by matthew jacob (@m.jmacias)

Source: Read Full Article