Food Network star Alex Guarnaschelli's piccata recipe using turkey breast spices up the mild-flavored meat. Featuring briny capers and bright lemons, it's a dish that's so tasty and easy to make, it'll earn a permanent spot on your dinner menu rotation.
Guarnaschelli points out 'we're not having some big Thanksgiving gravy,' so make sure and season that meat
The chef's flavorful recipe may well be the dish that gives turkey credit for more than just that Thanksgiving Day centerpiece. Guarnaschelli's meal calls for eggs, panko breadcrumbs, Parmesan cheese, sliced turkey breast meat, unsalted butter, extra-virgin olive oil, capers, lemon juice and zest, and fresh parsley leaves.
She points out what may be obvious to many home cooks, and yet is frequently overlooked.
"The most important thing about making a good piccata with something like turkey breast is seasoning," Guarnaschelli says in the Food Network video, below, for this recipe. "Season all around … because that's where you're going to get a lot of flavor. We're not having some big Thanksgiving gravy and cranberry sauce to hide behind.
"And honestly, turkey breast needs help. [It's] not the tenderest cut of meat, I'll be honest."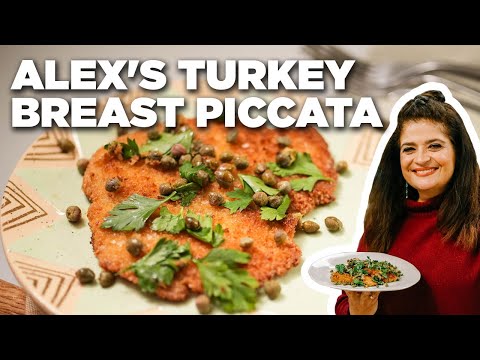 The chef's recipe is an easy weeknight feast
The cutlets are pounded thin, dredged in an egg wash, followed by panko breadcrumbs, and then cooked in an oiled and very hot skillet. It's ok to "crowd the pan," the chef assures. "They do shrink a little bit as they cook and if your oil is nice and hot, you can sneak that last one in there."
Setting the cooked cutlets aside on a dish, the sauce is prepared in the same pan. "Not a lot of ingredients in here so go big and bold with them," Guarnaschelli says. The capers with some brine and lemon zest and juice are added to the hot pan. "The flavors are really punchy."
She adds that cooking the sauce in the same pan the breaded chicken was cooked in is a strategic move: "Just stir to catch all those breadcrumbs, all that deliciousness that's hanging out in the bottom of the pan."
Lastly, the chopped parsley is stirred into the sauce. And be sure you don't substitute another herb.
"You've got to have that parsley in there," Guarnaschelli said. "And I don't want to say, 'Oh you can use chives or banana peels or scallions.' It's really got to be parsley."
Get the full recipe, video, and reviews on Food Network's site.
Reviewers gobbled up Guarnaschelli's turkey treat
Food Network reviewers loved the co-host of The Kitchen's satisfying meal and its addictively tart sauce.
"My husband couldn't get over the deliciousness. Easy, peasy but tastes like you're a gourmet cook. Thanks Alex!," wrote one home cook.
Another reviewer agreed, writing, "I made the recipe exactly as written and it is easy and delicious. … I'll definitely make this again."
Other fans of the recipe gave Guarnaschelli's dish a shot with chicken cutlets instead of turkey, with great results: "Made mine with chicken and GF panko crumbs paired with asparagus & a green salad. Very delicious! Husband loved too!"
Source: Read Full Article