The 'Little Miss Sunshine' actress reveals she has tied the knot by giving a look at her new wedding band, while the groom and the guests share photos from the nuptials.
AceShowbiz –Abigail Breslin is officially a married woman now. The actress, who received an Academy Award nomination for Best Supporting Actress at age 10, has tied the knot with her longtime boyfriend Ira Kunyansky.
The newlyweds took to their respective Instagram pages to share the news. On Sunday, January 29, the "Little Miss Sunshine" actress posted a picture of her left hand, which is now adorned with a new wedding band in addition to her engagement ring.
The new diamond-encrusted wedding band sits right below her engagement ring on that finger. She captioned the snap, "ya girl got married y'all."
Her new husband Ira, meanwhile, posted a picture from the nuptials. In the hilarious image, the actress looked terrified during the horah as loved ones danced while lifting the happy couple into the air on chairs. "Love my other second half @abbienormal9," he wrote in the caption.
Guests also shared pictures from the celebration of love, which were reposted on Ira's Stories. In one of the snaps, the pair were seen kissing after they're officially named man and wife at the January 28 ceremony.
The newlyweds shared an embrace while dancing at the reception in two other photos. Another image gives a look at Abigail getting her makeup and hair done for the special day.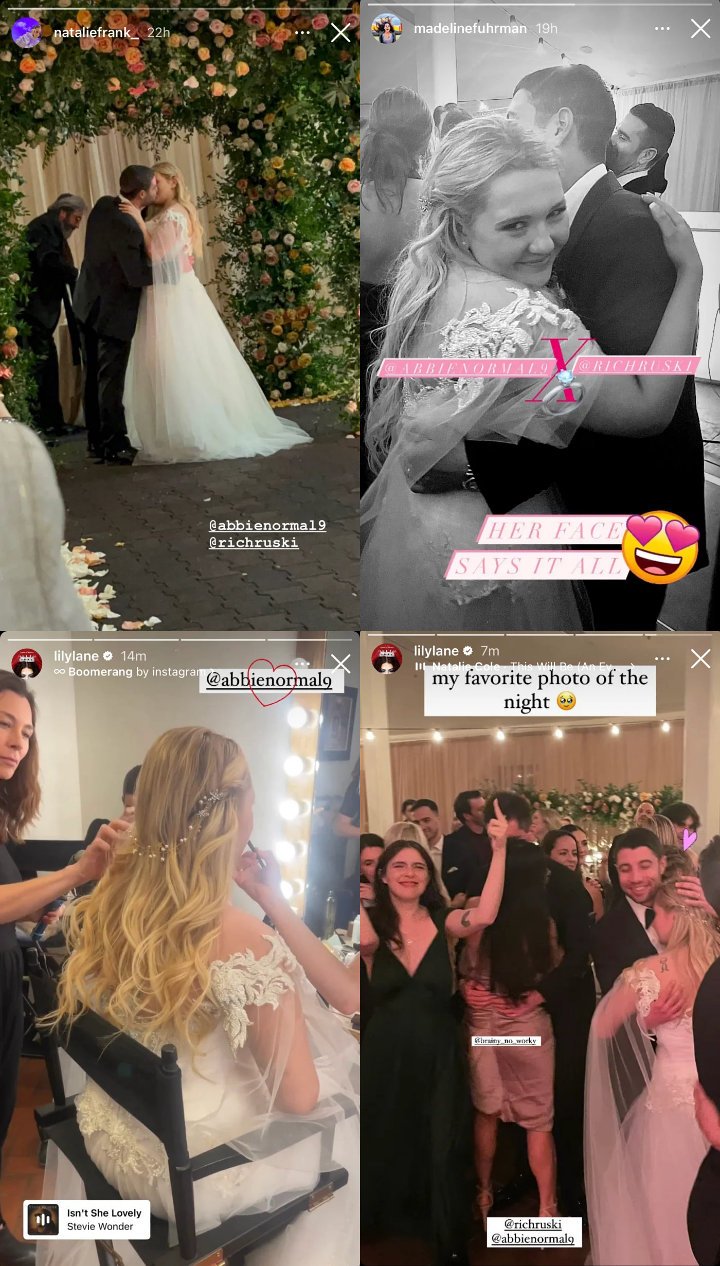 Guests shared pictures from Abigail Breslin and Ira Kunyansky's wedding.
The pair tied the knot at Hummingbird Nest Farm, according to social media posts from their bridal party. The California venue is in the Santa Susana Mountains, just outside of Los Angeles. Among the famous guests were TikTok star Dylan Mulvaney as well as Abigail's brother Spencer Breslin, who serenaded the happy couple.
Their wedding comes almost a year after Abigail and Ira got engaged. The "Scream Queens" alum revealed in February 2022 that her boyfriend had proposed to her by sharing a photo of her engagement ring. "I was like, 'duh,' " she captioned the picture showing her left hand.
You can share this post!
Source: Read Full Article