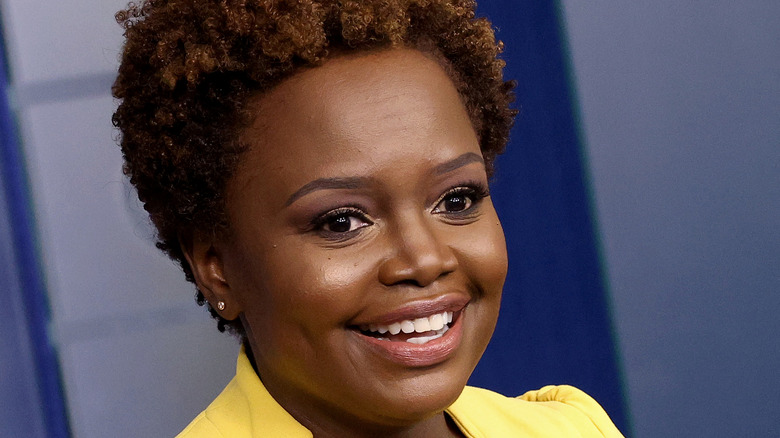 When former Deputy Press Secretary Judy Smith first stood before reporters to deliver a White House briefing before reporters in 1991, few thought that it would take nearly three decades before it would happen again. 
Her moment in history was not lost on Principal Deputy Press Secretary Karine Jean-Pierre, who was, as of this week, only the second Black woman to take the spokesperson's podium at the White House. "It's a real honor to be standing here today," Jean-Pierre said on Wednesday (via Voice of America). "Being behind this podium, being in this room, being in this building, is not about one person, it's about what we do on behalf of the American people." 
If Jean-Pierre eventually takes on the role that Jen Psaki has said she would vacate in a year's time, she will be more than ready for the post. Reporters already know her from her press "gaggles," which take place mid-journey in Air Force One, and NBC says Jean-Pierre has already been spotted in the briefing room when White House Press Secretary Jen Psaki delivers her briefings. 
Karine Jean-Pierre's parents were immigrants from Haiti
Karine Jean-Pierre was born in Martinique to immigrant parents from Haiti, but she and her siblings were raised in Queens, New York. Her background gives her a front-row seat to the immigrant experience. "Being the oldest of three siblings, I had to take care of my siblings while my parents were working six, seven days a week," she told PBS back in 2019. "I had to feed them. And I'm eight years older than my sister, 10 years older than my brother, so I was pretty young when they were toddlers, and [I had to] make sure their food was cooked, make sure diapers were changed, because [my parents] had to provide for the family." 
But she persevered, eventually going on to get her undergraduate degree from the New York Institute of Technology, and a master's from Columbia's School of International and Public Affairs (via The New York Times). 
Karine Jean-Pierre has worked for other politicians within the Democratic Party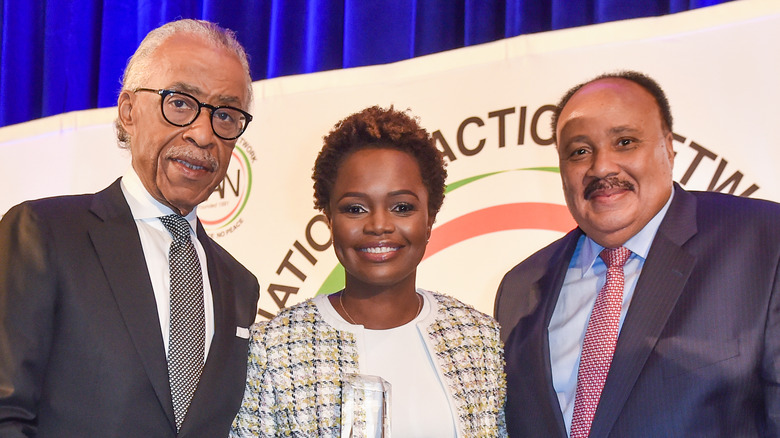 Karine Jean-Pierrre is a known force within the Democratic Party, having worked for controversial congressman Anthony Weiner, as well as former Presidential contender John Edwards, both of whom fell from grace because of scandal. Those experiences proved to be lessons for Jean-Pierre. "Don't put people up on a pedestal," she said. "Care about the issues, for sure, but don't put people on a pedestal, because people are flawed. We are flawed individuals." 
She added, "I also tell young people, if you do end up working for a flawed candidate, make sure you — you have to make sure you take care of your career as well. You have to make sure that you navigate through those waters, so that you can continue your career."
But Jean-Pierre's also has happier associations. She has ties to former President Barack Obama, because she served as deputy battleground states director for his re-election campaign. Like Jen Psaki, she worked in the Obama White House's Office of Political Affairs (via The Guardian). Before she took on her role in the Biden administration, she was chief of staff for Kamala Harris and she famously took to Twitter to share footage from when a protestor went on stage to approach Harris in 2019, but was stopped when Jean-Pierre intervened.
Karine Jean-Pierre could be Jen Psaki's replacement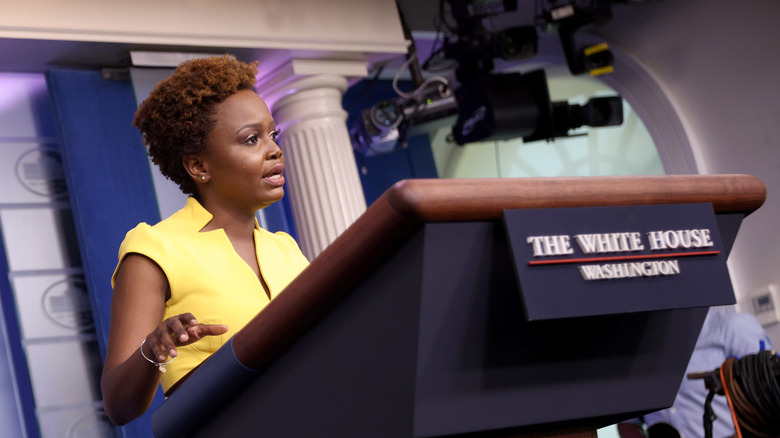 Karine Jean-Pierre's presence at the podium of a White House briefing is significant, because she could very well be taking Jen Psaki's place as White House Press Secretary, since Jen Psaki has already signaled her intent to step down after spending a year in office. In an email to Voice of America, Psaki signaled her support for Jean-Pierre, calling her an incredible partner, and added that she was " looking forward to seeing her shine today." Psaki is also said to be in favor of giving the podium to more diverse representatives, and has been preparing her staff to take on bigger roles after she leaves (via NBC). 
If she passes her "audition," Karine Jean-Pierre won't just be a voice for the Biden administration and for the Black community — she's also a representative for the LGBTQ+ community. She and her partner, journalist Suzanne Malveaux, have a young daughter.
Source: Read Full Article