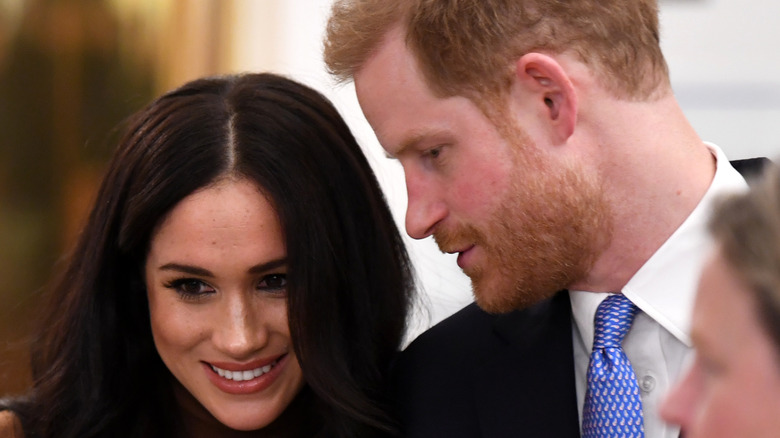 Prince Harry and his wife Meghan Markle have been making headlines more than usual over the past few months. The couple, who left their roles as senior members of the royal family in early 2020 in order to lead a more normal lifestyle, have been speaking out quite a bit about mental health. They've also been criticizing the royal lifestyle in the process. Back in March, the Duke and Duchess of Sussex sat down for a tell-all interview with Oprah Winfrey, where they opened up about the issues they've struggled with in the past, and how they were denied help by the royal family (via USA Today). They also accused members of the family of making racially insensitive comments about their son's skin color.
While some have spoken out in support of Harry and Meghan following their claims, others have bashed the couple. "They should get on with their lives, stop playing the victim and stop playing on their royal connections by leaking stories while pleading for privacy. People can see through it and anyone who advises them to carry on this way is giving them bad advice," royal expert Phil Dampier previously told The Sun.
Meanwhile, Oprah has defended the pair. "I think being able to have a life that you are not intruded upon by photographers or people flying overhead or invading your life is what every person wants and deserves. Privacy doesn't mean silence," she stated (via ET). Now, a former royal staffer is sharing his thoughts on the situation.
Former palace staffer calls for Harry and Meghan's silence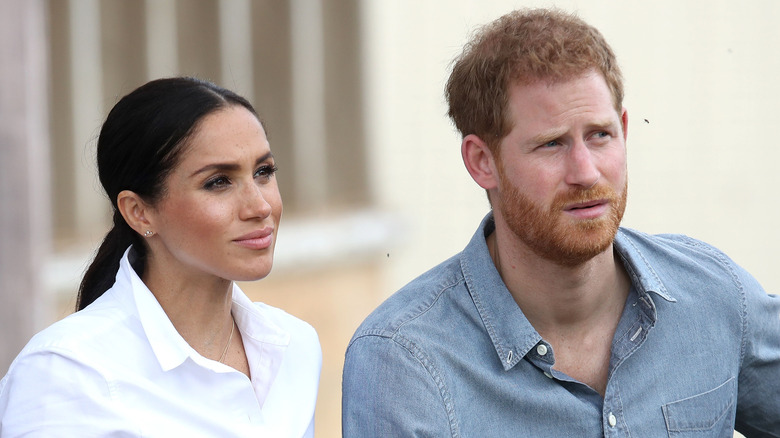 According to The Sun, a former Palace aide is tearing into Prince Harry and Meghan Markle for the way they've portrayed themselves in the media. Dickie Arbiter, who served as Queen Elizabeth II's spokesman for over a decade, tells the outlet that Harry and Meghan should stay quiet when it comes to speaking publicly. "They left this country because they wanted privacy. They wanted away from the publicity. And since they left this country, the UK, they've done nothing but seek publicity. Now they are saying Harry is taking five months paternity leave and hopefully he will stay quiet in those five months. Quite frankly, to put it simply they need to put up and shut up," Arbiter said.
However, Harry and Meghan may be trying to mend fences after announcing that they had named their newborn daughter Lilibet Diana after both Queen Elizabeth and Harry's late mother Princess Diana. "It's a lovely gesture on the part of Harry and Meghan," royal expert Duncan Larcombe told OK!. "The baby name is the first sign of an olive branch to the royal family. It's a sign they want to build bridges. The Queen is hugely proud of the man Harry has become and she will be chuffed to bits over the name choice. She will see this as a loving gesture from her grandson. And I believe it's Harry's way of showing that he wants to honor one of the most important women in his life."
Source: Read Full Article