The past two years haven't been easy for the fashion industry. After a 2020 full of cancellations, alterations and postponements, 2021 was supposed to be a little more straightforward.
Spoiler: it wasn't. Despite the ongoing turmoil caused by coronavirus, it did prove a productive year for many brands like Telfar, Jil Sander and Bottega Veneta, as well as outdoors labels like Arc'teryx and Salomon, who found ways to innovate in spite of the hurdles against them.
Yet, as the HYPEBEAST team sits down to scribe the brands and designers we're most excited about going into 2022, there's an air of optimism this time around. With that in mind, and a clear hopeful outlook, here are 10 names HYPEBEAST's editors think you should be looking out for this coming year.
AMESH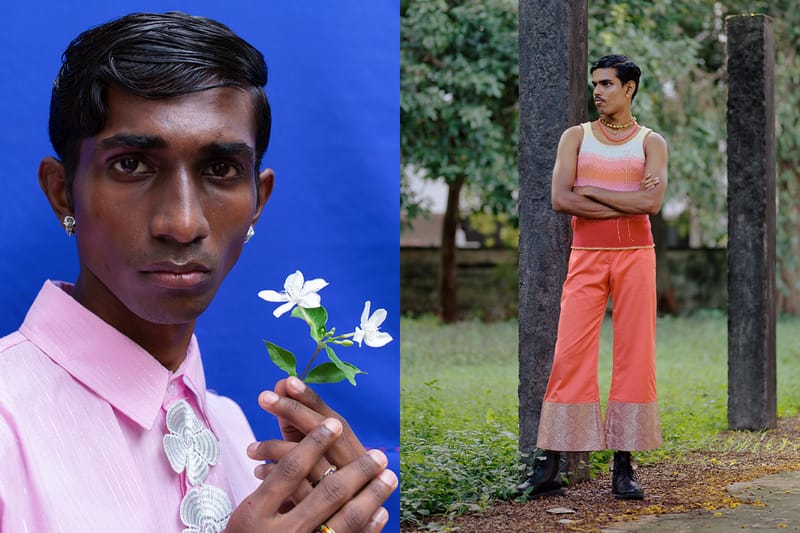 Amesh
Over the past few years, menswear has seen an ever-increasing interest in artisanal techniques and more sustainable approaches to textile production – as evidenced by the runaway success of brands like Bode, Ahluwalia, and By Walid. Joining that coterie now is the emergent London label AMESH.
Designer Amesh Wijesekera works with handwoven textiles from his native Sri Lanka, combining them with deadstock and upcycled fabrics to create new garments. The result looks like little else on the market: vibrantly patterned jacquards and embroidered fabrics in shades of tangerine, watermelon, and honeysuckle. But the collections' poppiness is balanced by a pragmatic approach to shapes: gently oversized tunics, straight-leg trousers, and camp-collar shirts.
Wijesekera has steadily been growing in reputation since winning the Berlin-based Reference Studios incubator scheme back in September. For now, his clothes are stocked with specialist conscious retailers including No Borders and 50-m. It'd be a safe prediction, though, that he'll attract the attention of a powerhouse store this year. – Rob Nowill
Sunflower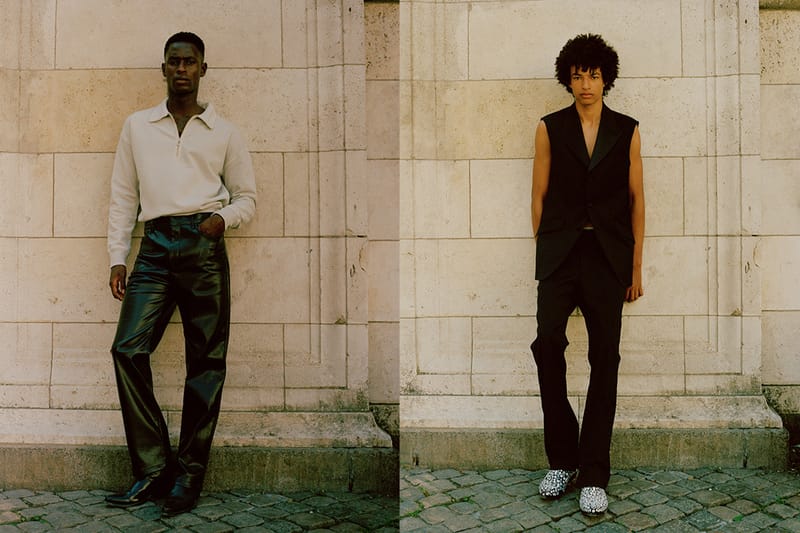 Sunflower
It's been a little over three years since Sunflower launched its first collection, before presenting at Copenhagen Fashion Week for the first time for Fall/Winter 2019. In that time, the brand has built a reputation for an aesthetic it describes as "understated, intelligent design with a respect for tailoring traditions."
In previous seasons, Sunflower's aesthetic has been communicated through chunky knitwear, relaxed shirting and updated outerwear silhouettes. Additionally, the label's tailoring and denim have also become key categories in their own right over the last three years. In the teasers for its seventh collection – due this month – the label has given a look at how this evolves, with leather pieces, printed jeans and graphic tees all featuring alongside a returning cast of everyday staples. – Jack Stanley
S.S.DALEY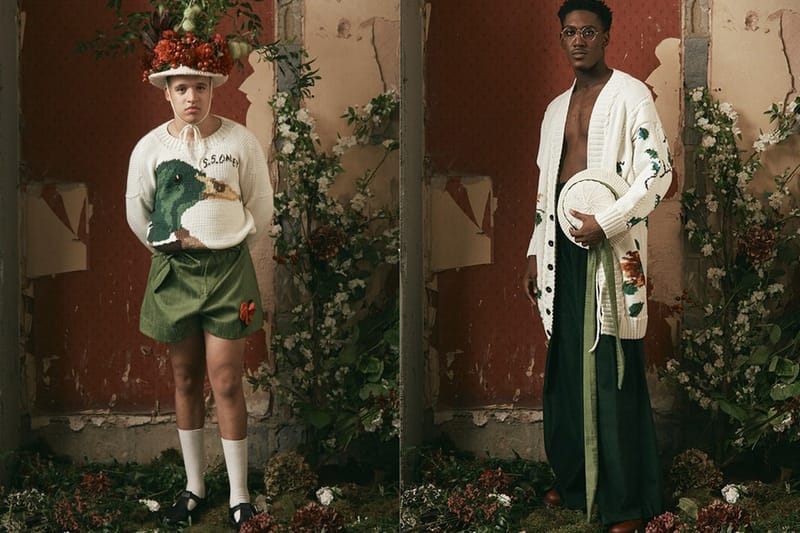 S.s.daley
S.S.DALEY's debut solo catwalk collection at London Fashion Week in September of last year had everybody talking. The emerging British designer — who teamed up with the National Youth Theatre for a truly remarkable Spring/Summer 2022 presentation — has cited the uniforms of the upper classes (think rowing regattas and cricket get-ups) as a source of inspiration for his collections, as well as more classic tailored looks mixed with a dash of flamboyance.
Delving deeper, Daley hones in on understanding the world of "masculinity" with a number of his collections, most recently with high-waisted rugby shorts and bathing suit-like vests, while an obsession with handmade tapestries informs oversized cardigans and birthed his own blue and gold-centric paisley print. Daley's approach to clothing is a needed breath of fresh air, and something we're looking forward to seeing more of in 2022. – Tayler Willson
Palmes Tennis Society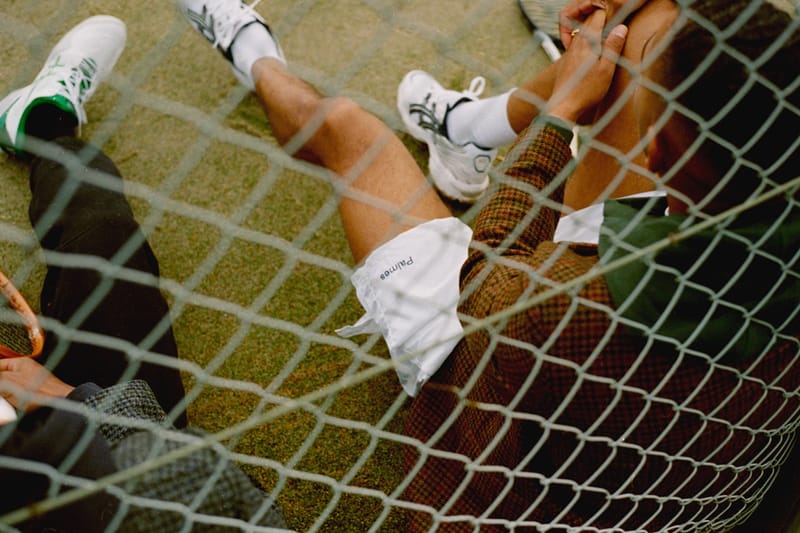 Palmes Tennis Society
Copenhagen-based Palmes Tennis Society emerged in 2020, drawing on founder Nikolaj Hansson's experiences of the sport's often exclusive nature. The label plans to use design as a vehicle to challenge tennis' reputation and to take it away from its stuffy, country club roots.
To achieve this, Palmes has launched two collections featuring graphic tees, knitwear and sweatpants, as well as preppy classics such as tweed sports coats – complete with tennis-inspired watercolor pictures on the label – and rugby shirts. To prove that tennis is for everyone, Palmes collections also incorporate racket dampeners, grip tape and other court-appropriate gear. – Jack Stanley
Adam Jones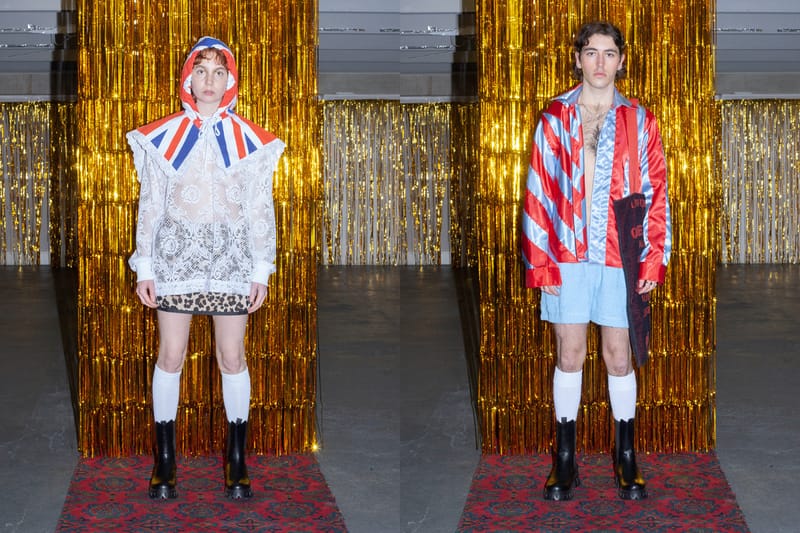 Adam Jones
Adam Jones is campy, kitsch, and loves to poke irony at British subcultures, but as the emerging Welsh designer's latest collection shows, this is something Jones takes very seriously – and for 2022, so should you.
Jones has the ability to inject fun and joy into otherwise antiquated sartorial tropes. Exaggeration is key: schoolboy shirts are subverted with lace patches (the same kind of lace that you'd find in your grandma's bathroom), while nods to British epoch-making eras such as the heyday of Eastenders and London's pub culture adorn garments made from upcycled beer mats.
But above all else is Jones' ability to be irreverent and still be considerate. The collections are largely made from deadstock materials, for example vintage football scarves, which are subverted in a less laddish way than their original intention. While Jones continues to score from collection to collection, we suspect 2022 is the year the name starts to become more widely respected. – Eric Brain
Late Checkout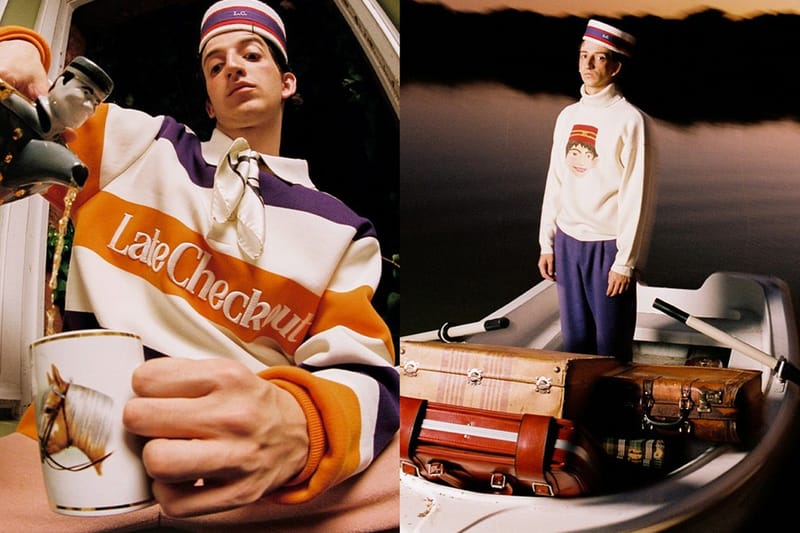 Late Checkout
Founded in 2019 by Spanish pair Antón Álvarez and Alex Turrión, Late Checkout was born out of a life of travel, hotels, long working days and even longer parties. Built around the ethos of"Late Checkout issa lifestyle", the Madrid-based outfit — which released its "The Bellboy: Chapter II" collection towards the end of last year — transports onlookers back to the 1970s, evoking style notes from Wes Anderson's universe, David Hockney and the quotidian scenes represented in Robert Colescott's art.
Readying the launch of only its third collection early this year, Late Checkout's plethora of knitwear, outerwear, sweats, legwear and shirting — in combination with its playful graphics and colors — is something to behold. – Tayler Willson
òL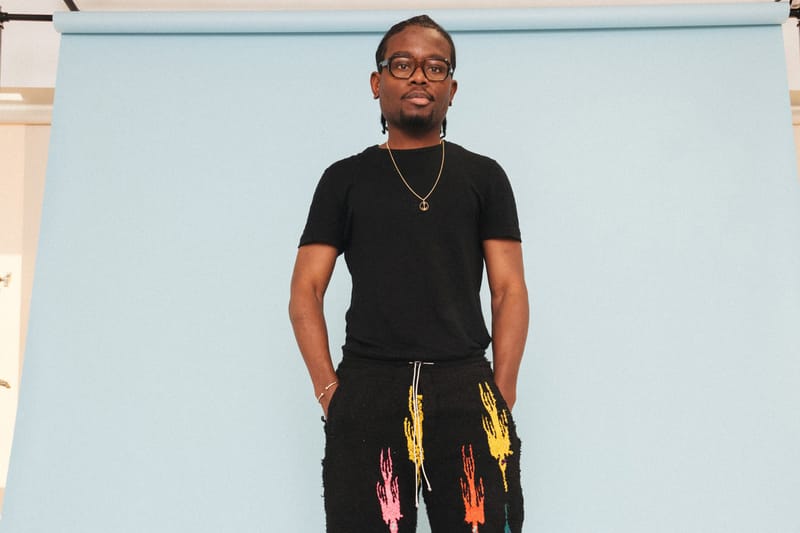 òl
Emerging from New York, Allen Aderotoye and his menswear brand òL – Outside Lines – has struck a chord with its authentic style, clean lines and easily adaptable apparel and accessories.
His first collection was showcased at Leonardo DiCaprio's The Wolf of Wall Street penthouse, and rapper Wale has been a constant supporter. As a student, the Nigerian-American designer took part in global immersion programs in London and Australia, and further honed his craft working for adidas, Kith and GAP.
For Fall/Winter '21, Aderotoye's third collection – titled "The Martian Capsule" – features traditional Mexican blankets constructed into ponchos and matching pants, with non-repeat print-pattern martian motifs. His offerings have amassed a global buzz from Tokyo to Brazil – of which the latter serves as inspiration for the collection – with reimagined pieces centered on the novel The Alchemist and its fictional character Santiago's journey towards the pursuit of more.
As Aderotoye continues to bend boundaries and navigate cultural landscapes, be sure to keep awatch on his creative designs. – Avon Dorsey
Loutre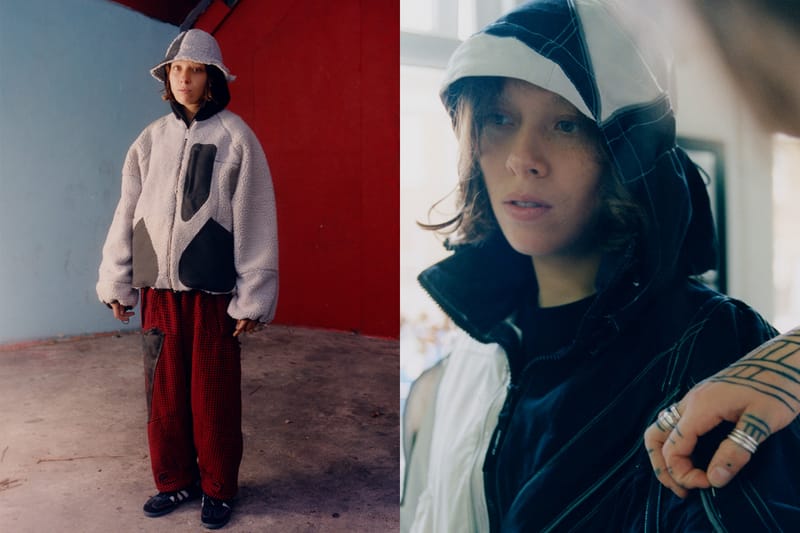 Loutre/Carhartt Wip
Not many emerging labels already incorporate a research and development platform, but Loutre plans to do things a bit differently. Founded by Pia Schiele, the London-based label mixes references to Schiele's skateboarding, surfing and skiing experiences with a sustainable ethos that puts upcycling at the forefront of its pieces.
This approach also continues onto Loutre.lab, which has already worked with Carhartt WIP, a dedicated studio for "exploring the relationship between nature, material science, craft and technology."
While Loutre's collections may focus on its skateboarding origins – think wide leg pants and bomber jackets – its aproach to materials is a big departure from usual skatewear. Across its collections, pieces have come constructed from everything from vintage tapestries and upcycled curtains to a biodegradable cotton twill and deadstock wool. – Jack Stanley
EGONlab.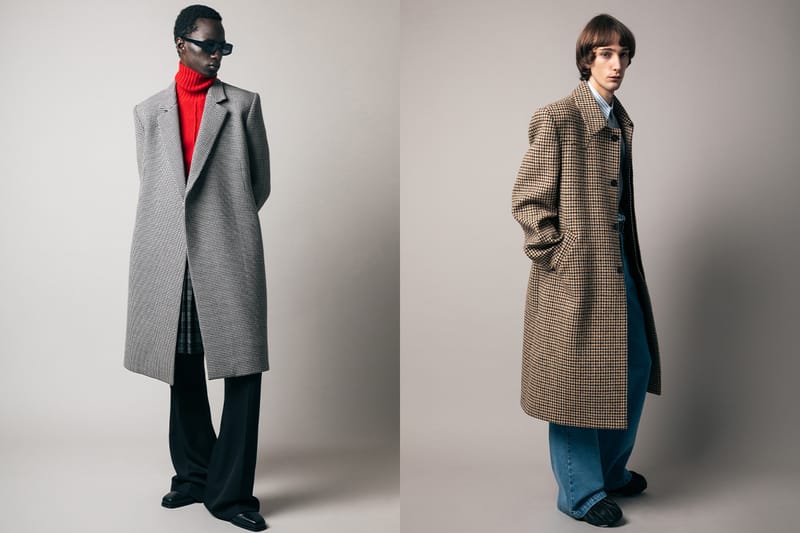 Egonlab.
Inspired by Viennese Expressionist painter Egon Schiele and the punk movement, unisex label EGONlab. hopped onto the scene just over two years ago and is already altering our perception of contemporary punk-inspired tailoring. With an iconoclastic lens, creative duo Florentin Glémarec and Kevin Nompeix hope to bridge generations through romance and rebellion – a sentiment that visibly runs through every piece they create. The brand's signature of powerful silhouettes and clean lines reimagine conventional dress notes by blending tailoring, streetwear, sportswear and couture. Already winning the Pierre Bergé Prize at the 2021 ANDAM Fashion Awards, EGONlab. is set to make its runway debut during PFW this month, providing more reason to keep a close eye on the French label. – Brycen Saunders
BTFL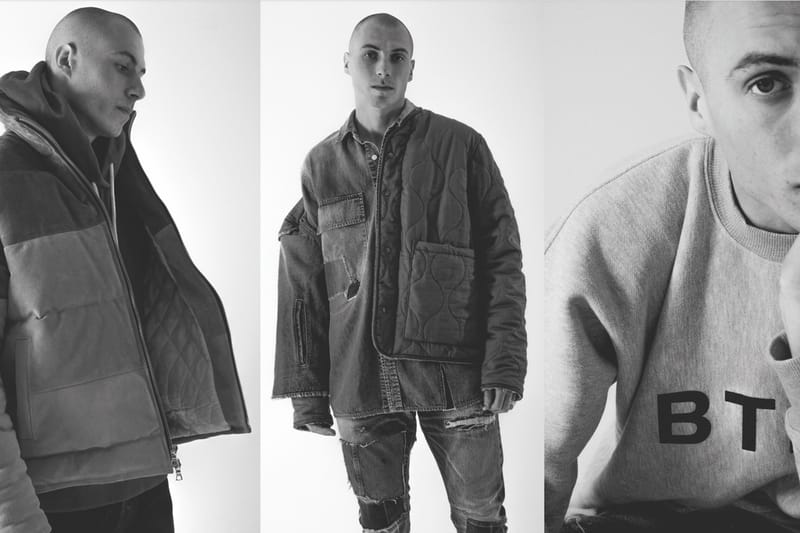 Btfl
American heritage dressing takes on a new shape with BTFL STUDIO and its curation of rustic casualwear and elevated workwear essentials. Rebranding their former Beautiful Fül moniker and concept, designers Alejandro "Buchie" Rodriguez and Tomasa Calvo co-founded the Los Angeles label in 2013, and turned a hobby into a thriving business with a Downtown LA flagship.
The duo's refined sportswear approach and meticulously sourced fabrics from Italy and Japan, have become favorites of celebrities including Dwayne Wade, Bad Bunny and Miley Cyrus. Their Fall/Winter '21 collection includes a 3/4 length black-and-white herringbone coat, padded protection-style vests and square-cut jackets that were elegantly modeled by Oscar-winning filmmaker Barry Jenkins for their "Friends and Family" campaign.
While each item is locally made and employs small family-owned factories and LA artisans, brand partnerships with Fred Segal, Recess Worldwide and an exclusive capsule collection with Cisco Brothers – along with Rodriguez's Creative Director role at A Ma Maniére – have helped to cement BTFL's position within the US design landscape. – Avon Dorsey
Source: Read Full Article