The Beckhams are preparing for a family wedding. Eldest son Brooklyn Beckham proposed to girlfriend Nicola Peltz in the summer of 2020, according to Elle U.K. And naturally, the wedding preparations are causing a big stir.
According to the Mirror, the wedding will follow Jewish customs, as Peltz's family has a strong Jewish tradition. They'll likely get married under a chuppah, the wedding canopy, and sign the ketubah, a marriage contract, per the outlet. David Beckham is also half Jewish, so the idea has roots for both families. A source told the Mirror, "When they ­started talking about their future, Brooklyn agreed to a Jewish wedding. While it won't be orthodox, or super religious, it will likely contain ­traditional elements."
Rumors are also circulating that there may be, in fact, two weddings: one in the United States and one in the United Kingdom, to accommodate the families' large and international circle of friends. Speaking of friends, there seems to be some drama brewing about wedding invitations to the royals, causing some concern about who to invite: Prince William or Prince Harry? Here's the scoop.
Do the Beckhams invite Prince Harry or Prince William to son Brooklyn's wedding?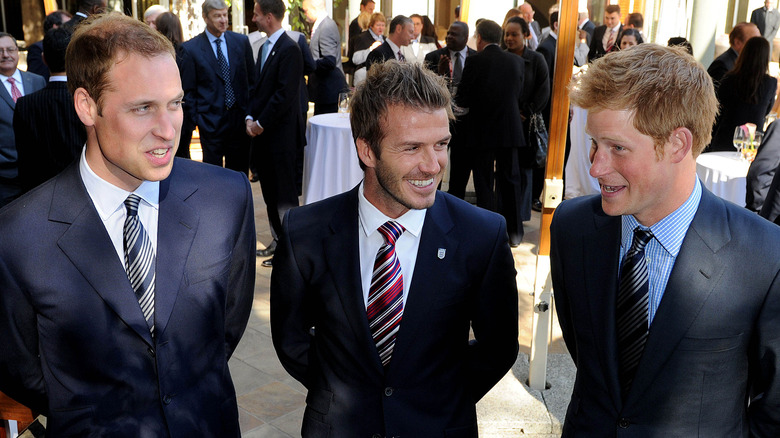 The Beckham family is reportedly at a crossroads in terms of wedding invitations for their son, Brooklyn Beckham, and fiancee Nicola Peltz. Per the Mirror, Victoria Beckham is reportedly stuck trying to decide whether she should extend an invitation to Prince Harry and Meghan Markle or Prince William and Kate Middleton. David and Victoria Beckham have long been friends of the brothers, having attended both William's wedding to Kate in 2011 and Harry's wedding to Meghan in 2018, per the outlet.
The royal feud between the brothers reportedly began shortly after Harry and Meghan's wedding, according to Hello! The situation was only exacerbated by the couple's bombshell interview with Oprah Winfrey, which didn't exactly paint the remaining members of the royal family in a positive light.
With so much turmoil within the royal family, a source told Closer Weekly (via the Mirror) that Victoria is stuck in a situation where she might only want to invite one royal brother, to avoid a media frenzy about the so-called feud. The fact that the Beckhams would like to keep the spotlight on their son and his future wife is reasonable, and they're likely very aware that both brothers being present might divert attention away from the happy couple. It's not an enviable position, and the Mirror stresses that the Beckhams don't want to be dragged into the royal feud.
Source: Read Full Article