Well, Tori Spelling may not every have come out and admitted she and Dean McDermott split up, but she's certainly advertising the fact she's living the single life now!
Right after being spotted making out with a mystery guy (who admittedly looked a lot like Dean LOLz), she's now back on Instagram switching up her family pics for thirst traps! Case in point her IG Story post from Friday morning in which she barely holds a robe on, showing off her cleavage, saying winkingly:
"I did not wake up like this…"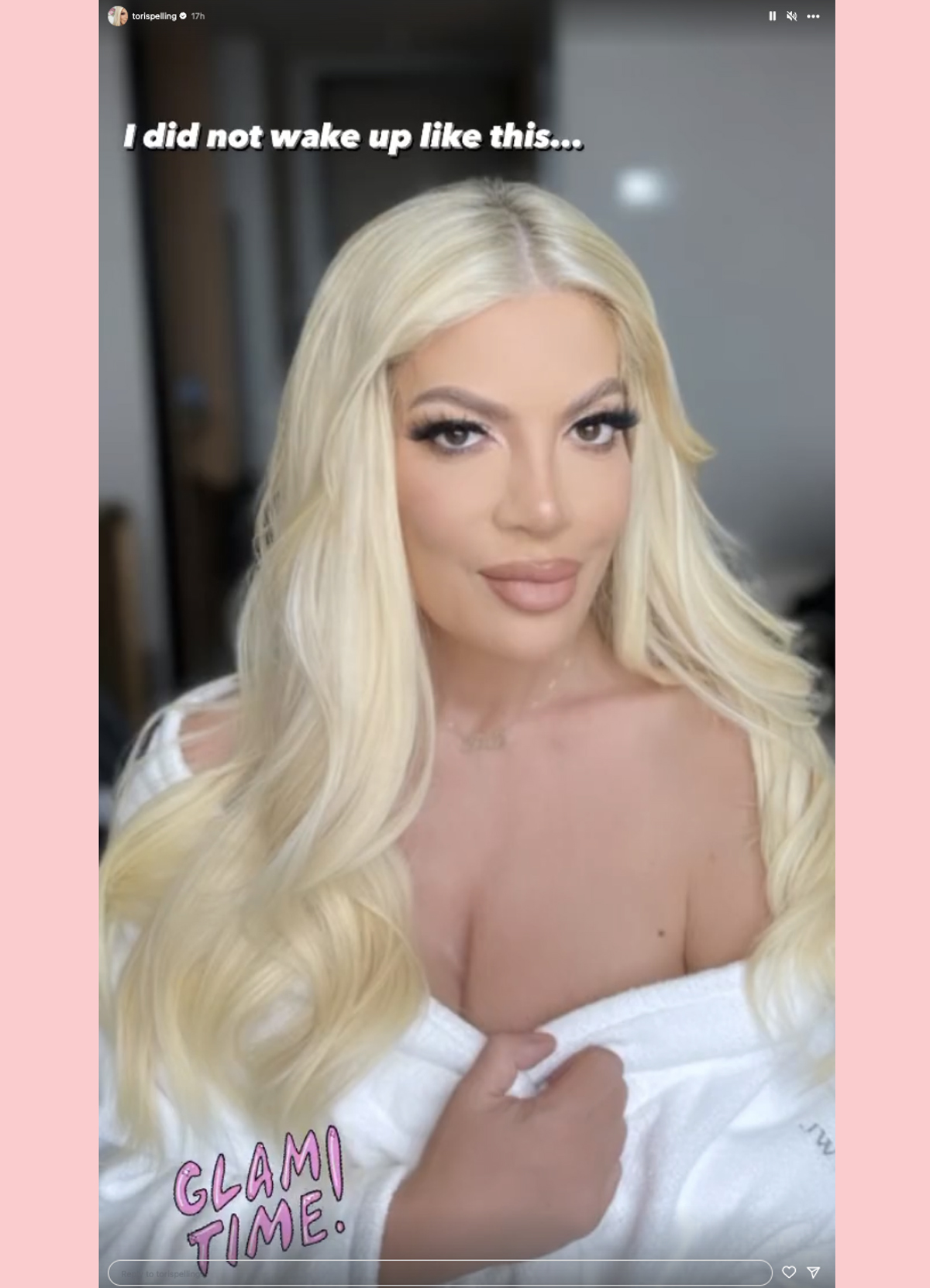 Seems like someone is ready to mingle! Even her Halloween costume showed off her killer abs as she went as… Sexy Freddy Krueger??
https://www.instagram.com/p/CzHDX9zRETU/
A post shared by Tori Spelling (@torispelling)
Welcome to the prime of Tori's life, bitch!
BTW, that mystery hookup has now been identified. According to Us Weekly, he's an advertising CEO named Ryan Cramer. A source told the outlet:
"Tori met Ryan through work, several months ago and she thought he was very charming and handsome."
Sorry, several months ago?? WTF?! So this makeout session wasn't in direct response to Dean kissing his new GF in public? Or someone close to Tori wants us to think that? Or specifically wants Dean to think that?
Hilariously, the insider says Tori has absolutely heard the responses to those photos — and fans saying he's a dead ringer for Dean. And she doesn't care!
"Tori is really excited about the new relationship and it doesn't bother her that people say he looks a lot like Dean."
First off, the new relationship? It's a full-on relationship? Yeah, the source says he's her boyfriend now!
Are we buying this, y'all?? Dean has a relationship, and now all of a sudden so does Tori? The guy looks like Dean? And we're supposed to believe none of it is about him? Hmm…
What do YOU think of this development, Perezcious readers??
Source: Read Full Article