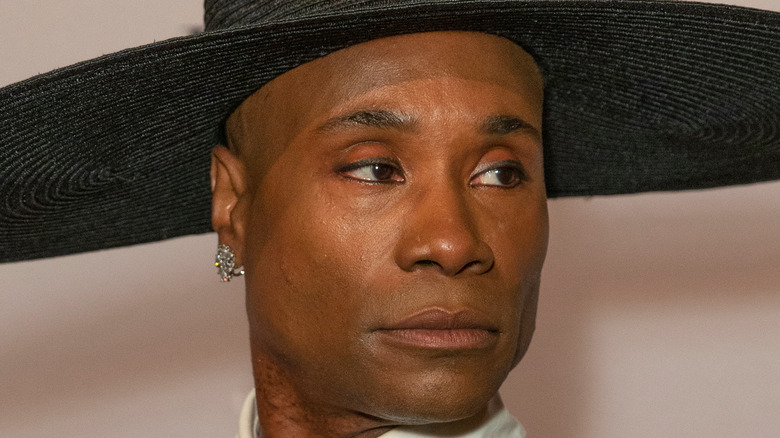 Name a better duo than Billy Porter and the red carpet; we'll wait. While Lady Gaga (never forget the meat dress) makes a strong contender, Porter's outfits complement red in a way no one can. The actor shot to fame after playing the leading role in TV show "Pose" and won multiple awards, including a Tony for his role as Lola in the Broadway show "Kinky Boots." However, his claim to icon hood is his ingenious ability to defy the fashion police and wear the best ensemble we've ever seen, every time we see him.
But before he takes center stage, he makes an extraordinary entrance. In 2019, Porter arrived in a litter carried into the Met Gala by six beautiful shirtless men. At the 2020 Grammys, we had to wait for curtain call to see the actor's face. The curtain we're speaking of is a mechanically retracting crystal curtain that hung as a fringe from Porter's hat, matching the rest of his blue crystal outfit from Baja East, according to Elle. It was remotely controlled to open and close and inspire a legion of internet memes.
Read on to know more about the outfit that took over the internet.
Billy Porter's viral hat started with the idea of being 'mysterious'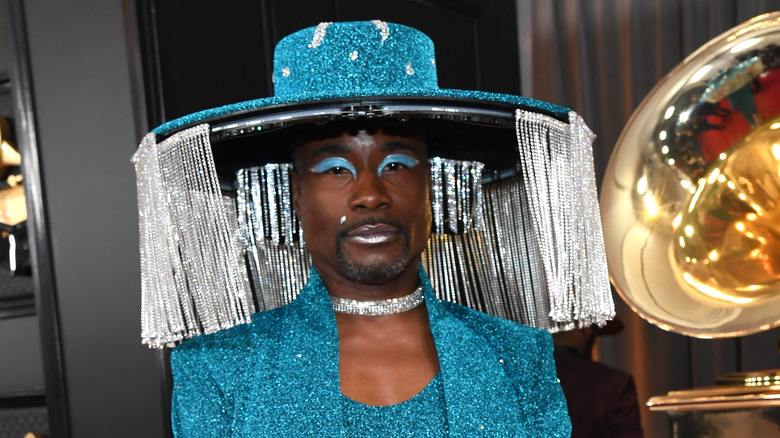 As Billy Porter's hat gradually opened to show the actor's stunning eye-makeup, the internet was at work making memes. One Twitter user likened the curtain-opening moment to "the cashier at the mcdonald's drive thru when i pull up," while another conjured a relatable image, "Me as a lamp in Beyoncé's house." A few channeled the petty energy we all have in us: "When you mad but your man asks if you wanna go get food" and our favorite: "Me: I hate Drama™, Me when I sense Drama™:" Porter's expressionless (but fierce) face at the reveal only adds to the perfection that is this meme.
Porter came up with the outfit (and hat) along with his stylist Sam Ratelle, designer Scott Studenberg and celebrity milliner Sarah Sokol (via Vanity Fair). Ratelle explained to the outlet that they wanted it to be "dramatic and mysterious and make you want to know who's hiding behind them," which was clearly achieved. Porter worded his vision a little differently: "Get out the way, cause like it or not, here she comes!" But we get the essence. The hat also proved to serve a different purpose. "The crystal curtain stays open, unless you get on my nerves and then I can shut you right out!" Porter told Vanity Fair. The most fashionable response to "When your mom makes you come out of your room to say hello to random relatives."
Source: Read Full Article