The 18-year-old daughter of Charlie Sheen and Denise Richards has also teased her latest OnlyFans content with a sultry picture of her posing in a white lingerie.
AceShowbiz –Sami Sheen apparently has a lot of catch up after gaining more fans since joining OnlyFans. The teen creator has admitted that while she is "appreciative" of each of her subscribers on the adult-only platform, she is also overwhelmed by messages from her fans.
Sami got candid about her feelings over the fans' support in a message posted on her Instagram Story. "For everyone who is subscribed to my OF: i'm trying my best to respond to all of your messages," she wrote on late Monday, June 20. "Please don't get offended or take it personal if I don't get back to you soon enough."
Asking her fans for their understanding, the teen continued, "i'm very appreciative of all of you & extremely grateful for your support, but it is quite overwhelming when I have over a thousand messages to respond to right now. So i'm really sorry but i'll get back to you as soon as I can, I promise."
Sami Sheen got candid about her feelings after receiving a thousand messages from fans.
In the meantime, Sami has teased her latest OnlyFans content with a sultry picture shared on her Story earlier that day. In the image, the blonde girl appeared to be wearing nothing but a white lingerie as she posed seductively.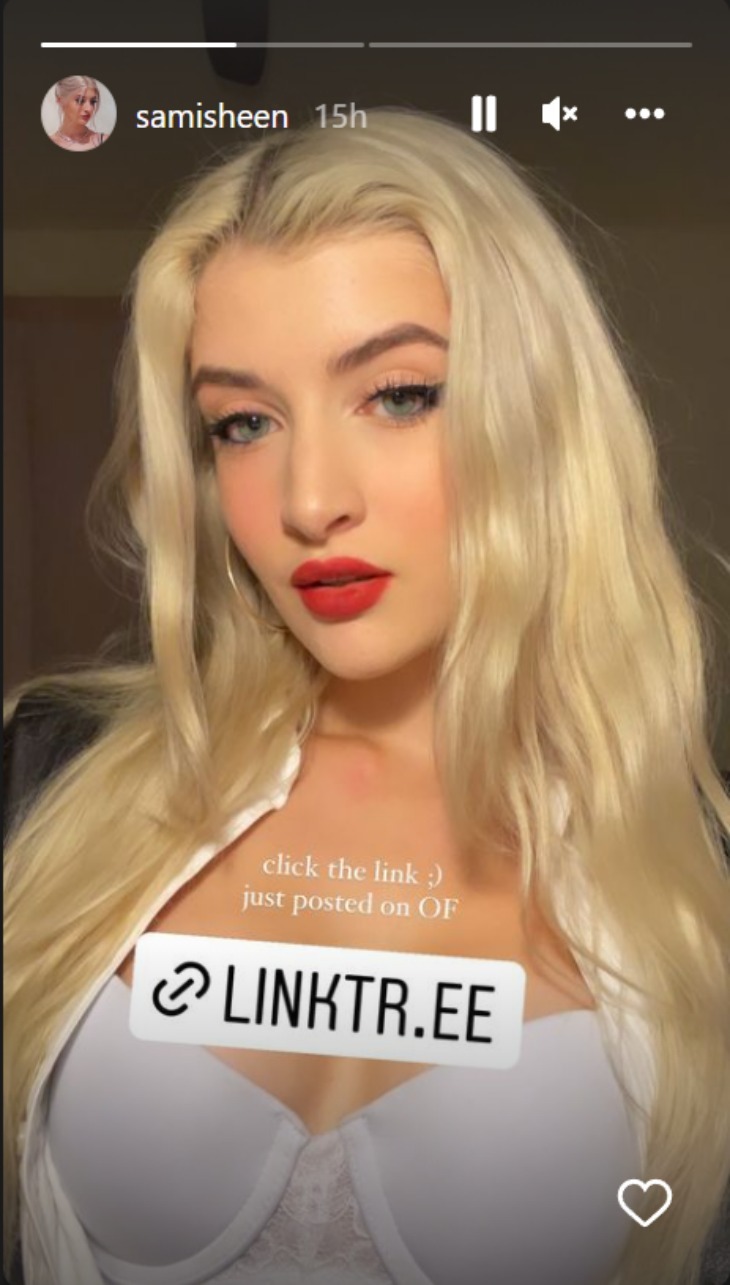 The teen daughter of Charlie Sheen teased her latest OnlyFans content.
Sami joined OnlyFans on June 13 after turning 18 years old in March. Her father Charlie Sheen was initially against it, saying in a statement to Page Six, "She is 18 years old now and living with her mother. This did not occur under my roof." He added, "I do not condone this, but since I'm unable to prevent it, I urged her to keep it classy, creative and not sacrifice her integrity."
However, the actor has since changed his tune. Agreeing with his ex-wife, he acknowledged that Denise Richards has "illuminated a variety of salient points, that in my haste, I overlooked and dismissed." In a statement to E! News, he added, "Now more than ever, it's essential that Sami have a united parental front to rely upon, as she embarks on this new adventure. From this moment forward, she'll have it abundantly."
Contrary to Charlie, Denise has been supportive of Sami's OnlyFans venture since the beginning. "Lots of negative comments on my social this past week. I have to say, I wish I had the confidence my 18 yr old daughter has. And I also can't be judgmental of her choices. I did Wild Things and Playboy, quite frankly her father shouldn't be either," she recently penned on Instagram in response to the critics.
The former "The Real Housewives of Beverly Hills" star further said, "And to be able to ignore the negativity at her age? It took me many years and I still sometimes struggle. I'm in awe of her ability to be able to shut out the noise. Because it can destroy you."
Source: Read Full Article