That aside, the 'Kardashians' star makes headlines as she turns head in a sultry sheer black dress with no bra while attending Lori Harvey's 26th birthday.
AceShowbiz –Kendall Jenner landed in hot water for being inconsiderate for people who are working with her. In some pictures that make rounds, the model and reality TV star can be seen having seen having her assistant trailing behind her while holding an umbrella over her head amid rainstorm.
The man, who was dressed in an all-black outfit, could be seen following Kendall through the California downpour on Saturday, January 14. He made sure that she stayed dry until she reached her destination. As he had little covering of his own from the rain, the man was seen getting soaked.
As for the 27-year-old beauty, she sported black leggings and a light blue sweatshirt for the outing. "The Kardashians" star looked cozy as she paired the look with high white socks, slip-on boots, a black purse and a black face mask.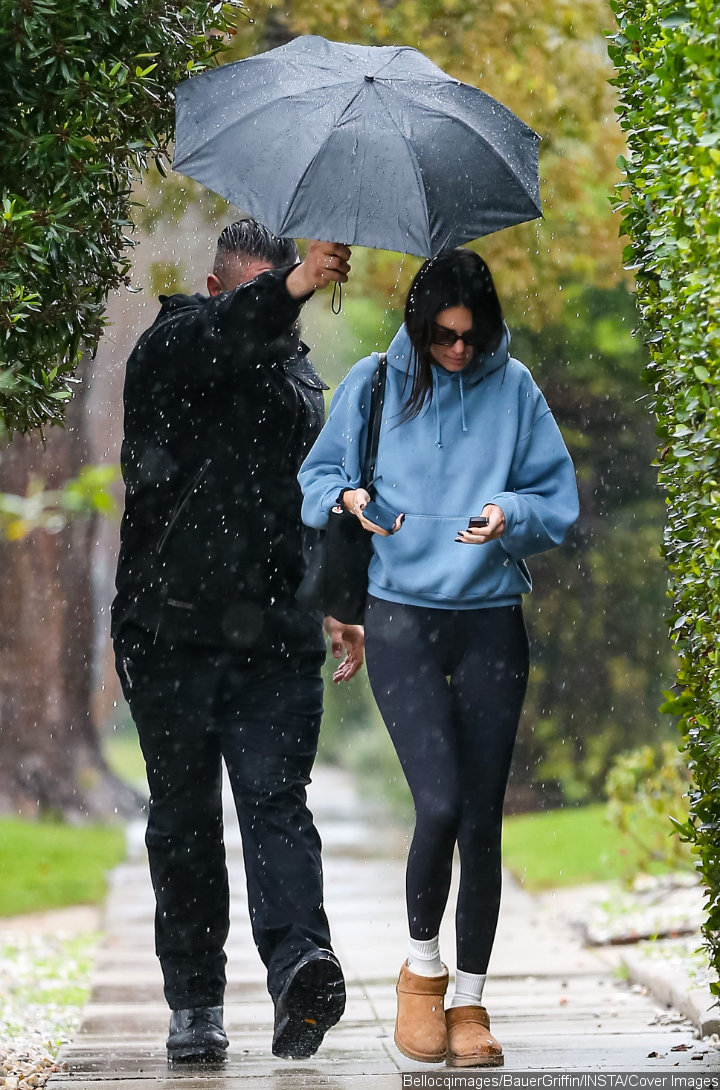 Kendall Jenner's assistant held an umbrella for her.
Upon catching wind of the pictures, fans were not having Kendall's antics. "I don't care how rich I am but I would feel so bad letting someone hold my umbrella for me while they are getting soaked," one person blasted the catwalk beauty.
"Agreed! Plus it would be a bit awkward? You would stay more dry just holding it yourself…," one other replied. Someone echoed the sentiment, saying, "Yes! I was just thinking how I couldn't allow someone to hold an umbrella for me because I'm too lazy to hold it myself."
That aside, Kendall made headlines after baring it all while attending Lori Harvey's 26th birthday party earlier this weekend. For the bash which took place at Lavo in West Hollywood, the 818 founder turned heads in a sultry sheer black dress with no bra.
The former "Keeping Up with the Kardashians" star also treated her followers to some pictures of her posing seductively in the racy dress. The post featured her laying in the bed as she captioned it with a cat emoji.
You can share this post!
Source: Read Full Article