Aside from gifting Kulture the stack of cash she innocently dubs a 'ticket,' the 'WAP' hitmaker and her husband Offset also take their little girl to an enjoyable family trip to the Candytopia museum.
AceShowbiz –Cardi B's young daughter has received a present no other girl her age would usually get. When turning four on Sunday, July 10, Kulture was caught on camera proudly showing off a massive stack of money that she got from her parents as her birthday gift.
Sharing the footage was Kulture's 30-year-old father Offset. Making use of his Instagram account, the Migos rapper let out a short video displaying his little girl holding $50,000 in her little hands while leaning out of the window of a black SUV. In the background, his wife Cardi could be seen asking their daughter, "What is that?"
Kulture then replied to her raptress mom by innocently calling the stack of cash in her hands a "ticket," which happened to be a slang for a million dollars. "It's a ticket? A ticket is a million, girl," her doting father promptly responded. He went on to encourage her to mention the right amount by stating, "That's 50. Say 50."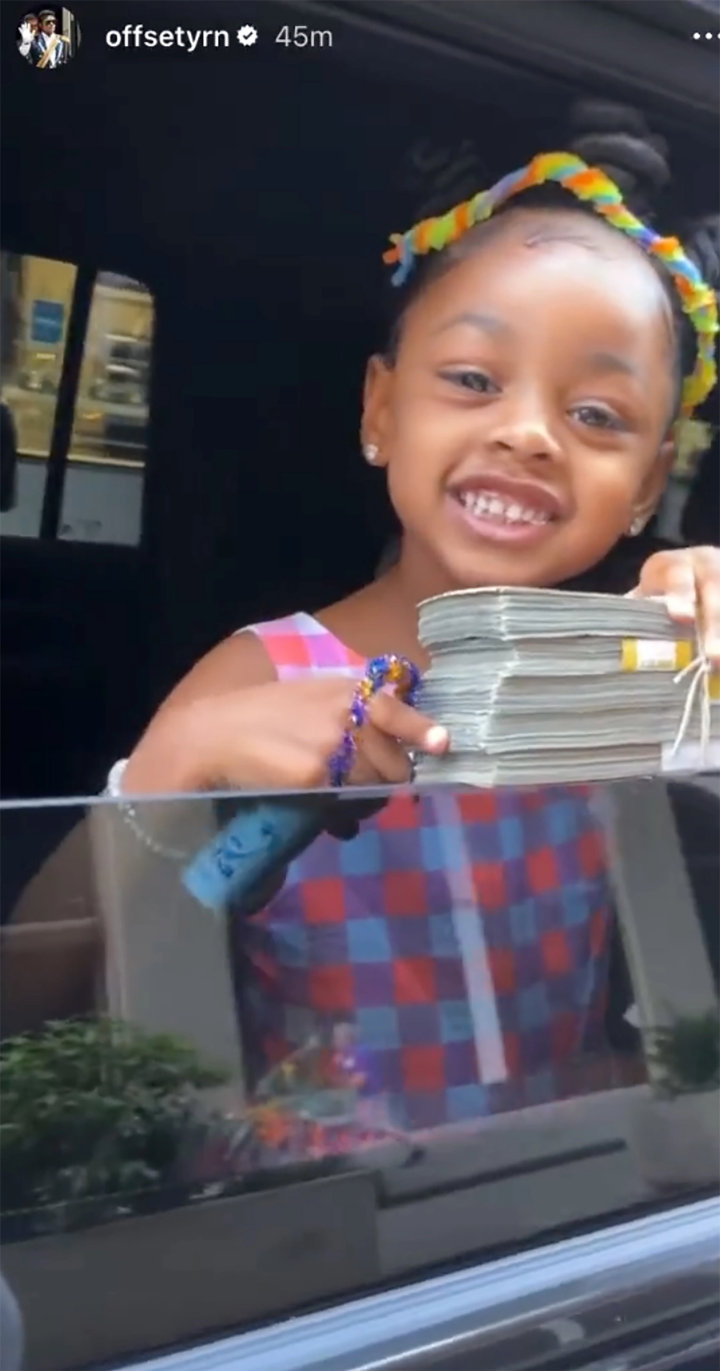 Kulture was seen proudly showing off a massive stack of money she got from her parents.
In addition to the cash, Cardi and Offset commemorated Kulture's special day with a family trip to Candytopia in New York. One of Cardi's Instagram Stories offered footage of the 4-year-old standing in front of and admiring a portrait of her mother made entirely of what looks like jellybeans.
This was not the first time Kulture received extravagant gifts from her parents. On her 3rd birthday, she enjoyed a lavish Disney-themed birthday party. The grand celebration featured several real-life Disney princesses, a horse-drawn carriage, an animal farm, as well as a towering Crab Legs birthday cake.
Kulture also received an expensive Birkin bag from Offset in celebration of her 2nd birthday. The daughter of the "Bad and Boujee" rapper could be seen carrying the pink colored purse on her arm with her dad's help. "Oh, okay girl, I see you beautiful baby. It's your Birkin," her dad praised in a video shared via Instagram.
Source: Read Full Article