"Is there someone next to me? What's your name? Where are we?" I tried to keep panic out of my voice and I frantically grasped onto the hand of the person seated at my right. We had only met five minutes before, but our unique circumstances forced an instant connection. We were both blindfolded and the pitch darkness was unnerving.
"I'm Megan," she said, "I think we've made it to dinner."
And so began one of the most unique yet strangely thrilling dinner experiences I've ever had. We had arrived at the The Fives Azul Beach Resort Playa Del Carmen only hours before and this was our first dining experience together as a group. After welcome cocktails and polite introductions, our resort hosts asked each of us to kindly put on blindfolds and get into a small fleet of golf carts, headed to an unknown destination. It was clear that this was no ordinary vacation.
The Fives is designed to celebrate the senses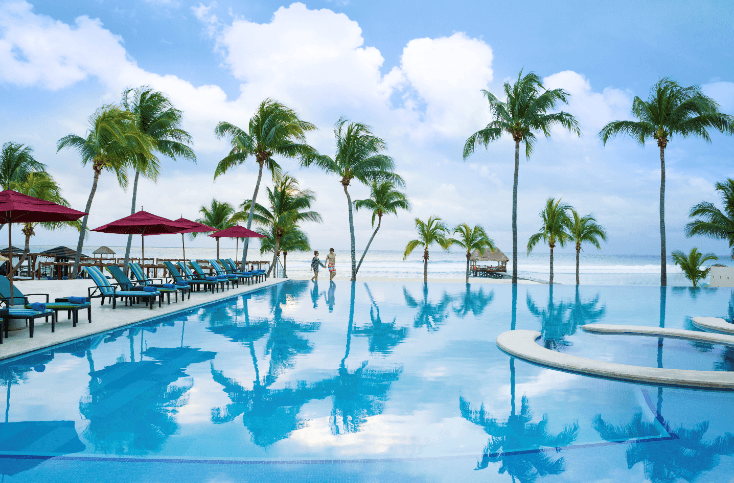 The Fives Azul Beach Resort Playa Del Carmen | Karisma Resorts
There are hundreds of hotels and resorts dotting Mexico's eastern Caribbean coast and you could probably find something nice to say about most of them. So how do you decide which one is best for you? Are you better suited to the party life of Cancun or the history-rich ruins of Riviera Maya? Perhaps the answer is somewhere in between. If you want a taste of everything, then The Fives in Playa Del Carmen is just what you've been searching for.
Karisma Hotels group owns this gourmet all-inclusive property which features 580 luxury designed one, two, and three-bedroom suites situated in a stunning tropical landscape. There are multiple gourmet dining options, 24-hour room service, swim-up bars, lounges, a 15,000 square foot spa, shopping, and entertainment every single day. In the four short days we were there, we stumbled upon a pop-up flea market and bazaar, a nighttime fire show and reggae show on the beach, and a giant seafood paella demonstration with plenty of samples.
Basically, it's everything you're envisioning when you allow your mind to daydream about going on a tropical getaway.
Dinner behind the blindfold
That would all be enough to attract vacation-goers from all over the world, but The Fives takes it to the next level with their exclusive Five Senses Campaign. With this promotion, they've managed to create an experience that fully enhances your senses the whole time.
For our group, it all started at that blindfolded sensorial dinner when I was forced to rely on touch and taste in the absence of sight. Up first on the menu: a mozzarella bubble with basil pesto that felt like a squishy liquid filled balloon. Was I supposed to eat it? I did, and it was magical.
The meal came with no utensils and everyone quickly got used to feeling around the table and forgoing manners in favor of gnawing on smoked short ribs right from the bone. We shouted our conversations since we couldn't see each other. It's weird how heightened our other senses became without vision.
After a dessert of crackling sweet pop rocks, macaroons, and cotton candy, we blinked against the shock of light once we had permission to remove our blindfolds. The room was filled with resort employees who had been assisting for the whole meal and, most alarmingly, someone with a video camera. Like I said, it was clear this was no ordinary vacation, but I was up for the adventure.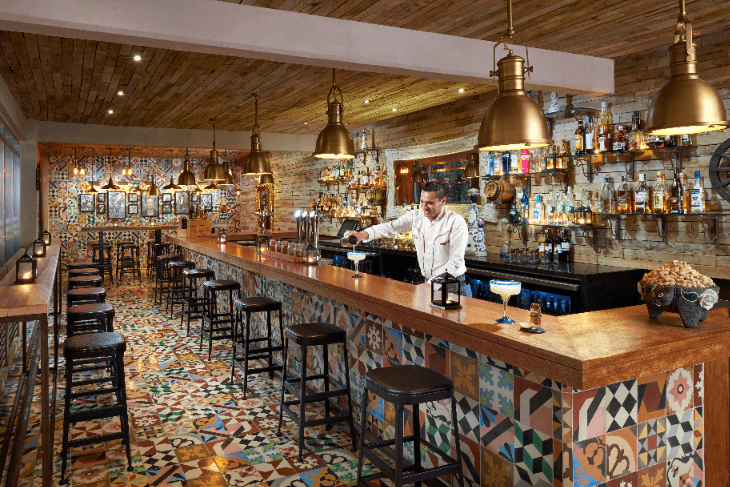 The Fives Azul Beach Resort Playa Del Carmen | Karisma Resorts
There are surprises around every corner
The next day we took a tour of the resort and got to see actors in traditional Mayan costumes performing all over the resort. Wandering along the walkways through the mangrove forest dense with ceremonial smoke, it was easy enough to believe that we'd all transported back hundreds of years in time. I quickly hurried past the elaborate fertility ritual, admiring its beauty without lingering. I already have three kids at home, thank you very much.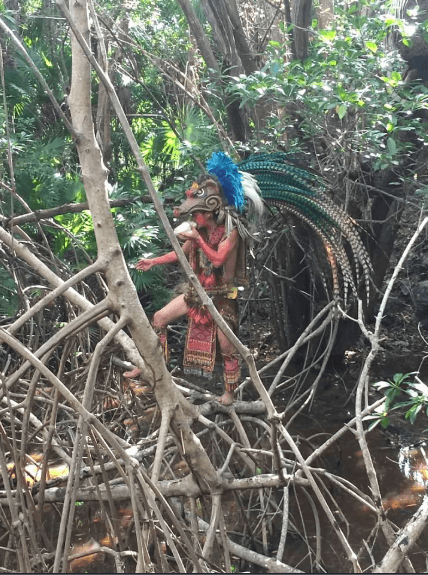 The Fives Azul Beach Resort Playa Del Carmen | Amanda Harding via The Cheat Sheet
Finally, it was time to see the beach, a slice of Caribbean paradise with a view of Cozumel and the same white sand and sparkling water that makes this one of the most popular vacation destinations in the world. Adjacent to the beach, a luxurious infinity pool beckons weary travelers to cast aside their troubles in favor of a lazy afternoon with a frozen mixed drink in hand. To that I had to say: "Yes, please!"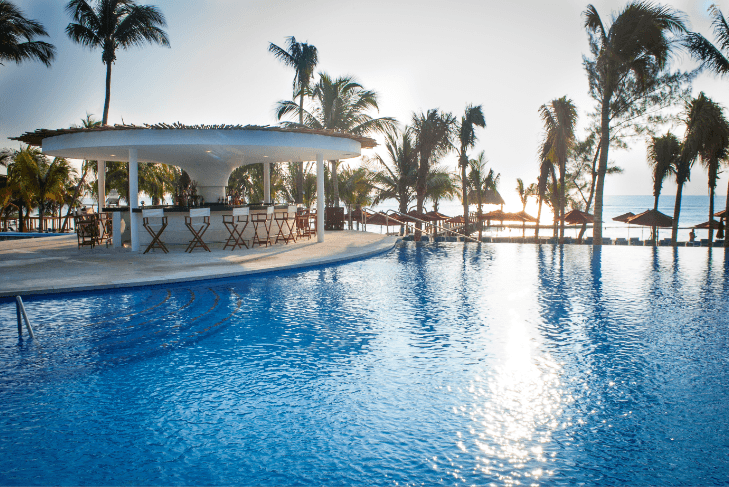 The Fives Azul Beach Resort Playa Del Carmen | Karisma Resorts
Making memories at Casa de Rosa
I was certain that no experience could top the sensorial dinner of that first night, but as usual, I was wrong. We began our private dinner at La Casa De Rosa with a tequila and mezcal tasting set to the backdrop of a lively mariachi band. Once inside, a pigtailed Rosa welcomed us to her "home" and then quickly put us to work. Each person in our group took on a task, hand pressing corn tortillas on the comal, assembling tamales, and grinding green salsa in a stone mortar in the warmly lit, colorful kitchen.
This was so much more than just going to dinner – at Rosa's, we all felt like we were part of the family. The experience gives guests the opportunity to learn about Mexican culture while relishing the feeling of community and, of course, dining on authentic, mouthwatering cuisine.
After dinner, there were dancing lessons (naturally). The whole experience lived up to the promise of delighting all five senses and was worth putting in the cooking time.
A beach vacation for anyone and everyone
I was lucky enough to visit the resort with my husband, sans kids, for our first solo getaway since our honeymoon eight years ago. But visiting the resort made it clear that we could have brought them and still had an amazing time. The Fives offers connected suites that share a hallway but have separate bedrooms, making it the ideal place for multi-generational travel (in other words, we could have invited my mom along to babysit). The resort offers pack and plays for the kids, toys you can rent, and a kid's zone with organized activities for tots ages 4 – 12. There's even a special spa room just for kid treatments.
Getting married? You won't find a more breathtaking backdrop for exchanging vows with the love of your life. The Fives Azul Beach Resort offers ceremony locations for intimate gatherings or larger affairs, with a private rooftop deck penthouse boasting enough space for 200 revelers. I'm already plotting which of my engaged friends I can convince to get married here; I want the excuse to come back.
Don't take my word for it – Karisma properties have achieved industry awards including Conde Nast Traveler's "Top 100 Hotels in the World," Conde Nast Traveler's "Top 30 Hotels in Cancun," TripAdvisor® Traveler's Choice "Best Hotels for Romance," and AAA's "Five Diamond Award" and "Four Diamond Award." They obviously know what they're doing when it comes to hospitality.
Celebrate your senses at The Fives with the love of your life or your whole family (or both). There's nowhere else like it on earth.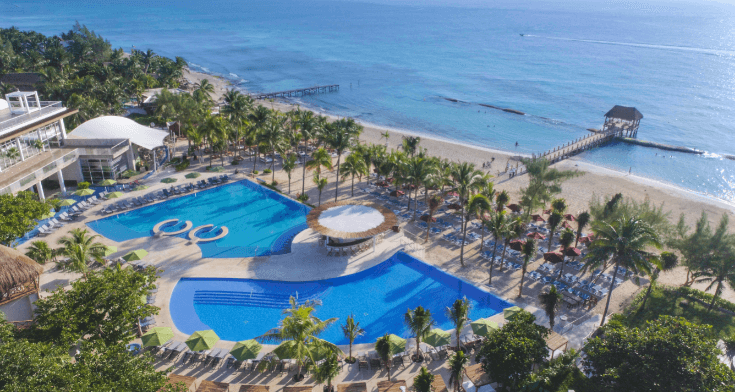 The Fives Azul Beach Resort Playa Del Carmen | Karisma Resorts
Editor's note: Accommodations were provided by J. Wade Public Relations. Opinions are my own.   
Source: Read Full Article