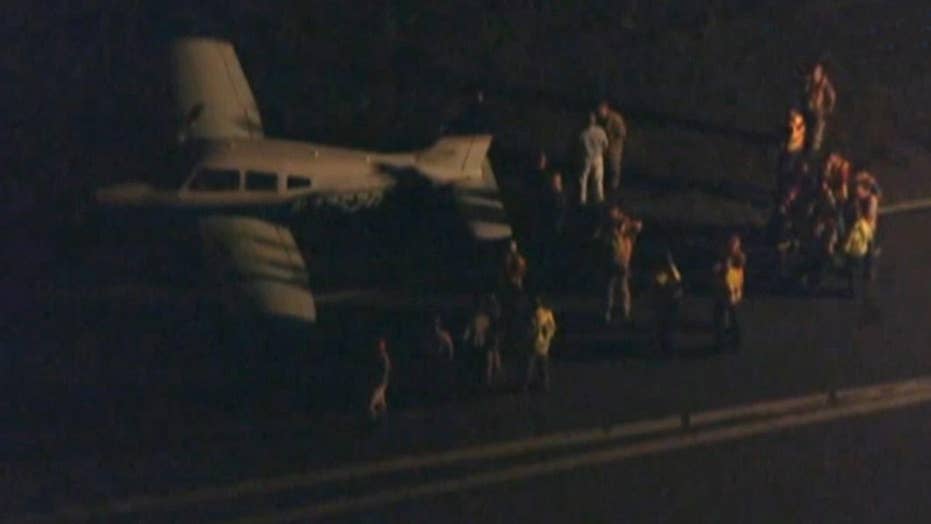 First responders on scene after plane lands on highway
Raw video: Small plane makes emergency landing on I-95 in Wilson, North Carolina.
The pilot of a small aircraft that made an emergency landing on Interstate 95 credits "God" with helping him bring the plane down safely.
The Piper PA-28 was en route from Smithfield to Wilson, N.C., around 7:30 p.m. on Wednesday when the pilot "declared an emergency," WNCN reported. The cause of the emergency was not immediately clear, but was reported to be a possible fuel or mechanical issue, according to the outlet.
JAL PILOT ADMITS TO BEING 10 TIMES OVER ALCOHOL LIMIT BEFORE FLIGHT
The pilot, who was traveling with a student pilot, landed the plane on I-95 near mile marker 119 and maneuvered the plane into an exit ramp.
When asked about the emergency landing, the pilot reportedly told WNCN that "God" landed the plane.
The North Carolina Highway Patrol confirmed that first responders rushed to the scene. No one was injured, and the plane did not appear to have suffered any damage, WTVD reported.
FOLLOW US ON FACEBOOK FOR MORE FOX LIFESTYLE NEWS
The Federal Aviation Administration confirmed to Fox News that the incident is still under investigation.
Source: Read Full Article