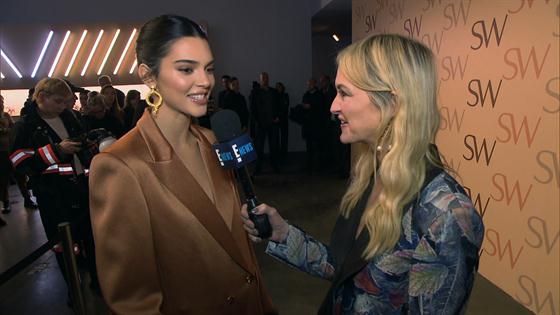 Who runs the world? Girls! Who runs New York Fashion Week? Perhaps it's Kendall Jenner.
It's been a busy few days for the Keeping Up With the Kardashians star as she travels around the Big Apple.
But when attending the Stuart Weitzman Spring Celebration 2019 event Tuesday night, the 23-year-old was asked whose shoes she would metaphorically want to walk in. Her answer may surprise you.
"Maybe Beyoncé for a day. How nice would that be?" she told E! News' Zanna Roberts Rassi exclusively. "It would be so fun and exciting…Lots of work."
As for whose shoes she would like to borrow, Kendall is keeping it in the family.
When asked to choose a closet to raid, the supermodel couldn't decide between two famous sisters.
"I think it would be a battle between maybe Kim and Khloe. Kim has a wonderful collection of Yeezy [shoes] that nobody has. When they come out, I usually get them but she has the ones that are not out yet," Kendall admitted. "There's so much I would steal from all of them."
View this post on Instagram
@stuartweitzman #SWWALK #ad
A post shared by Kendall (@kendalljenner) on
Putting shoes aside, Kendall alongside Willow Smith, Yang Mi and Jean Campbell are the newest campaign stars for Stuart Weitzman. Earlier this week, fans got a tease of the campaign on Kendall's Instagram.
"We had so much fun. I think we put these little weird moves together and we had a lot of fun making it," Kendall explained. "On set, we were just like this is cool."
As New York Fashion Week comes to a close, the focus will soon be on Valentine's Day. While Kendall admitted that she doesn't know what her plans will be, she was able to share her ideal way to celebrate.
"I'm a quality time person so anything I'm doing where I'm just hanging out with someone, I'm cool with it," she explained.
Take notes, gentlemen!
Watch the season 16 premiere of Keeping Up With the Kardashians Sunday, Mar. 31 at 9 p.m., only on E!
Source: Read Full Article