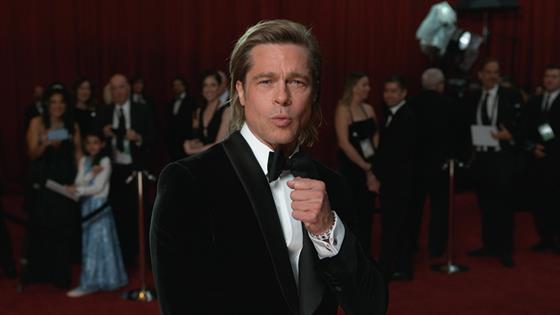 And people think awards shows have gotten predictable!
The 2020 Oscars have officially ended this shortened awards season and delivered some major surprises during Sunday's ceremony, with a handful of upsets (although can they really be called upsets when everyone was thrilled they happened?), unexpected viral moments and a surprise performance that we're pretty sure Idina Menzel is still confused over.
While there were a lot of standout moments during the three and a half hour show, a few stood out from the rest, including an opening performance that truly got the party started (with even Leonardo DiCaprio unable to resist grabbing the mic!), a presenting duo people are already campaigning to have host the 2021 ceremony (Hand us a pen 'cause we're ready to give our support!) and yet another iconic acceptance speech from Brad Pitt. (Oh, and should we mention that we got Mr. Pitt into E!'s Glambot. You're welcome!)
Here were the best moments at the 2020 Oscars….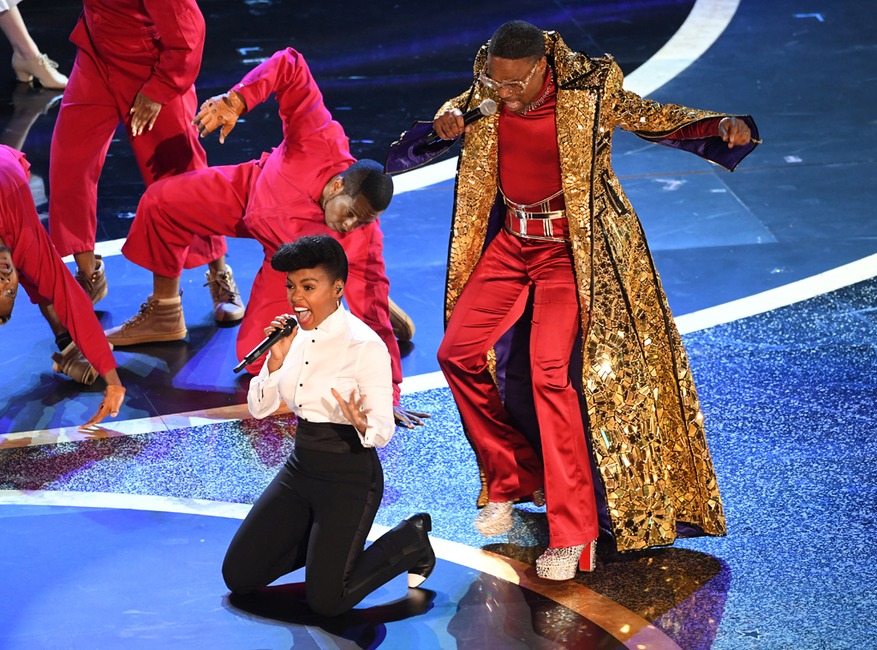 Getty Images
Show-Starting Number
Janelle Monae got the show started off on the right note, delivering a musical number that began with an homage to Mr. Rogers, singing "A Beautiful Day in the Neighborhood" before passing her hat along to Tom Hanks. But before things got to sweet, Janelle quickly shifted gears, belting out a tribute to some of the best movies of the year with Billy Porter. Even Leonardo DiCaprio got in on the action, singing into the mic at one point before Brie Larson showed off her impressive vocals.
Talk about getting the party started!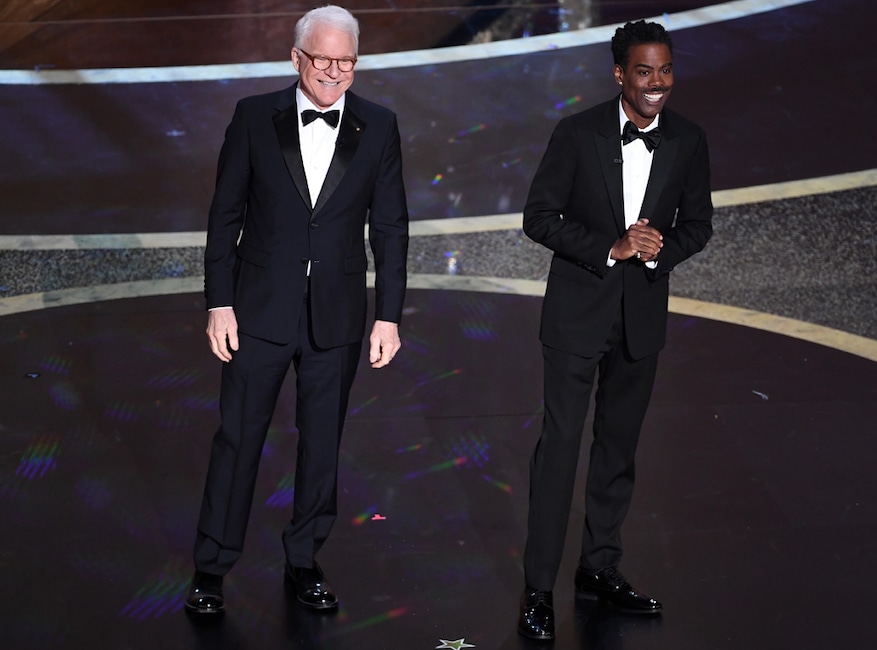 Kevin Winter/Getty Images
That No-Host Monologue
TO be clear, former hosts Steve Martin and Chris Rock were not the hosts of the 2020 ceremony, they just happened to open it with a hilarious joint monologue that included jokes about that epic 2017 mix-up between La La Land and Moonlight and the lack of diversity among the nominees this year. Anyone else cool with these returning to NOT host next year, too?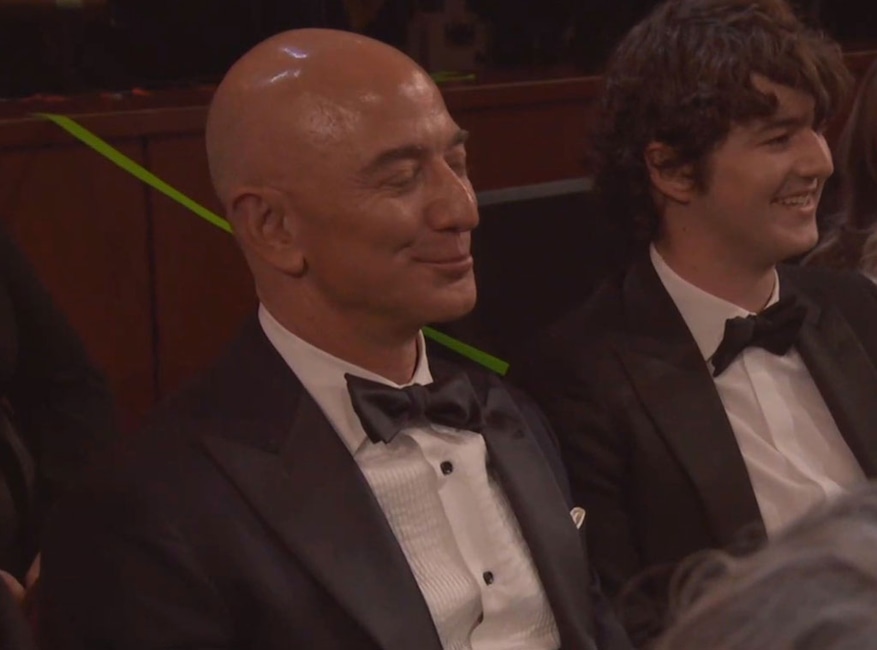 ABC
Oh, Bezos
The best reaction to Rock and Marrin's monologue had to be Amazon CEO Jeff Bezos after they playfully poked fun at him.
"Oh, Jeff Bezos is here!" exclaimed the Everybody Hates Chris comedian. "Wow, great actor!" chimed in Martin. "He's got cash, but when he writes a check, the bank bounce. Like, Jeff Bezos is so rich [that] he got divorced and he's still the richest man in the world," Rock said, while Bezos could do nothing but laugh it off. Also, he's still very rich, so he's just fine.
Article continues below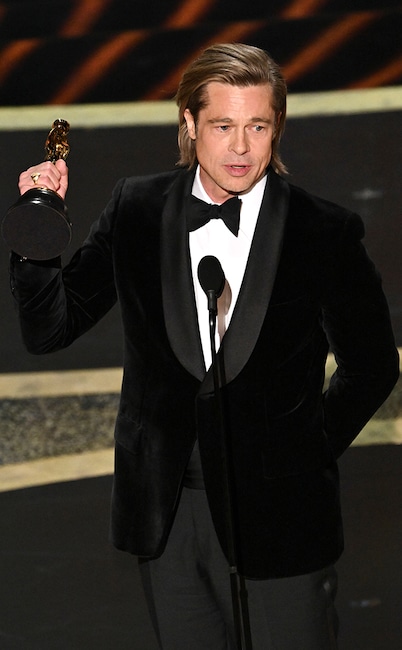 Rob Latour/Shutterstock
Brad's Emotional Win
Continuing his trends of delivering pitch-perfect speeches, Brad's final speech for his win for Best Supporting Actor was the perfect mix of sincere and charming, with a timely political joke, a shout-out to Leonardo DiCaprio ("I'll ride on your coattails any day, the view's fantastic!"), and getting emotional over his long journey in Hollywood. "Once Upon a Time…in Hollywood, ain't that the truth."
But the best moment came at the end of his speech, when he thanked his six kids, saying, "This is for my kids who color everything I do. I adore you."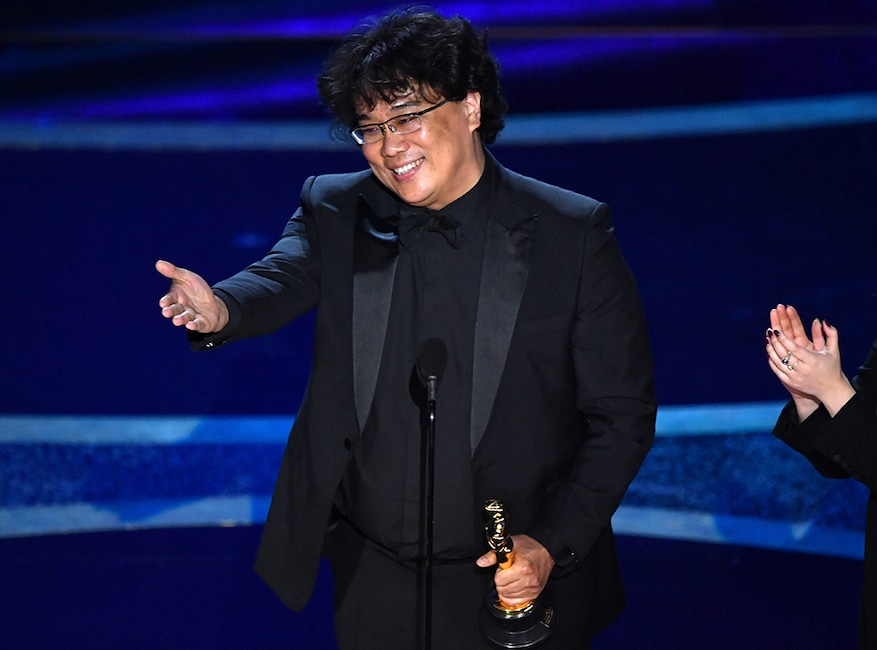 MARK RALSTON/AFP via Getty Images
Parasite's Big Night
In one of the most delightful turn of events, Parasite ended up winning multiple awards, including Best Original Screenplay and Best Director for its beloved director Bong Joon-Ho, who continued to deliver genuine and heartwarming speeches throughout the night. His surprise win for Best Director ended with him saying, "I will drink until next morning!"
But then in the biggest (and most welcome) upset of the night, Parasite took home the biggest award, winning Best Picture to the delight of everyone in the audience. Surprises at the Oscars? You truly love to see 'em…especially because they are so rare.
But can someone get that man his drink now?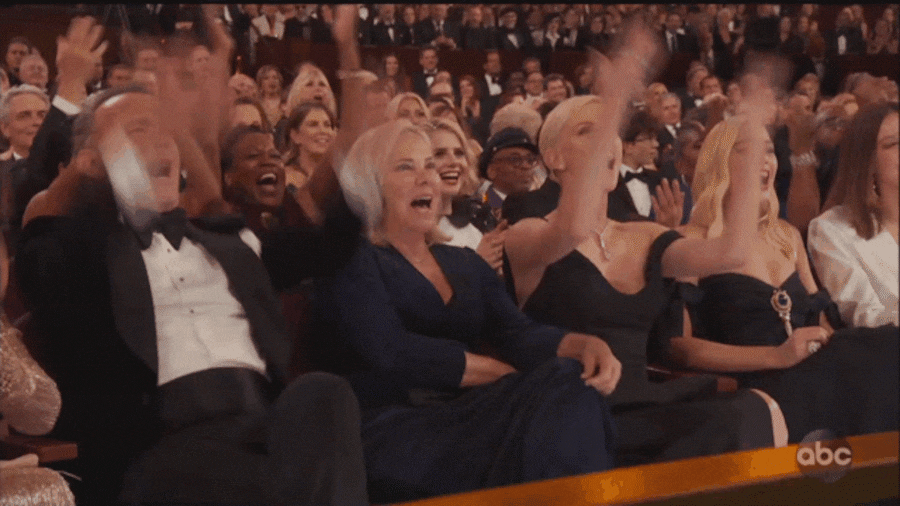 ABC
Turn It Up!
So what happens when the Oscars producers think they can end the show by turning off the mic and lights during the Parasite cast's time on stage after unexpectedly winning Best Picture? The combined star power of Tom Hanks, Charlize Theron and Margot Robbie, along with the rest of the Dolby Theatre audience, turns it back on. Parasite Hive, assemble!
Article continues below
ABC
Bong + Marty 4eva!
One of the most adorable moment was Joon Ho's shout-out to fellow nominee Martin Scorsese. "When I was young and studying cinema, there was a saying that I carved deep into my heart, which is, the most personal is the most creative. That quote is from our great martin Scorsese, so when I was in school, I studied Martin Scorsese's films. Just to be nominated was a huge honor. I never thought I would win."
And when the camera cut to Scorsese, The Irishman director was clearly touched, getting emotional before chuckling as he received rapturous applause.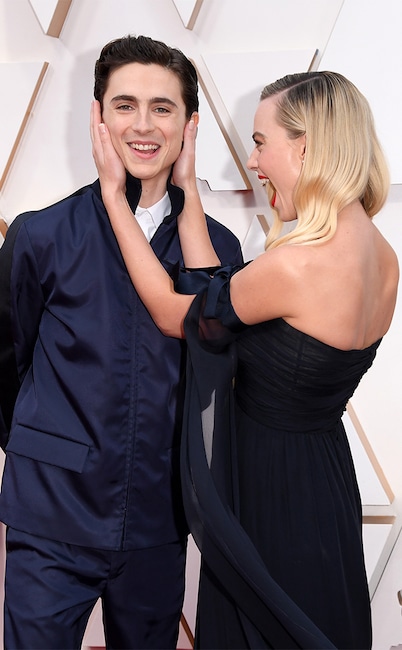 David Fisher/Shutterstock
Best Photobomb Ever
Did we expect Margot Robbie and Timothee Chalamet to be the unexpected pair to deliver the most talked about photobomb of the night? No, but we're so glad they were. Now…when can we get a romcom starring these two?!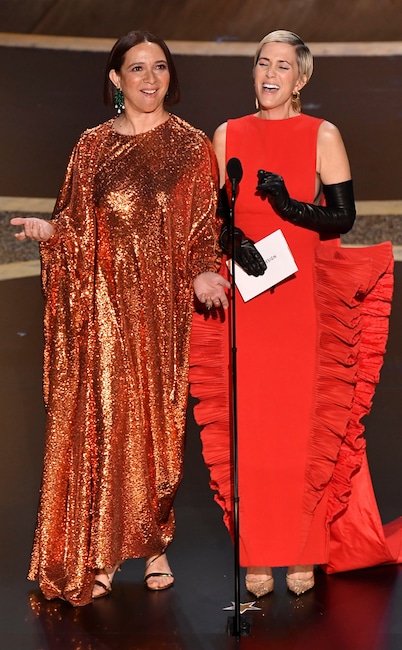 Rob Latour/Shutterstock
The Musical Medley No One Saw Coming
Leave it to Maya Rudolph and Kristen Wiig to immediately start an Internet campaign for the Bridesmaids co-stars to host the 2021 ceremony after they burst into a musical medley during their time presenting on stage, performing an assortment of popular songs featuring costumes.
Article continues below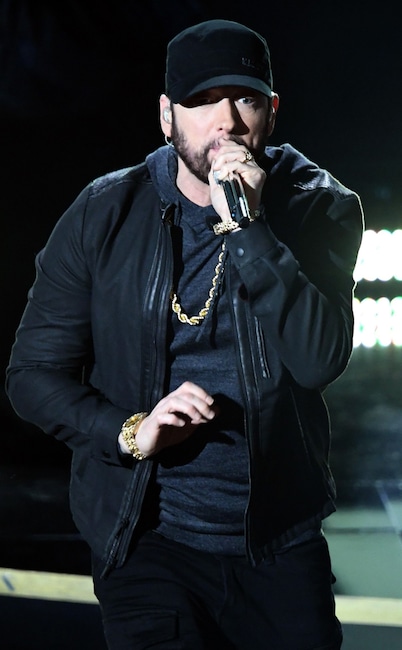 Kevin Winter/Getty Images
"Lose Yourself," Indeed
We're not sure what was more entertaining: Eminem's surprise performance of "Lose Yourself," his song that won the 2003 Oscar for Best Original Song, or the audience members' wild range of reactions to said surprise performance? Martin Scorsese almost fell asleep while Idina Menzel was just confused.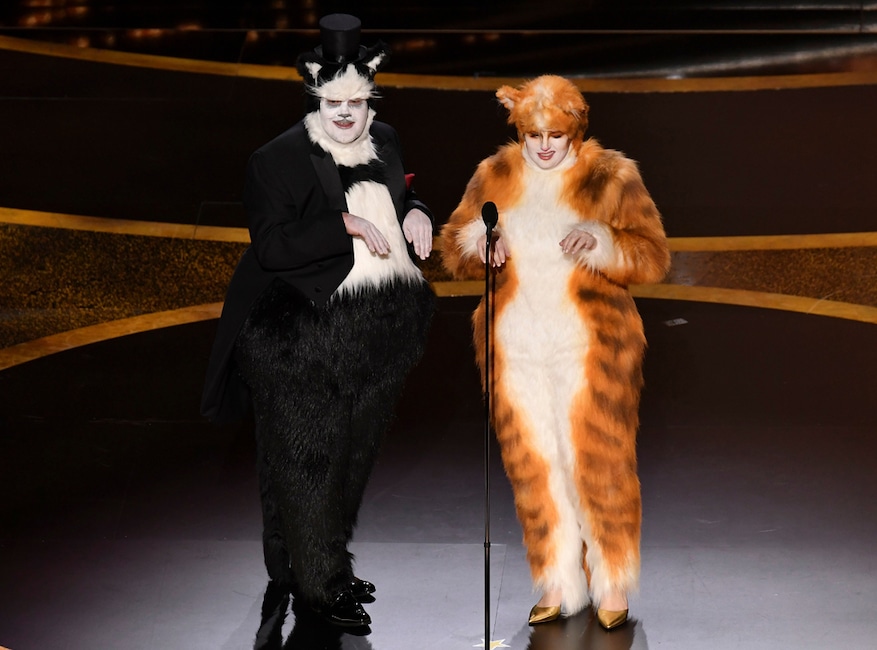 Rob Latour/Shutterstock
The Cats Are Back
Well, James Corden and Rebel Wilson's mocking of the visual effects (or lack thereof?) in the 2019 box office bomb Cats, which they both actively decided to star in, almost made the entire movie not a total CATastrophe.
Watch the E! After Party 2020 Oscars special tonight at 11:15 p.m. ET/8:15 p.m. PT and don't miss E! News Monday at 7 a.m. for a recap of the 2020 Academy Awards.
Source: Read Full Article