With less than a week until November's midterm elections, celebrities and influencers alike are employing unique strategies to urge people to get out and vote.
Interested in
Midterm Elections?
From harnessing social media power by sharing posts with millions of viewers to door-to-door canvassing, stars on both sides of the political spectrum are making their voices heard.
While the effects of these public pleas from the famous remain to be seen, awareness around voting and political activism has increased dramatically in recent months.
Oprah Winfrey knocks on doors in Georgia for Stacey Abrams
Oprah joined Georgia gubernatorial candidate Stacey Abrams on the campaign trail on Thursday, helping the Democratic candidate make a final push in her narrow race against Republican nominee Brian Kemp.
She spoke at two town hall events for Abrams, where she emphasized the importance in voting to eliminate injustices in society.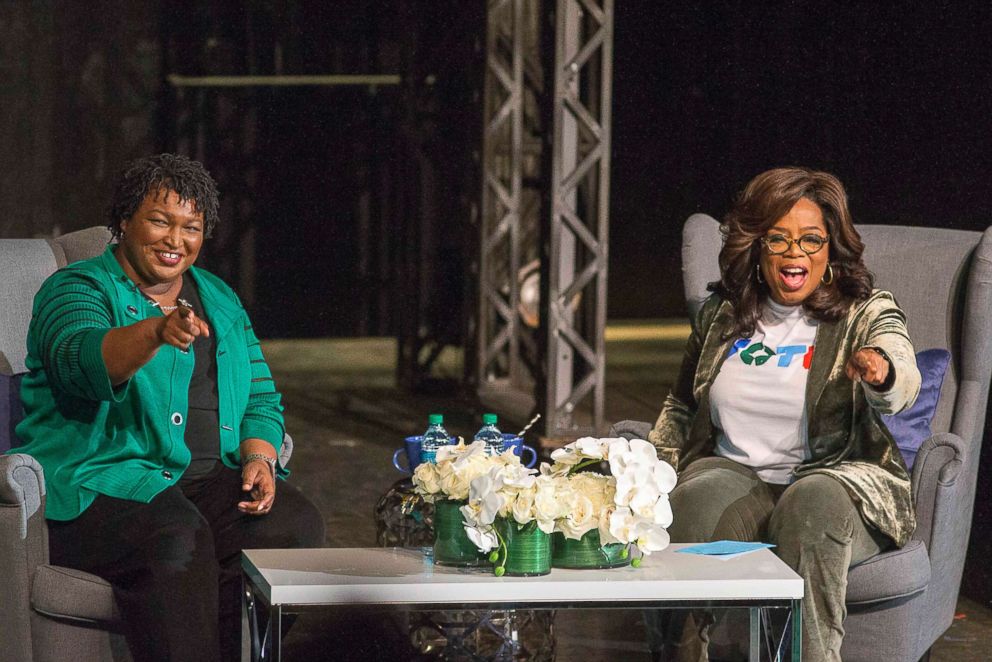 "Reality is we see injustices big and small all around us every single day of our lives, and I know it's easy for a lot of people to feel that you have no power against those injustice," Oprah said during the first town hall event. "We are not powerless. Every single one of us has the same power at the polls."
Mike Pence campaigns for Brian Kemp
Vice President Mike Pence campaigned on the same day for Kemp. "I'd like to remind Stacey and Oprah and Will Ferrell, I'm kind of a big deal, too," he told the crowd at Kemp's campaign event in Dalton, Georgia. "A message for all Stacey Abrams' liberal friends: This ain't Hollywood. This is Georgia."
President Donald Trump is scheduled to campaign with Kemp on Sunday, while former President Barack Obama is scheduled to attend the "Our Chance. Our Choice. Our Georgia" rally in support of Abrams on Friday evening in Atlanta. If elected, Abrams will be the first black female governor in the United States.
Michael B. Jordan joins the effort
"Black Panther" star Michael B. Jordan also visited Georgia, surprising black voters at their homes. He teamed up with the voter mobilization movement "Voting While Black."
That moment when @michaelbjordan surprised the Carlisle family and reminded them to #VOTE! ???? Tag a family member to remind them early voting in #Georgia ends TOMORROW. Text VOTE to 225568 to learn where. #VotingWhileBlack
A post shared by Voting While Black (@votingwhileblack) on Nov 1, 2018 at 5:08am PDT
"I know some of you think your vote doesn't matter, but your vote can help elect officials who can make a difference on police brutality, criminal justice reform, and racial justice," Jordan wrote on Instagram.
I know some of you think your vote doesn't matter, but your vote can help elect officials who can make a difference on police brutality, criminal justice reform, and racial justice. We have to do everything in our power to get our friends and families out to vote next Tuesday, November 6th. That's why I've been making surprise visits to Black voters doors with @VotingWhileBlack in Georgia. Text VOTE to 225568 and I'll hit you up with a text to tell you more about how you can join me ???#VotingWhileBlack
A post shared by Michael B. Jordan (@michaelbjordan) on Oct 31, 2018 at 9:00am PDT
"We have to do everything in our power to get our friends and families out to vote next Tuesday, November 6th," he added.
Will Ferrell stumps for Abrams
Will Ferrell also visited neighborhoods and a college campus in Georgia to urge students and civilians to vote. Ferrell is just one of the many in Abrams' celebrity fan base.
Billy Ray Cyrus, Mark Ruffalo among celebs rallying for Native American voting rights in North Dakota
In North Dakota, musician Billy Ray Cyrus and actor Mark Ruffalo are working to encourage Native Americans to vote.
Due to a voter ID law upheld by the Supreme Court in October, one must have a residential street address in order to cast a ballot. Many Native Americans lack residential addresses and post office box addresses are not accepted.
This has led to an outpouring of support from celebrities and members of different communities to help Native Americans obtain new addresses in order to vote.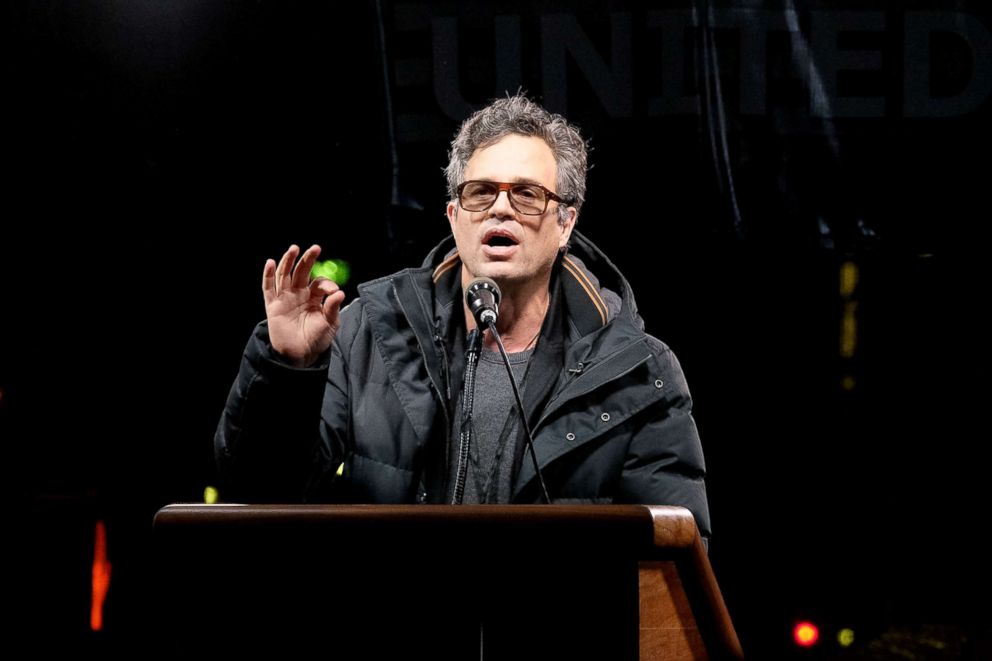 Ruffalo said people in the area have become cognizant of their responsibility to their community in the wake of the new, stricter voting law.
"We're in a rarefied time," he said in an interview on ABC News Live. "I've seen more and more people becoming awakened to what politics means in their lives."
Cyrus got involved in aiding voting efforts in the state after seeing a news story about the new voter ID law.
"Unfortunately, the law's been passed, the clock is ticking," he told ABC News. "There's no sense arguing about it. What we have to do now is take action."
The duo held a free concert in a community on the Standing Rock reservation last week to encourage voter turnout and Native Americans to obtain residential addresses.
Ruffalo also took part in the Stand-N-Vote campaign along with actress Shailene Woodley and musician Dave Matthews to increase Native American voter turnout.
'Big Little Lies' stars and more share their ballot pics
"Big Little Lies" star Zoe Kravitz used Instagram to raise political awareness and encourage voter turnout. She recently shared a post with her official absentee ballot.
Sent in my ballot! #novemberiscoming #vote !!!
A post shared by Zoë Kravitz (@zoeisabellakravitz) on Oct 30, 2018 at 1:22pm PDT
Celebrity couple Blake Lively and Ryan Reynolds also posted a snap after submitting their ballots.
Happy Birthday to 2018's Sexiest Voter Alive @vancityreynolds #justvoted ????#absenteeballot party!
A post shared by Blake Lively (@blakelively) on Oct 23, 2018 at 6:48am PDT
Actress Minka Kelly posed with an "I Voted" sticker on Instagram and outlined the issues she is passionate on social media.
Damn it feels good to be a voter ???? Voted for: Our environment Education for our kids LGBTQ rights Believing and respecting women Keeping families together Expanding the right to vote Decreasing mass incarceration Reproductive justice
A post shared by Minka Kelly (@minkakelly) on Oct 22, 2018 at 4:23pm PDT
"Our environment, education for our kids, LGBTQ rights, believing and respecting women, keeping families together, expanding the right to vote, decreasing mass incarceration, [and] reproductive justice," she wrote alongside her post.
'Black-ish' star mobilizes fellow first-time voters
"Black-ish" star Yara Shahidi is extremely vocal about her desire to push millennials to take voting seriously this year.
She founded an initiative Eighteenx18 that drives to "educate and engage the next generation of voters in America through the power of creative storytelling," according to the website. The group held a summit in late September to raise awareness.
Shahidi's passion for political advocacy even extended to her Halloween costume this year, as she dressed up as "Civic Duty" ahead of the upcoming midterm elections.
I dressed as Civic Duty for Halloween (but this costume is appropriate 365 days of the year) and guess what… we're voting in 6 days!! ???? t shirt compliments of : @im_voting
A post shared by Yara (?????) Shahidi (@yarashahidi) on Oct 31, 2018 at 6:08pm PDT
Taylor Swift takes her first political stand
Taylor Swift has made a considerable impact in getting people to the polls.
After she posted her support for Tennessee candidates Jim Cooper for Congress and Phil Bredesen for Senate in a public post on Instagram, voter registration dramatically increased in Tennessee and nationally, according to Vote.org.
In the 48 hours following Swift's call to action, Vote.org received 240,000 voter registrations, including 102,000 from people aged 18-29.
I'm writing this post about the upcoming midterm elections on November 6th, in which I'll be voting in the state of Tennessee. In the past I've been reluctant to publicly voice my political opinions, but due to several events in my life and in the world in the past two years, I feel very differently about that now. I always have and always will cast my vote based on which candidate will protect and fight for the human rights I believe we all deserve in this country. I believe in the fight for LGBTQ rights, and that any form of discrimination based on sexual orientation or gender is WRONG. I believe that the systemic racism we still see in this country towards people of color is terrifying, sickening and prevalent. I cannot vote for someone who will not be willing to fight for dignity for ALL Americans, no matter their skin color, gender or who they love. Running for Senate in the state of Tennessee is a woman named Marsha Blackburn. As much as I have in the past and would like to continue voting for women in office, I cannot support Marsha Blackburn. Her voting record in Congress appalls and terrifies me. She voted against equal pay for women. She voted against the Reauthorization of the Violence Against Women Act, which attempts to protect women from domestic violence, stalking, and date rape. She believes businesses have a right to refuse service to gay couples. She also believes they should not have the right to marry. These are not MY Tennessee values. I will be voting for Phil Bredesen for Senate and Jim Cooper for House of Representatives. Please, please educate yourself on the candidates running in your state and vote based on who most closely represents your values. For a lot of us, we may never find a candidate or party with whom we agree 100% on every issue, but we have to vote anyway. So many intelligent, thoughtful, self-possessed people have turned 18 in the past two years and now have the right and privilege to make their vote count. But first you need to register, which is quick and easy to do. October 9th is the LAST DAY to register to vote in the state of TN. Go to vote.org and you can find all the info. Happy Voting! ??????
A post shared by Taylor Swift (@taylorswift) on Oct 7, 2018 at 4:33pm PDT
The star recently posted another message encouraging early voting on her social platform.
??These two Tennessee women?? voted for the candidate who has proven himself to be reasonable and trustworthy. We want leadership, not fear-based extremism. Early voting goes til Thursday and Election Day is November 6. Please don't sit this one out.
A post shared by Taylor Swift (@taylorswift) on Oct 30, 2018 at 10:37am PDT
"We want leadership, not fear-based extremism," she wrote. "Please don't sit this one out."
Source: Read Full Article