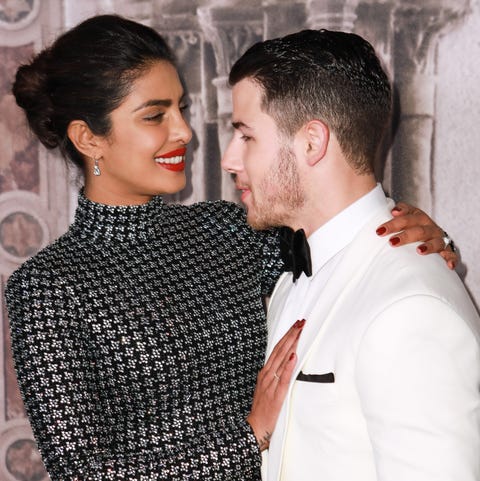 Do y'all hear somethin'? It sounds an awful lot like wedding bells and broken hearts because Priyanka Chopra and Nick Jonas are one step closer to getting married.
According to The Blast, Priyanka and Nick went to Beverly Hills to get a marriage license last week, which means, if they signed it, they're basically married already. But! It doesn't sound like they've marked their signatures yet because apparently they're planning on taking the license to India for their official wedding ceremony, which is said to be happening before the end of the year. TBH, it could happen this week because she's in India right now celebrating Diwali. Ah!
View this post on Instagram
Happy Diwali. So good to be home to celebrate with my loved ones. I wish for the world to be bestowed with love, light and happiness. 💥✨
A post shared by Priyanka Chopra (@priyankachopra) on
An anonymous source told Entertainment Tonight that the couple doesn't want to wait any longer. "For Priyanka and Nick, they know that they love one another and are going to be married, so they don't see the appeal in waiting too long," explained the source.
And! Priyanka already has all her pre-wedding celebrations and activities in the books because she celebrated her engagement at Tiffany & Co. in New York last week, which was followed by the most iconic bachelorette party in Amsterdam with fellow "J Sister" Sophie Turner. Danielle Jonas, Kevin Jonas' wife/the original "J Sister," wasn't there.
Basically, you should prepare yourself for a big wedding photo dump to hit Priyanka's Instagram feed at any given moment.
Source: Read Full Article