By now almost everyone has heard about the historic hug between Beyoncé and Meghan Markle — the queen and the duchess. Two of the most famous women in the world met for the first time at the premiere of Disney's The Lion King and no one's been able to stop talking about it since.
So what are people saying? For one thing, there was some speculation over whether Meghan Markle broke royal protocol when she hugged Beyoncé since technically royals aren't supposed to be touching 'commoners.' But it turns out the move was more than OK and even Queen Elizabeth gives out hugs sometimes.
Though she's super famous in her own right, some insiders aresaying that Beyoncé was very nervous to meet the Duchess of Sussex.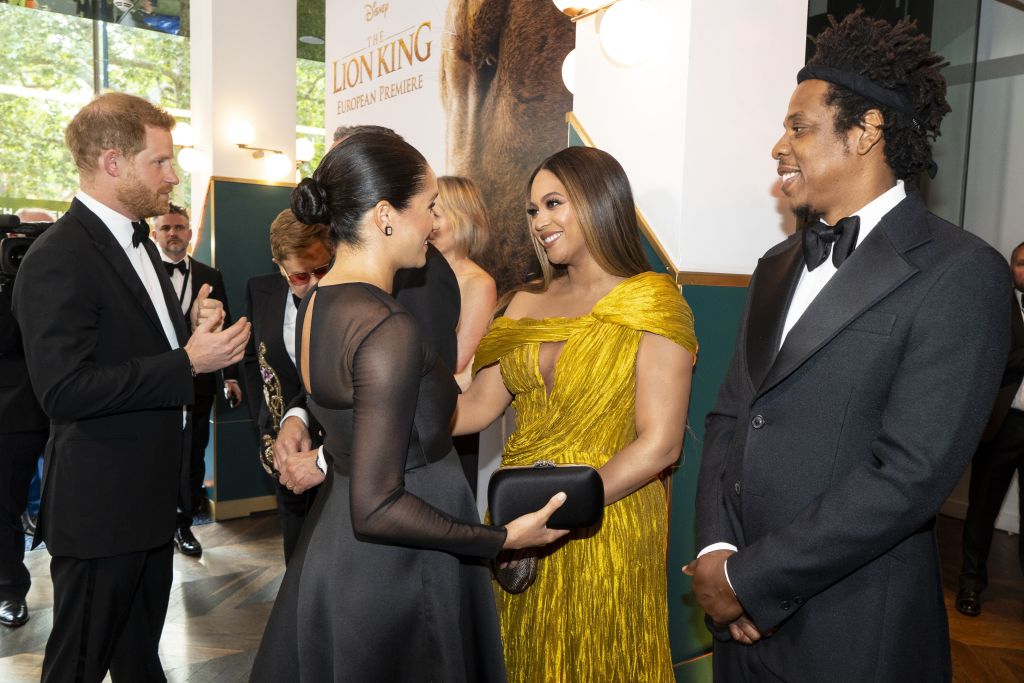 Everyone meeting Meghan Markle and Prince Harry was preppedon how to act
Billy Eichner, who plays Timon in the movie The Lion King, broke down all the behind-the-scenes details about what happened before the movie premiere.
In an interview on Jimmy Kimmel Live!, Eichner explainedwhat happened. "We were allkind of nervous, even Beyoncé," he said. It's crazy to picture thereigning queen bee nervous about anything.
"In the days leading up to you, they email you a protocol of how you're supposed to greet Prince Harry and Meghan and they're very intense about it," Eichner explained. They even instructed how no one was supposed to address the royal couple unless spoken to first. And surely no selfies or hugging.
https://www.instagram.com/p/Bz6YJvGF9wK/
Beyoncé had a uniquegreeting for Meghan Markle
Though pre-premiere instructions said that anyone meeting Prince Harry and Meghan Markle should call them "your royal highness," Beyoncé panicked a bit and went off-script when the two women were introduced. According to Eichner, she referred to Markle as "my princess" instead. Which isn't even technically true.
It's obvious based ontheir interaction that the Duchess of Sussex didn't care about the surprisinggreeting one bit. She responded sweetly and chatted with Beyoncé and herhusband, Jay Z, for a few minutes. Apparently, they talked about parenting (ofcourse).
https://www.instagram.com/p/Bz_4CHNH8cJ/
Meghan Markle and PrinceHarry were kind and friendly to everyone
Though everyone istalking about the Beyoncé meeting, she's only one of many people who the Dukeand Duchess of Sussex interacted with at the premiere.
Meghan Markle also had a pointed conversation with Pharrell Williams. After he gushed how much it meant to him — and everyone — that she and Prince Harry were together, she said, "Thank you so much. That's so nice of you to say."
"We cheer you guys on," Pharrell continued.
Then Meghan Markle dropped the bombshell:"Oh thank you. They don't make it easy."
At least the Duke and Duchess of Sussex had a good night out, and they certainly looked the part of a glamorous royal couple while they were there. Even if they've now admitted that things aren't easy under the glare of the spotlight.
Source: Read Full Article