Every season has its moments, but fall is arguably the most photogenic of them all. The changing leaves add natural color to even the most gorgeous of backdrops, and yet there's still greenery to utilize in pictures. No matter what coast you call home, the fall foliage is easy to take advantage of when choosing a color palette and a theme. From succulents and sunflowers to pumpkins and gourds, nature provides so many pretty details to play with in autumn. September, October, and November are ideal months to get married, and these photos of fall weddings are proof.
Elite Daily spoke to four different couples, all of which decided to have fall weddings. They chatted about why they chose this time of year to get hitched, where their inspiration came from when deciding on their theme, colors, and decor, how they ultimately chose their venues, and more.
Whether you're currently planning your own big day, you're starting to think about having a fall ceremony, or you simply enjoy looking at beautiful wedding photos, these 12 selections are sure to have you dreaming about getting married in autumn. Fall might just be the prettiest time of year to tie the knot. If you need convincing, take a look at these pictures.
1

Jonathan & Sarah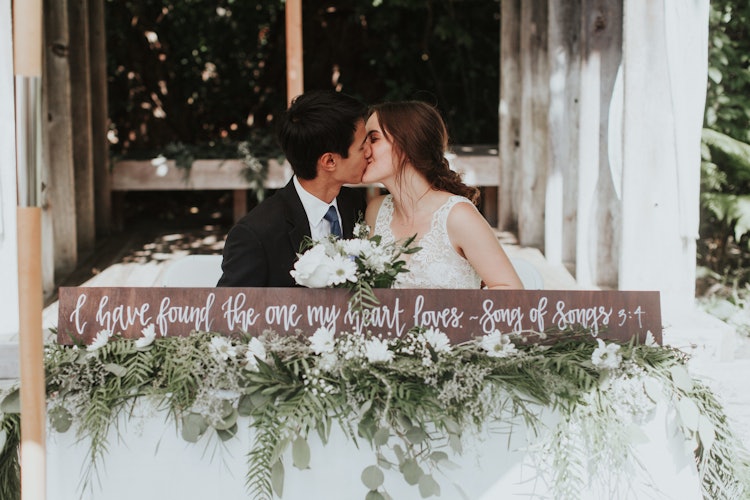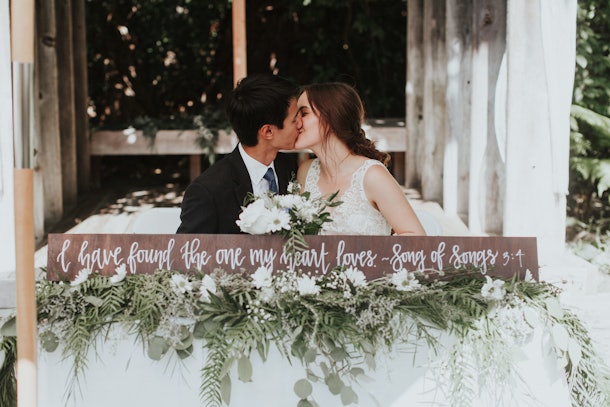 "We had our wedding at a ranch (see Canyon Fruit Ranch) and they sell apples and honey during this time of year at a stand," Sarah tells Elite Daily. "The stand was open during our wedding and some of our guests got to taste apples during our cocktail hour. That was very fun!"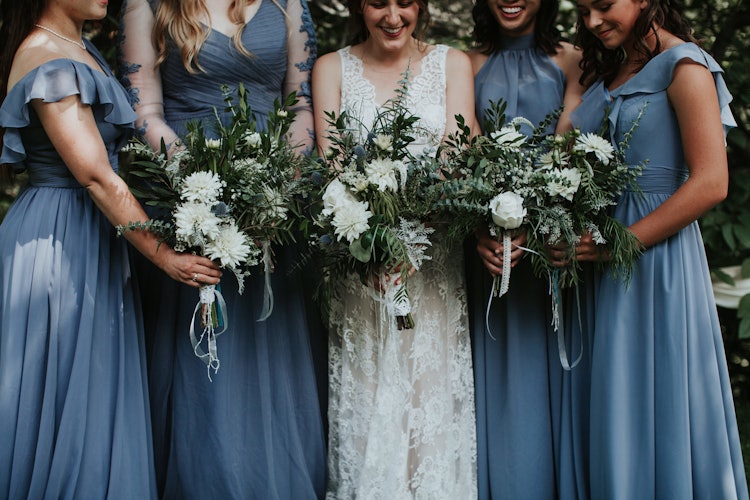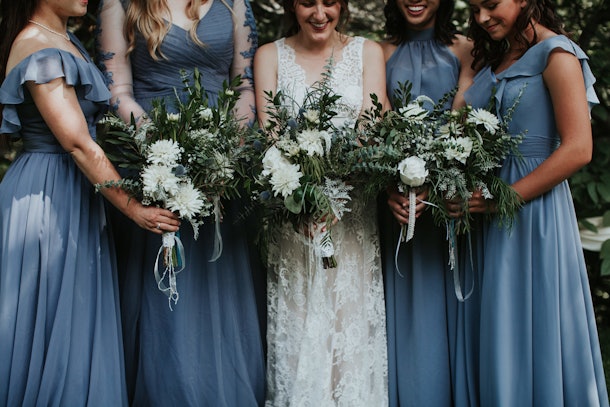 "I love fall colors but we opted for a blue-grey instead," says Sarah. "We had always talked about having a wedding around that time because the weather is so beautiful here on the central coast."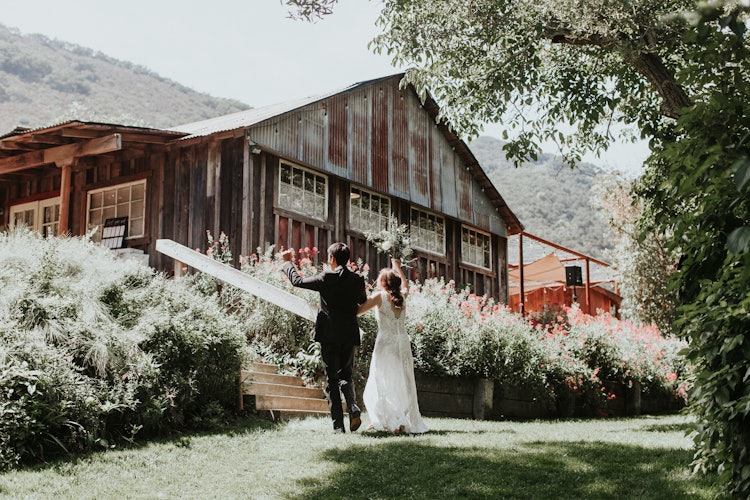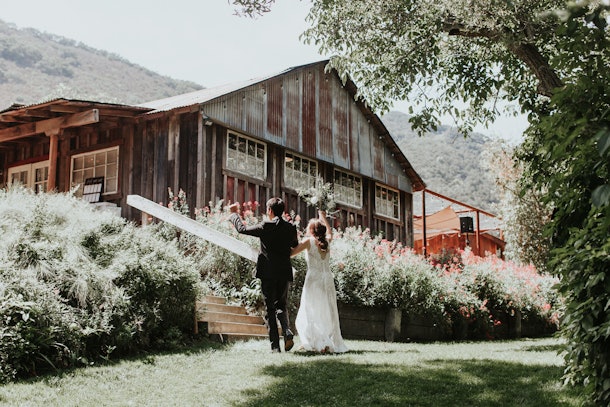 Fall barn weddings make for such pretty pictures, both indoors and out.
2

Emily & Rob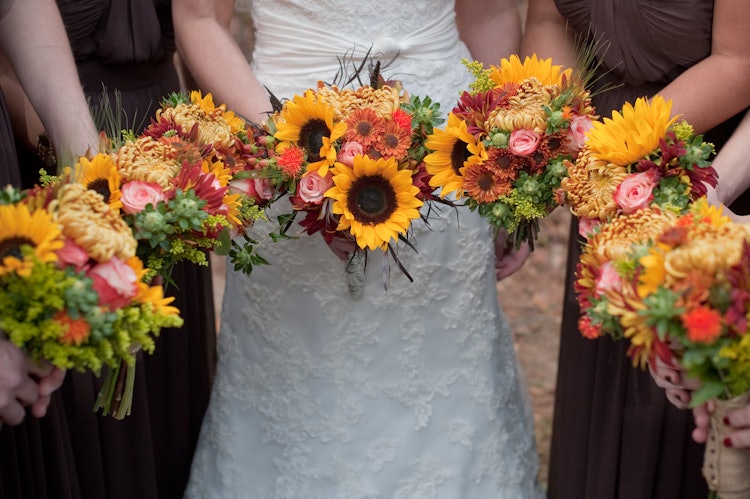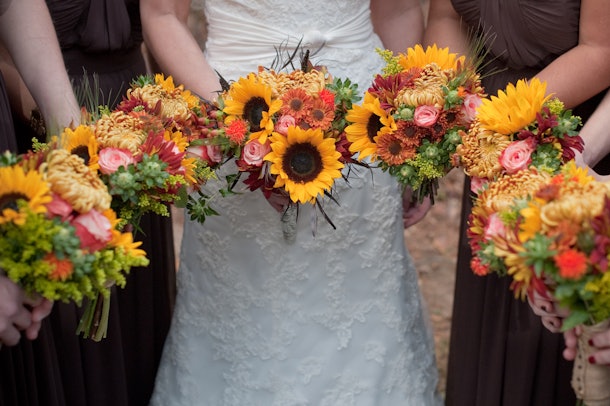 "Rob and I love this time of year," Emily tells Elite Daily. "Fall just seems so cozy to us. The temperatures are dropping, leaves are turning and it reminds us of family and friends gathering for the holidays. Having all our friends and family there for our wedding day was really important and November was the perfect time. I guess that's why we wanted to celebrate our marriage this time of year."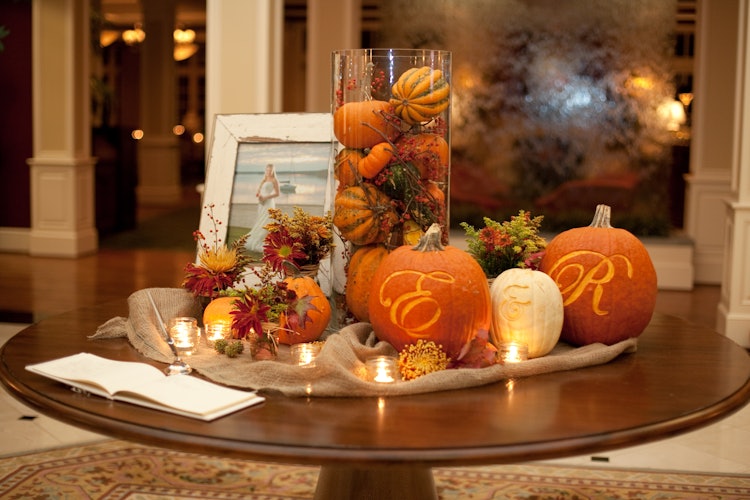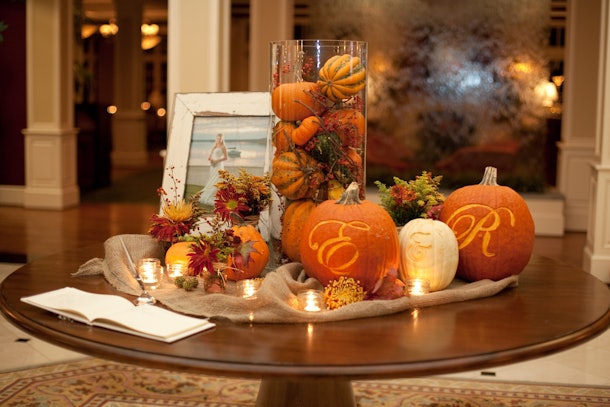 Talk about a gourd-geous autumn wedding.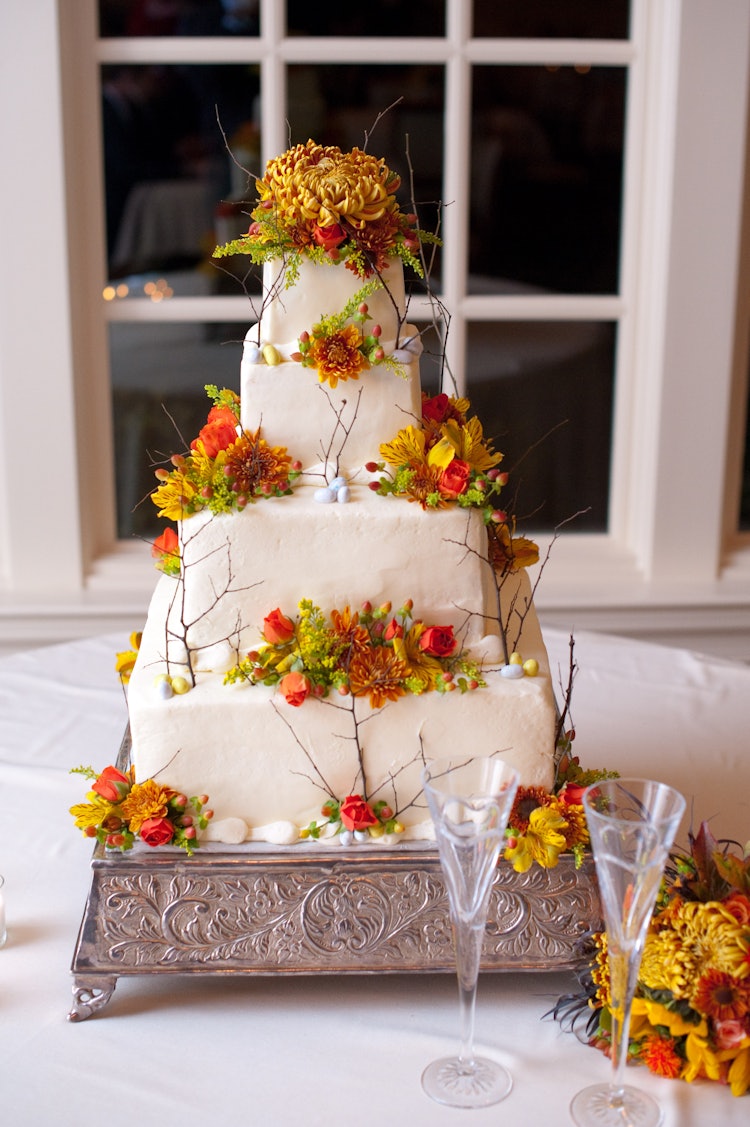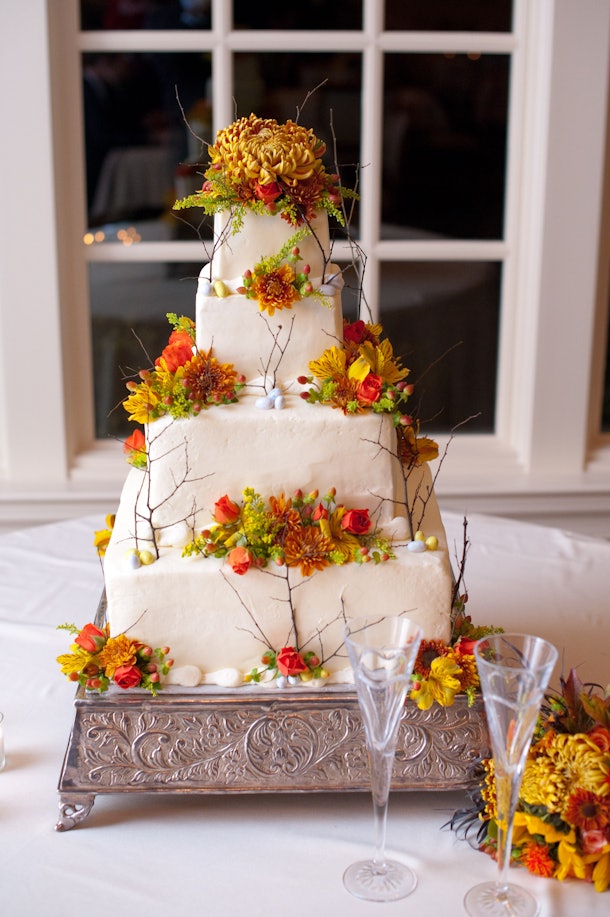 You can't help but fall in love with the foliage detail on this wedding cake.
3

Jenn & Matthew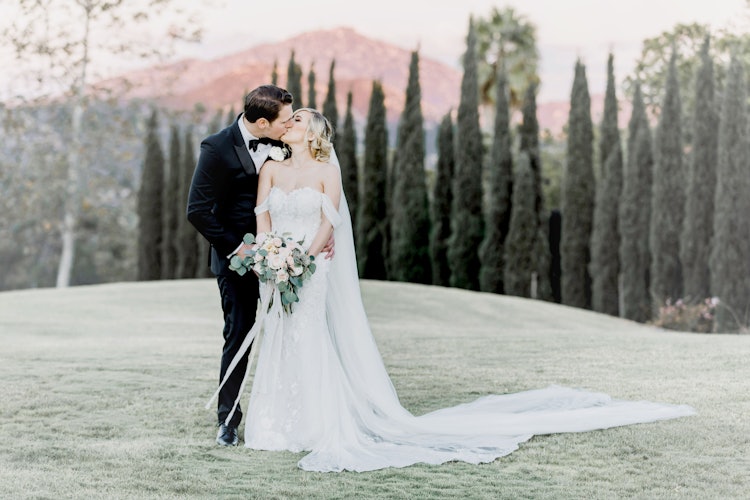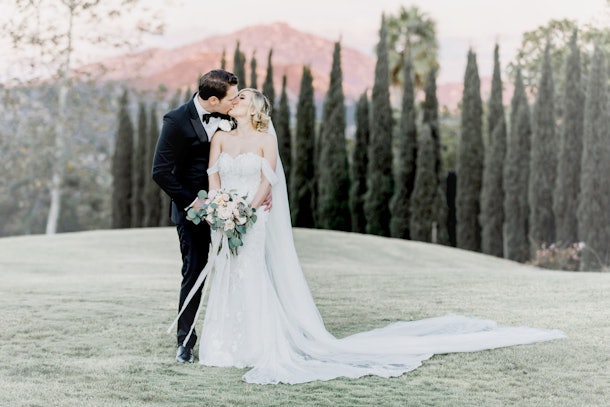 "We had always envisioned a light and airy venue with a stunning reception room and chandeliers and we definitely found just that," Jenn tells Elite Daily. "The venue was truly stunning. The day was everything we had hoped for, every vendor really blew us away and went above and beyond what we expected. It was the most gorgeous fall day, we were so happy, and Jessica captured the moment better than we imagined! Nothing could compare to the beauty of our wedding day and we have our family, friends, and of course our vendor team to thank."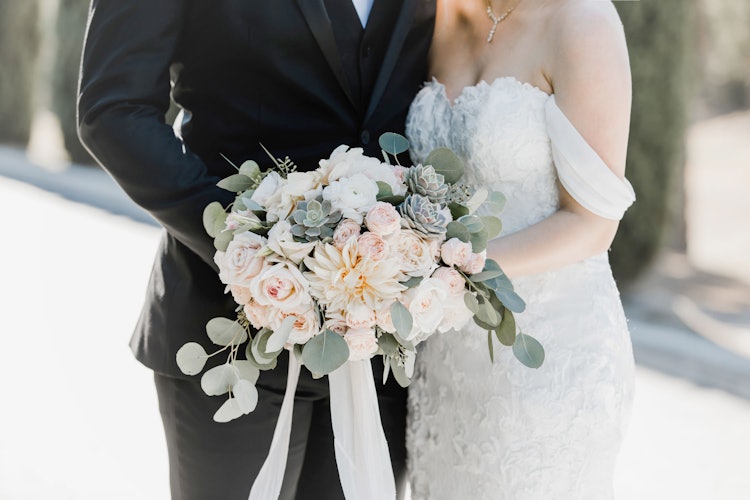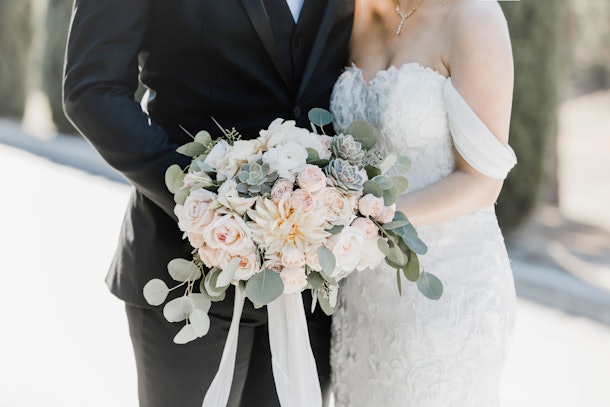 The succulents in Jenn's bouquet are seriously Pinterest-worthy.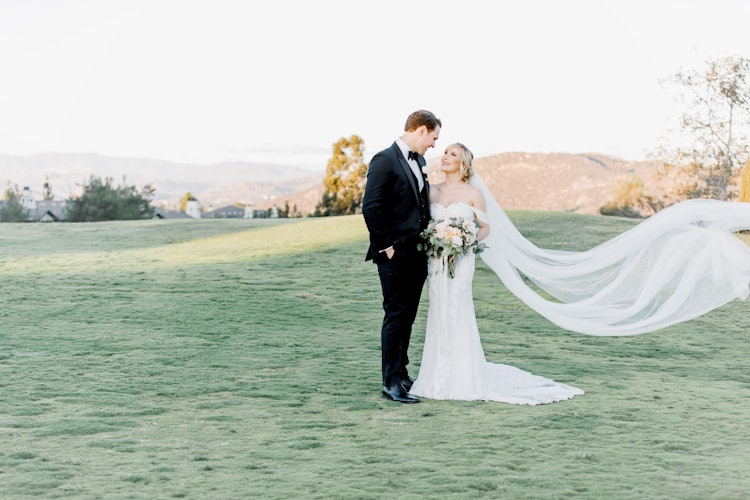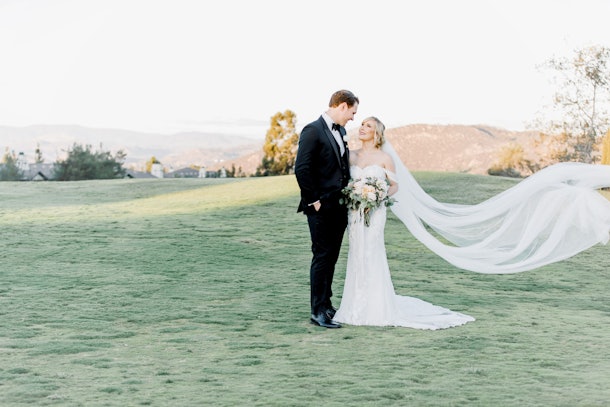 Carmel Mountain Ranch Estate made for a breathtaking ceremony spot.
4

Jenna & Thomas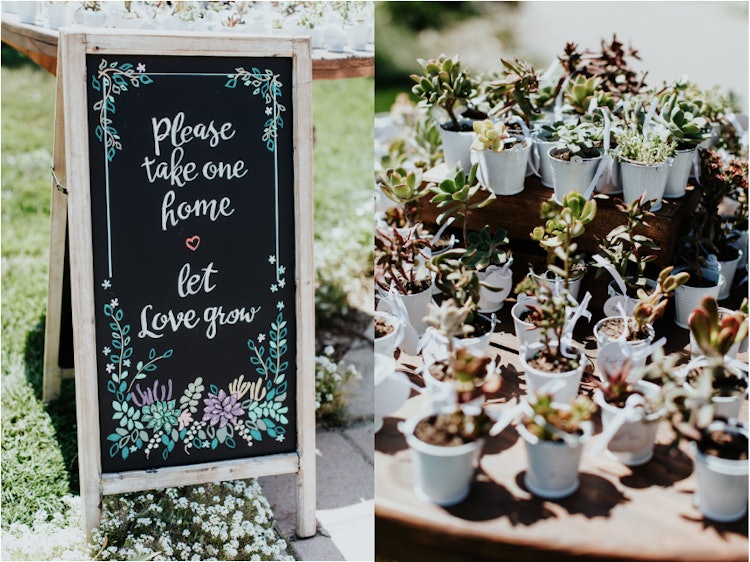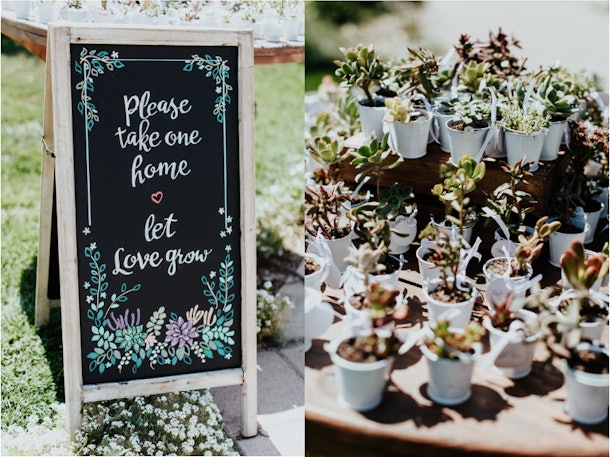 "Tommy and I have been together 10 years; we are high school sweethearts," Jenna tells Elite Daily. "We love being outdoors, so when it came to finding a venue for our wedding we knew we wanted to have an outdoors wedding. We randomly came across our venue online and decided to check it out. When we got there everything was perfect. We just knew it was the place for us."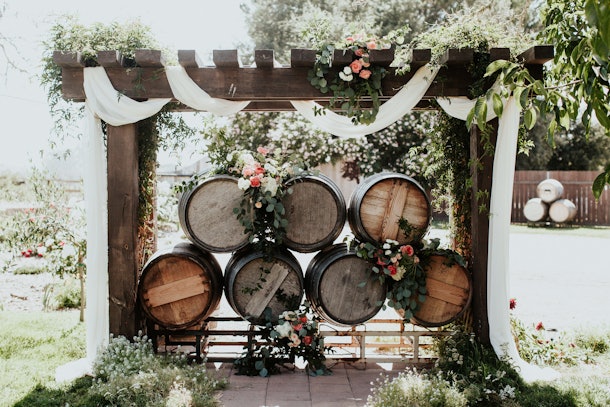 "We knew we wanted a simple rustic theme," says Jenna. "We utilized deer horns to integrate into our centerpieces with a lot of greenery and flowers throughout. For our colors we did coral and grey … For the guys, they wore grey suits with a touch of camouflage (they all had ties that were camouflage). This touch was for Tommy to show his side in the wedding. It was important to us that both of our personalities showed. Overall, the day came out absolutely perfect, but it went by so fast!"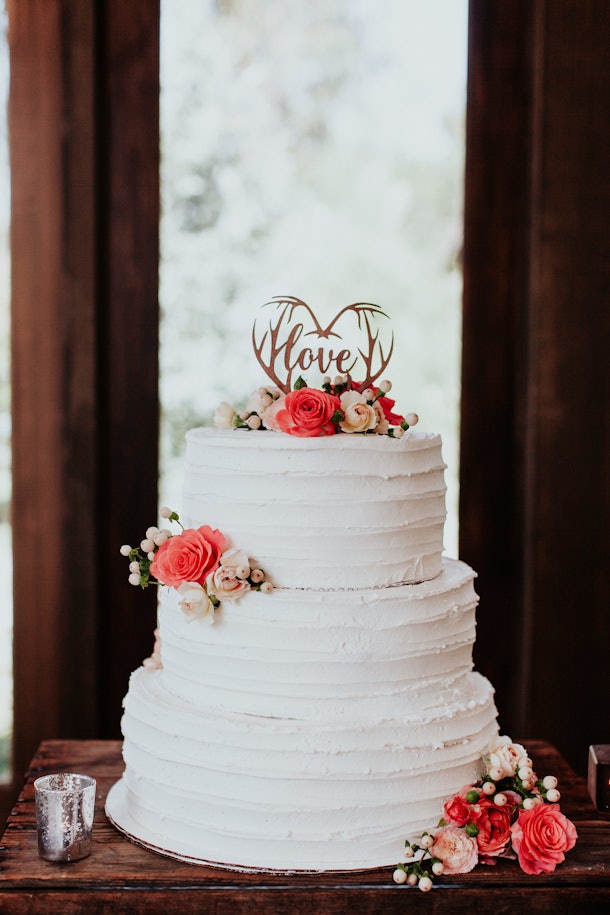 The couple used deer horns and florals in everything from their cake topper to their centerpieces.
So, do you be-leaf me now?
Check out the "Best of Elite Daily" stream in the Bustle App for more stories just like this!
Source: Read Full Article