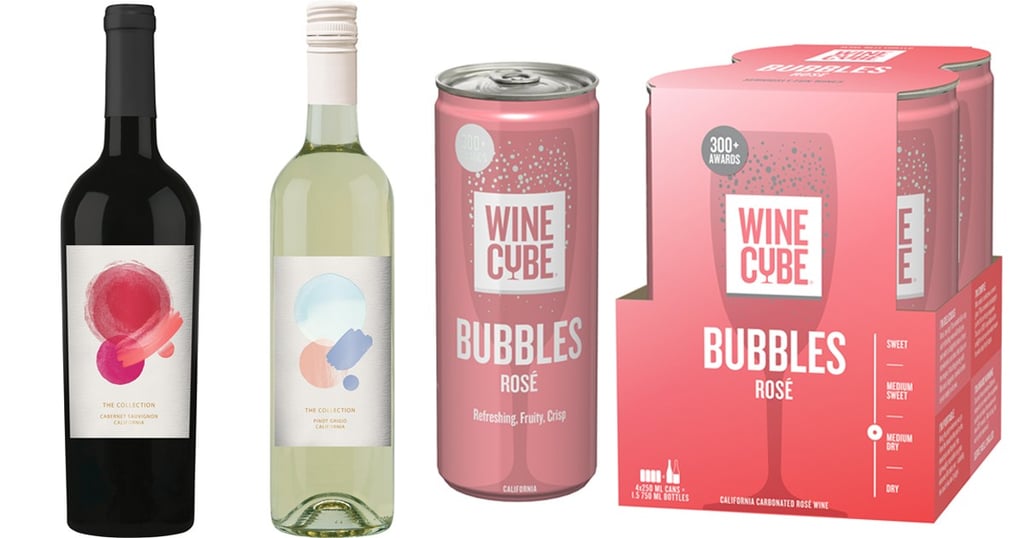 Target Just Released an Entire Line of High-Quality Cheap Wine, Including Canned Rosé!

The next time you go to pick up "one thing" from Target — LOL — you'll have yet another affordable find to add to your cart. A whole new line of wine called The Collection just landed at the retailer, and every bottle is just $10. Each wine also happens to have an extremely aesthetically pleasing design, so you can look forward to making your bar cart look cute after stocking up. The wine hails from "part of a family farmed winery that has been growing grapes since 1924," according to the press release, so yeah, it's a step up from your average cheap bottle. The line has a Cabernet Sauvignon, a Red Wine Blend, a Rosé, a Pinot Grigio, and a Chardonnay.
In addition to The Collection, Target will also exclusively carry new Wine Cube Sparkling Cans, which come in four-packs of bubbly rosé (pink) or sparkling white wine (blue) for $11. Once Summer months make their long-awaited return (they will, right?), I'm definitely bringing those to the park. Stay with me, because that's not all the alcohol-related Target news I have. There is also a new lineup of spiked sparkling waters hitting shelves ($9 for a four-pack and $17 for an eight-pack), and the flavors range from black cherry to tangerine — all free of sugar and artificial flavors.
Looks like we've got some shopping drinking to do. Get a closer look at all the new drinks heading to Target (and your glass) soon.
Source: Read Full Article