If you're looking into the best nebulizing diffusers, you already know that not all aromatherapy methods are created equal. Yeah, the price tag on a nebulizing unit might be a little more substantial, but for many, the low-hassle upkeep, quality materials, and high scent output more than justify the investment. After all, you've already put your time and money into finding the best high-quality essential oils, so you might as well get the most out of them.
So how does a nebulizing diffuser actually work? Instead of releasing scents into the air via evaporated water, like ultrasonic models do, a nebulizer actually turns the oils into a dry, gas-like mist. Basically, air is forced through a tube inside the base, and the pressure of it causes the essential oils to atomize into tiny particles that fill the glass reservoir. Those ionized particles are then released into the air — without heat and without moisture — so you're getting a strong, undiluted scent that fills up the whole room.
Amazon is a great place to start your search. Since most models cost upwards of $100 (and since nebulizers have tons of little parts that do some pretty high-tech stuff), reviews are paramount here. You want to make sure everything works properly and past buyers are thrilled with their purchases. These five essential oil nebulizers are all highly-reviewed, made from safe materials, and versatile enough to fit most aromatherapy needs.
1

The Overall Best Nebulizing Diffuser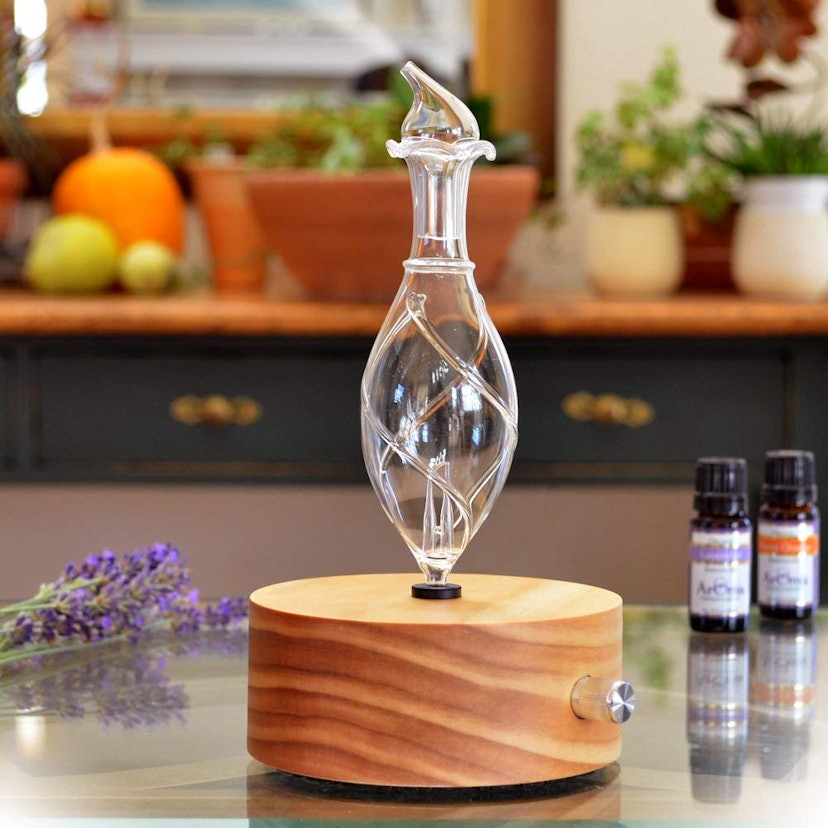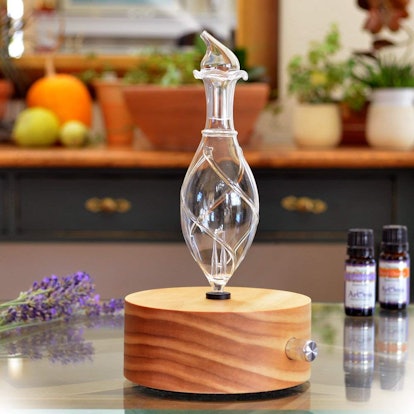 Aromis Wood and Glass Aromatherapy Diffuser
$90
Amazon
It's the most popular nebulizer on Amazon for a reason — and it comes in various glass shapes and wooden base colors.
Pros: Nebulizing diffusers are pretty expensive, so if you're going to spend the money, you might as well make sure that you're getting exactly what you want — both in terms of quality and aesthetics. The Aromis diffuser is the most popular essential oil nebulizer on Amazon because it's gorgeous, well-made, and has several impressive features that other models don't. Since the base is made from real wood and the tank is made from glass, it doesn't contain any synthetic materials at all. It also has an adjustable aroma-intensity knob, a built-in timer output function, and an automatic-off feature to keep you safe. Finally, you can get this diffuser in three different glass bulb shapes, two different wood colors, and two different base designs.
Cons: Reviewers say it's not the quietest nebulizer on the market. It should also be cleaned regularly so the oils don't gunk up and impede diffusion.
2

The Best Portable Nebulizing Diffuser For Your Car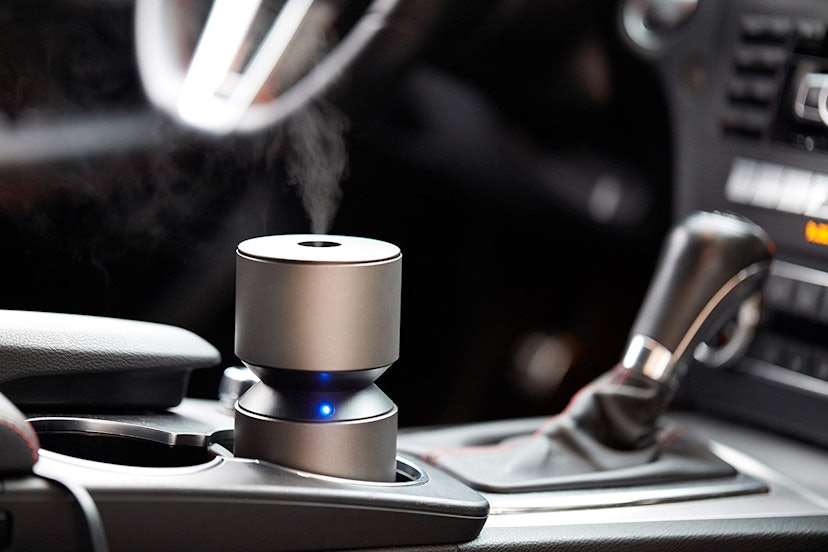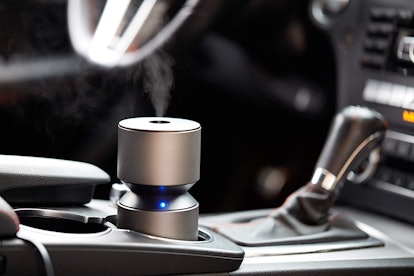 Organic Aromas Mobile-Mini 2.0 Nebulizing Diffuser
$94
Amazon
If the stress of your commute is getting to you, this travel-friendly diffuser can help. It's rechargeable, durable, lightweight, and fits in your car's cup holder.
Pros: The Mobile-Mini 2.0 from Organic Aromas is specifically designed for travel. It weighs about 1 pound, it's totally wireless and rechargeable, it has two lithium batteries that last roughly 18 hours, and the spill-resistant design fits into most cup holders. This one is made from more durable materials on the outside, but the interior features a glass reservoir that preserves the quality of your oils and won't release chemical toxins into the air. "Living in California, I drive, a lot," says one reviewer. When they're "running late for a meeting, there is horrible traffic, or if accidents are slowing everyone down," they're "able to diffuse some of [their] favorite calming scents on the drive."
Cons: The glass reservoir should be removed and cleaned at least once a week.
3

A More Affordable Wireless Option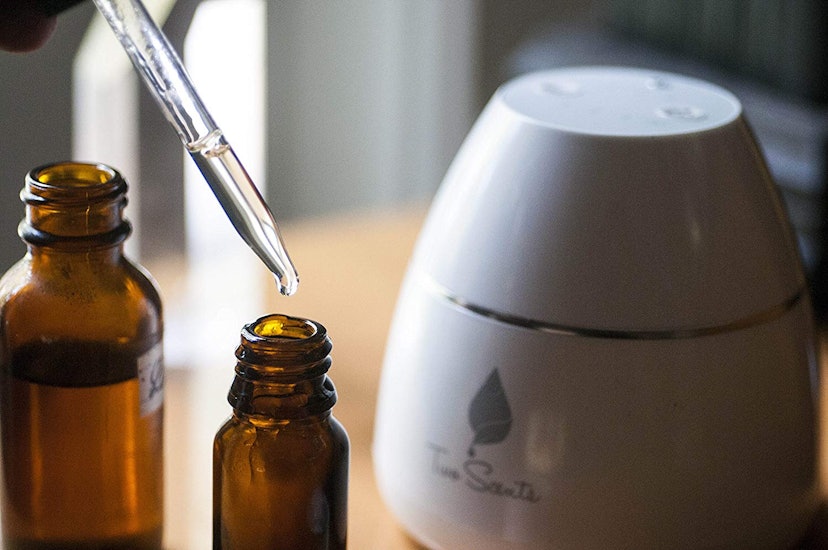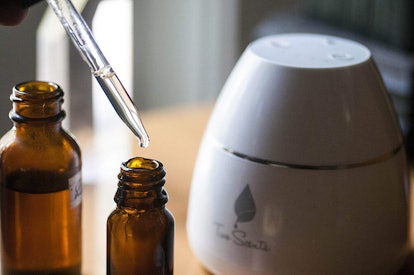 Two Scents Essential Oil Nebulizer
$75
Amazon
Take it to work, use it in the car, or put it in your bedroom. This versatile diffuser gives you the best value — and it comes with a free bonus.
Pros: If you love getting the most bang for your buck, look no further than the Two Scents nebulizer diffuser. Thanks to its wireless design that can run up to 50 hours on one charge, this one can be used both at home and on the go. "I have quite a long commute, so being able to bring this device in the car is really useful," one reviewer says, but people are also writing things like, "It works great in my office at work and in the master bedroom at home." Since the bottles screw directly into the diffuser, it's mess-free, easy to refill, and easy to clean — and this model comes with two 10-milliliter glass dropper bottles that you get for free.
Cons: This one doesn't put out as much scent as other models, so if you're looking to fill a big room, it isn't your best bet.
4

An Affordable Nebulizing Diffuser That Still Looks Great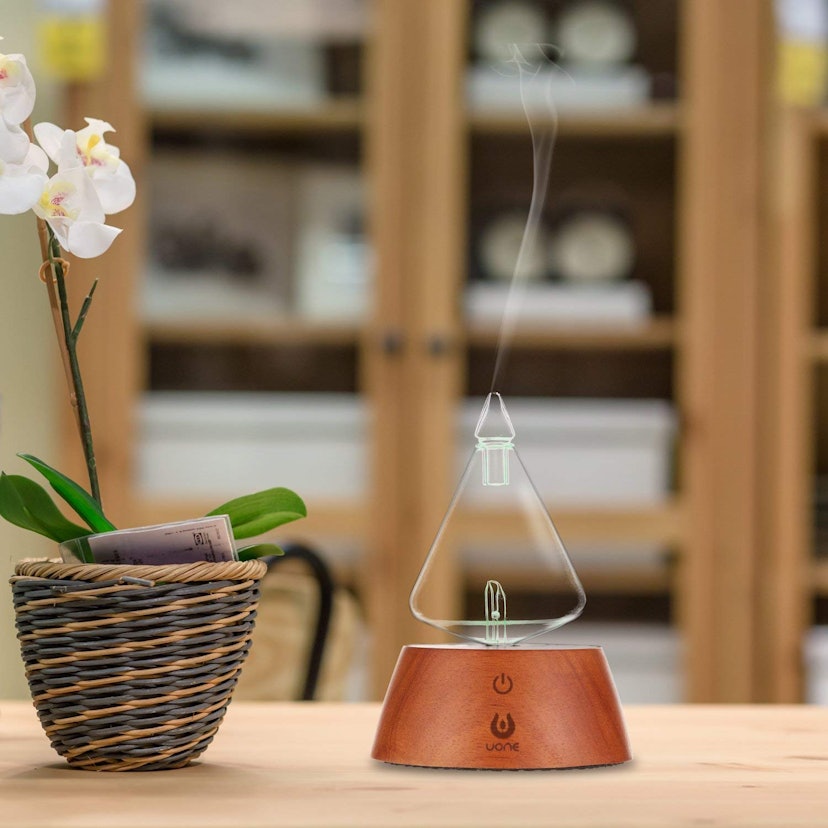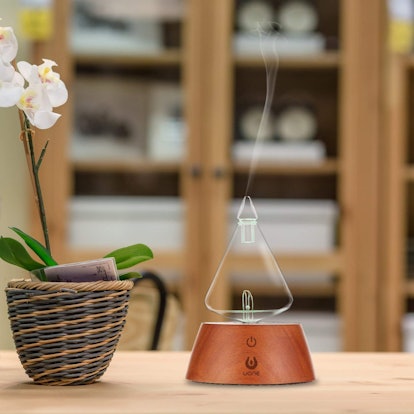 UONE Aroma Essential Oil Nebulizing Diffuser
$60
Amazon
It has all the same features as the leading models — and it changes colors, too — but this one only costs $60.
Pros: If upwards of $100 seems a little to steep for your first nebulizer, the UONE essential oil diffuser is priced a little more reasonably. It has a wooden base, a glass tank, a touch-button timer, and a color-changing LED light — all for $60. Reviewers also say "it is very quiet" when compared to other nebulizers, and only a couple minutes after you add a few drops, it has the room "smelling fresh and clean!" It even automatically turns off after two hours.
Cons: It doesn't have the longevity that other models might have. Some reviewers also said that it was smaller than they expected, so be aware that the dimensions are 4.72 by 6.3 inches.
5

A Minimalistic Diffuser That Will Blend In With Any Space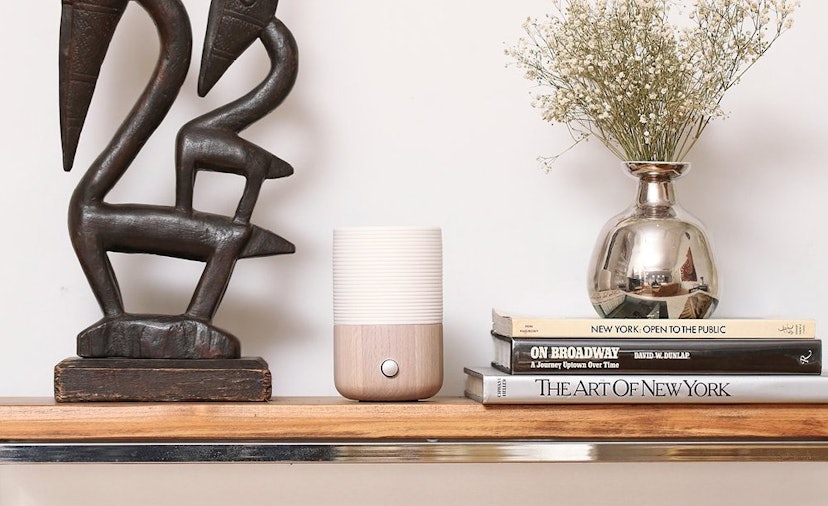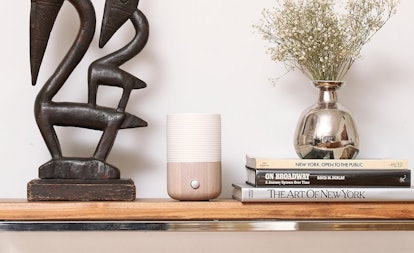 Pilgrim Sofia Waterless Nebulizing Diffuser
$100
Amazon
A handmade ceramic cover, a warm oak-wood base, and a relaxing meditation light give this one a homier, more traditional feel.
Pros: Thanks to their intricate glass tanks, most nebulizing diffusers on the market have a sort of futuristic-lab-equipment feel. If you're looking for more of an adaptable, minimalist look, the Pilgrim Sofia is for you. It still transforms essential oils into a gaseous state before releasing them into the air, but the glass reservoir is hidden under a handmade ceramic cover. The soft-colored oak wood base and the warm meditation light give it a more cozy, traditional look. "I chose this diffuser because it's the one of the best-looking nebulizing diffusers," one reviewer says, and according to them, it's even more beautiful in person.
Cons: This one requires regular cleaning, or else the mist output will noticeably slow down. Reviewers also state that it's not the quietest, either.
Elite Daily may receive a portion of sales from products purchased from this article, which was created independently from Elite Daily's editorial and sales departments.
Source: Read Full Article