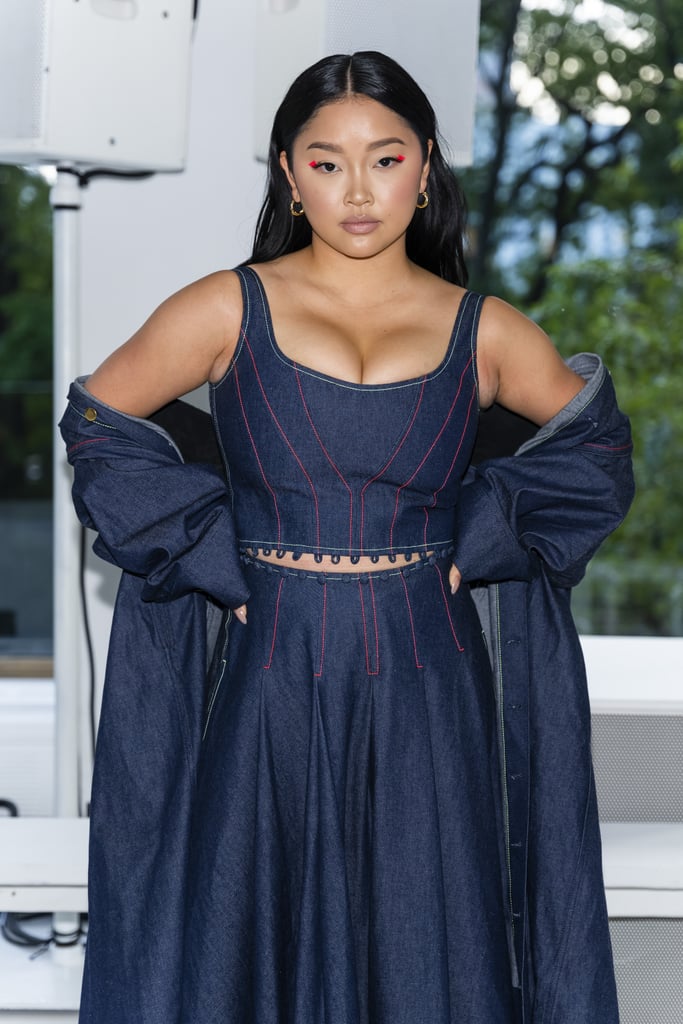 Lana Condor and Dove Cameron Wowed in Corsets and Cutout Dresses at Prabal Gurung

Lana Condor commanded the room at the Prabal Gurung spring 2023 runway show during New York Fashion Week, clad in a head-to-toe denim look by the designer. The actress arrived in a dark blue corset top that boasts a curved neckline and pink stitches running along the front. She paired it with a matching ankle-length skirt and dialed up the drama with a long coat and black platform boots. The 25-year-old star kept her neck bare, putting her cleavage on full display, and accessorized only with small gold hoops. Her dark waves — parted in the middle — fell past her shoulders, framing her rosy makeup accentuated by a hot-pink eyeliner.
Condor made a stylish entrance at the industrial venue on Sept. 10, joining Dove Cameron among other notable figures. Cameron opted for a more glamorous ensemble, donning a scarlet midi dress with an alluring thigh-high slit and chest cutout. The top also featured ties around her midsection for a more seductive feel. The singer completed her look with pointy black velvet pumps and matched her red eyeliner to her dress.
The spring 2023 collection was a reflection on the state of the world post Roe v. Wade. Gurung set out to give his female models visibility with a series of hard-to-miss ensembles, many of them drenched in shades of hot pink and bright red. "The status quo seemed even more emboldened to ensure their regressive values ruled the day, especially against values and bodies that are not their own," the designer wrote in the show notes. With that sentiment, the show opened on a one-shoulder halter minidress with red stripes, followed by another vivid pink cutout top and draped skirt. A parade of sheer blouses, bustier tops, and bralettes bluntly exposed the breasts, conveying a sense of rebellion. But perhaps the catwalk was stronger in messaging than delivery, as many looks felt undone and slightly overstyled with latex opera gloves and lace-up heels.
Still, the message is relevant in our current climate and is a theme other designers have referenced in their spring 2023 collections. Ahead, catch a glimpse of the runway, and see Condor and Cameron posing together.
Source: Read Full Article