Excuse me, do you have the remote? Perfect. Cue "The One Where We Had Our Own Friendsgiving," please! Then, pass the bowl of mashed potatoes or a slice of pizza my way. (Did we order the Joey special? Two pizzas are better than one, and that's not a "moo" point.) All jokes aside, the most memorable moments in Friends arguably come from the Thanksgiving episodes. Those are the episodes that some of us wish we could be a part of — for the touch football games, trifle-making incidents, and every turkey with sunglasses in between. Well, I hosted a Friends-inspired Friendsgiving with my besties, and in the words of Janice: "Oh my god!" It was a dream come true for every fan of the show.
We recreated Central Perk in the kitchen, and sang our own rendition of "Smelly Cat." There was lots of food and chocolate chip cookies, courtesy of a not-so-secret recipe. Despite throwing everything together at the last-minute, we pulled it off. And you can, too.
Start by gathering up your girls. Find the friend in your crew who's just as free-spirited and quirky as Phoebe; the friend who's super organized like Monica; and the friend who's daring and fashion-forward like Rachel. Then, pick out a '90s outfit, like a crewneck sweatshirt or a pair of overalls, and grab a polaroid camera. Here are some other details from what went down in our episode, just in case you need some extra inspiration.
1

There Was A Central Perk In The Kitchen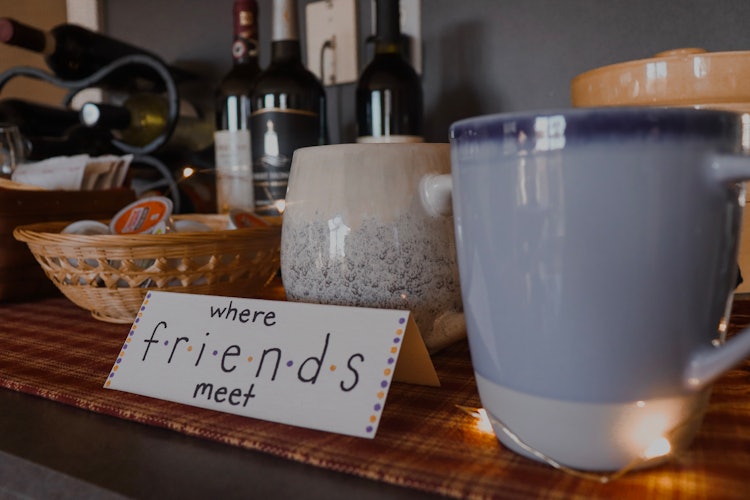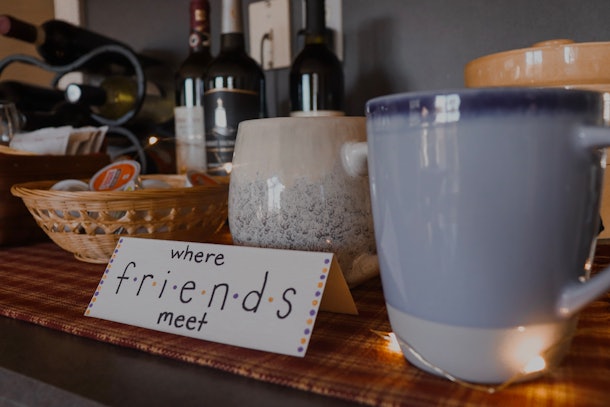 My love for coffee shops began with this show. Watching the gang hang out on the couch and drink cappuccinos out of big mugs became my favorite thing, from that very first scene. So, naturally, my besties and I had to recreate Central Perk for our own Friendsgiving. (It was only right.)
We set up baskets with hot chocolate packets and tea bags, and put fairy lights around the mugs. We even made little signs, in the spirit of getting together and having our own sweet spot where friends can meet.
2

…And Everybody Brought Their Own Big Mug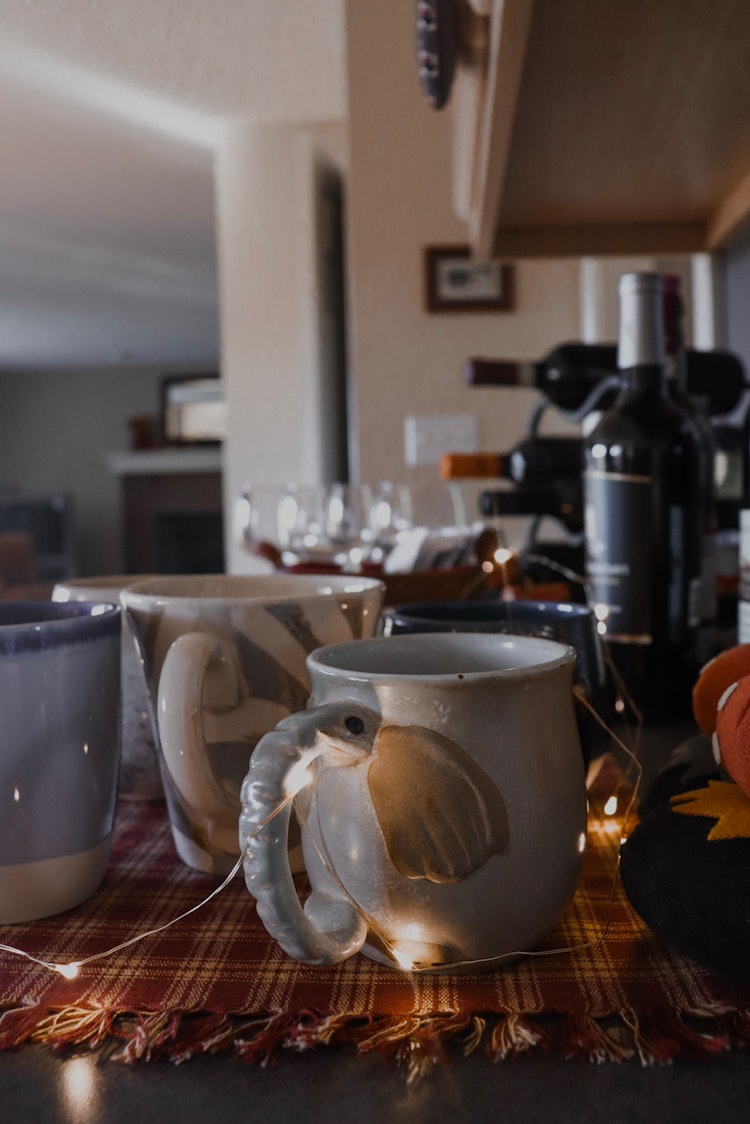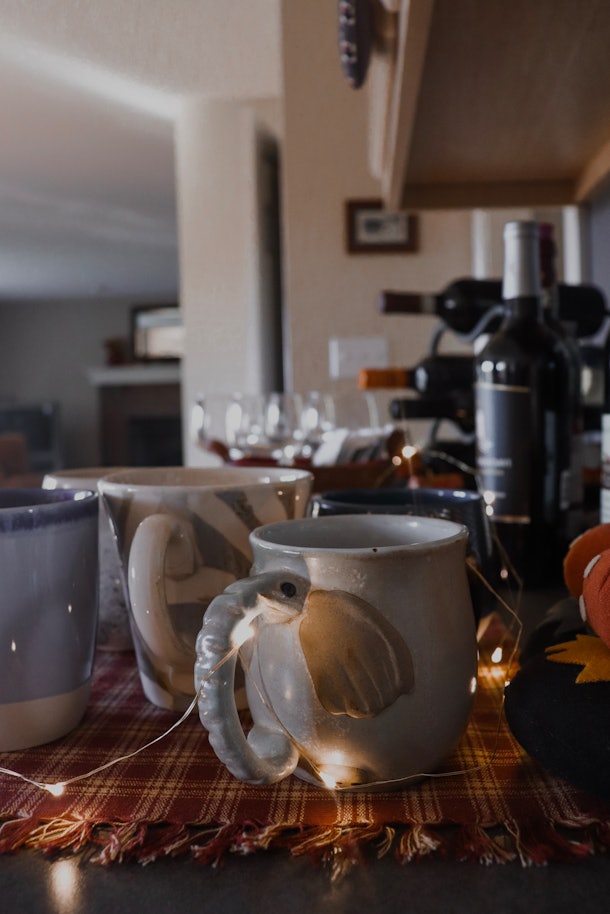 In addition to the aesthetically-pleasing lights, wine bottles, and other brew-tiful details, everybody brought their own big mug to drink out of. Drinking coffee or a festive hot drink is more fun that way, right? Right.
Some mugs were elephants and others had cool designs. If you ever look closely during an episode of Friends, you will notice that no two mugs are ever the same at Central Perk. It's a quirky detail, and one that must be taken into consideration for a truly inspired Friendsgiving.
3

We Ate Lots Of Thanksgiving Food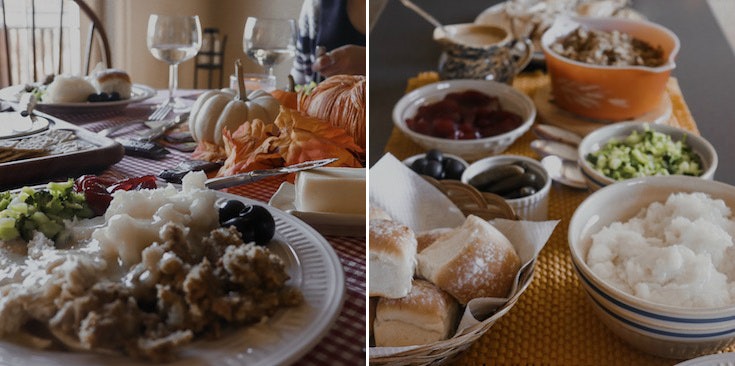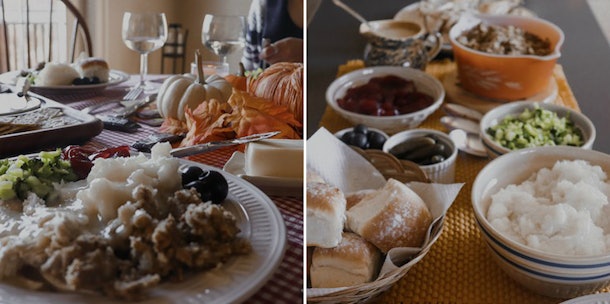 Next up was the mashed potatoes, chicken, stuffing, and cranberry sauce. We cooked up quite a spread (with a little bit of help) and put everything out on the counter. Unlike Chandler, my besties and I love the food around this time of the year. So, our menu was pretty traditional and festive.
In retrospect, we could've baked some homemade mac and cheese or ordered a couple of pizzas from the shop down the street. Next time, OK?
4

…And Talked Over Cheese And Wine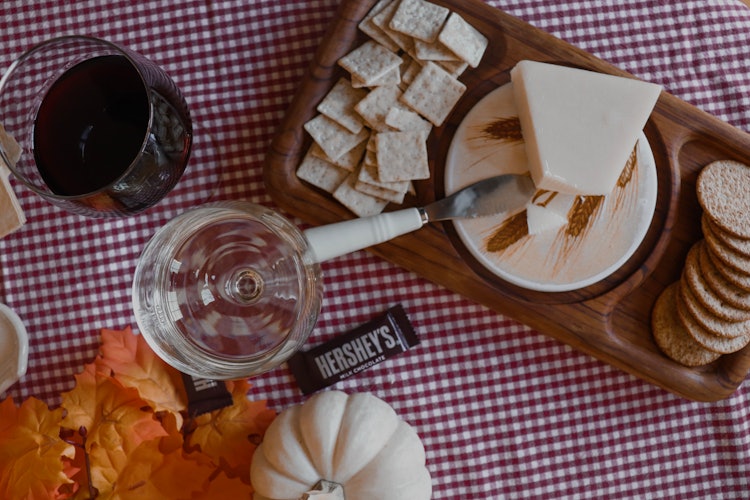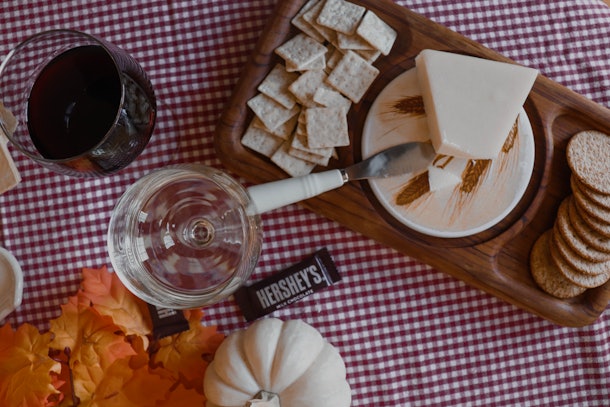 There's nothing to wine about when you're spending your weekend eating good food and catching up with your crew. It's that plain and simple. Especially when you're hosting a Friends-inspired Friendsgiving, it's all about being grateful and enjoying some good company.
Throughout the day, my besties and I talked over cheese and wine. It sort of reminded me of any time Monica, Rachel, and Phoebe would hang out in that purple apartment. There was never set topics of conversation in those episodes — just gossip, nonsense, and lots of laughing. This was no different, and we let the grape times roll.
5

There Were Insta-Worthy Props For Pictures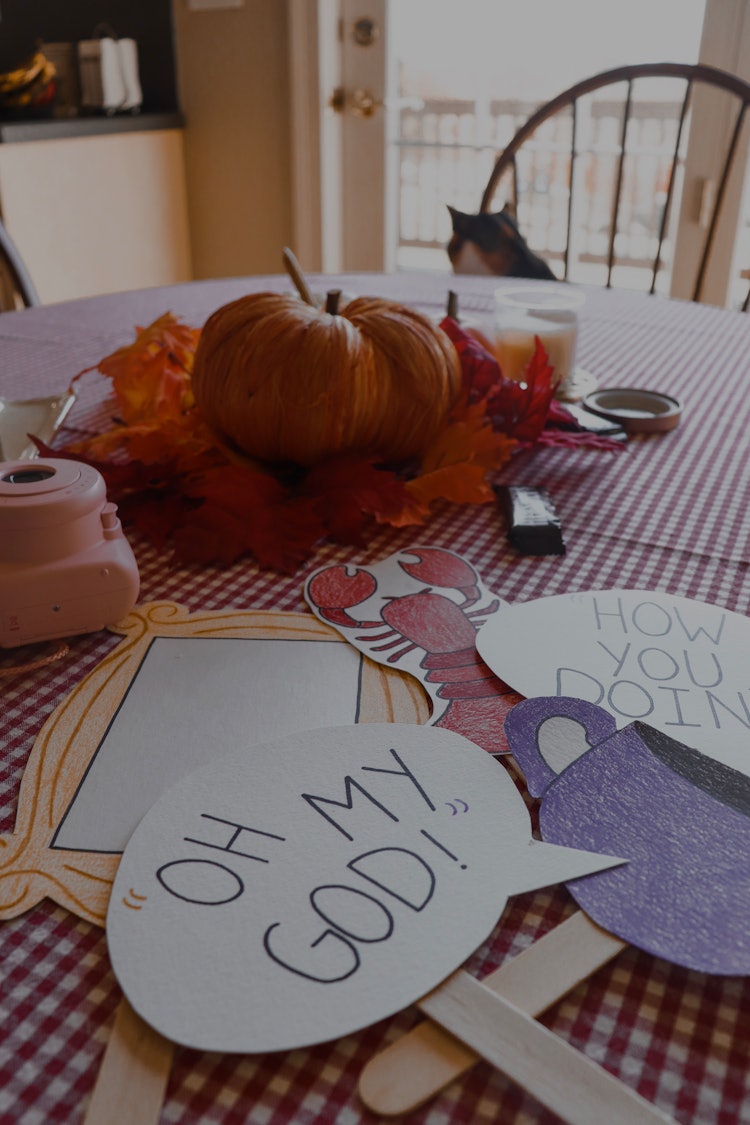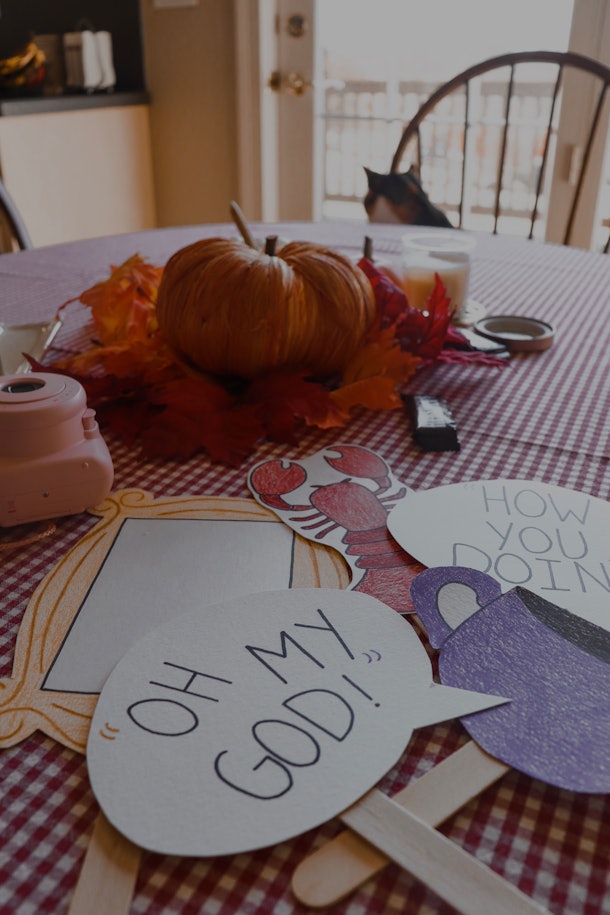 You have to take some Insta-worthy pictures of your Friendsgiving, or it didn't happen. That's just the rule. But, hosting a Friends-inspired event called for props that were straight out of the show.
The night before the "big" event, I made a bunch of different signs that could be used for pictures. There were iconic quotes in speech bubbles, like Joey's catchphrase: "How you doin'?" There was also a lobster, a mug, and the picture frame from the back of the door. (Now, where can I actually get one of those frames? Asking for a friend.)
6

…And We Had A 'Friends'-Inspired Photo Shoot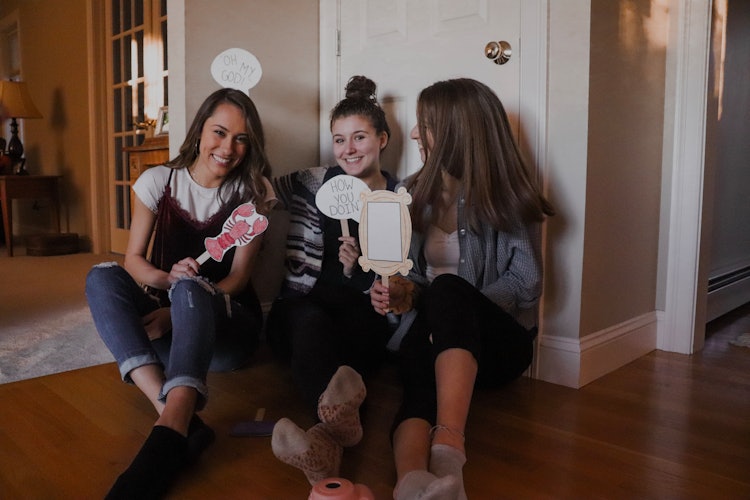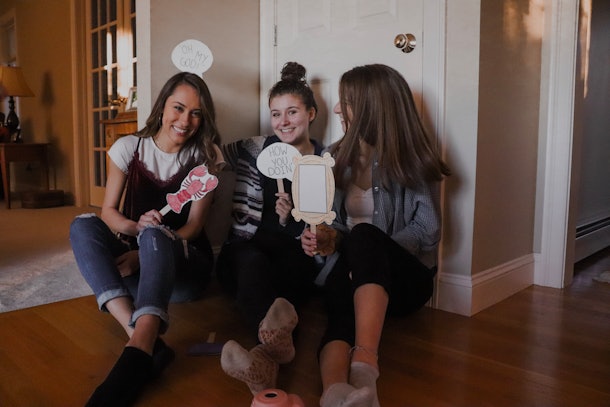 At one point in the afternoon, we used the props for a photo shoot. We posed in the kitchen with the quotes and our '90s-inspired outfits on, and got a few cute candids.
In this moment, we also realized that my camera has this self-timer mode that takes 10 pictures in a second's time. To say the least, we came to that realization in the middle of taking pictures — and the faces we made in those photos are well, interesting and low-key hilarious. (You're bound to have those kind of moments during your own Friends-inspired Friendsgiving, too.)
7

We Broke Out A Guitar And Sang "Smelly Cat"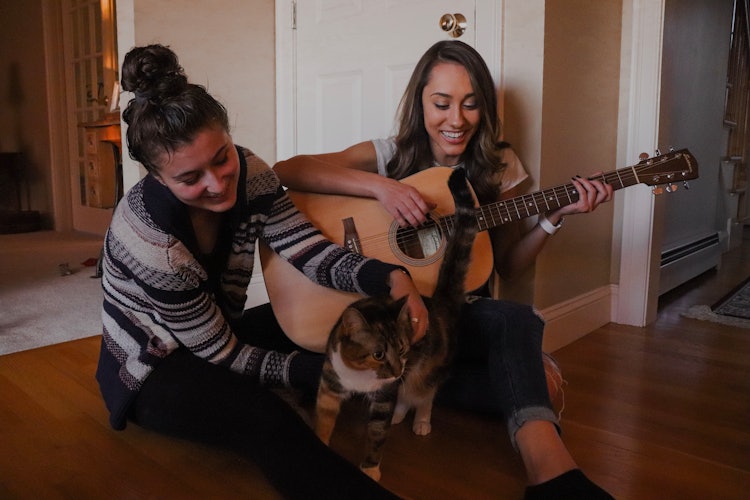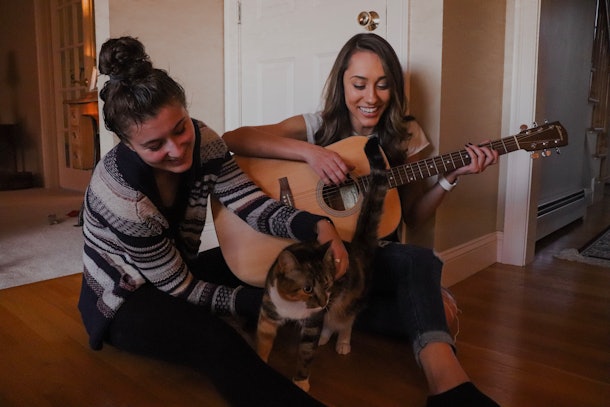 What would a party be without some music? Sure, some of your friends would just take over the AUX cord and play old school rock and roll or hits off of the radio. But, a Friends-inspired Friendsgiving is better when you break out a guitar and sing your own rendition of "Smelly Cat."
None of us actually know how to play guitar, so this was a very loose version of the iconic song that Phoebe sings in the coffee shop. Let's be honest: It's a quirky song, but one that you've come to love as a true fan of the show. To say the least, my cat wasn't too impressed by our lack of talent. Sorry!
8

…And Ended The Night Baking Nestlé Toll House Cookies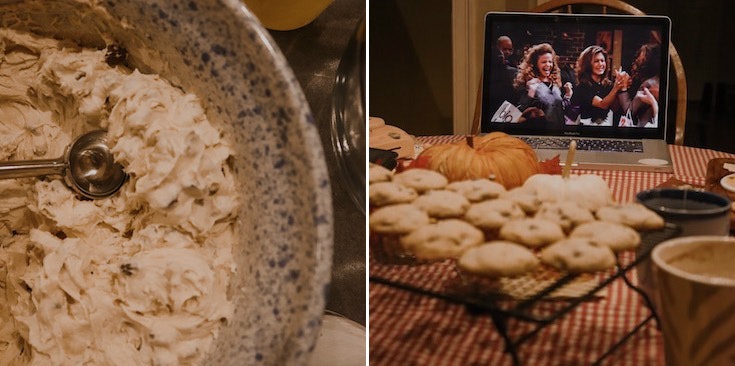 Last but not least, the night ended with baking chocolate chip cookies, using the recipe that Phoebe claimed was her grandma's secret in the episode, "The One with Phoebe's Cookies." We whipped up the batter, and snuck some cookie dough from the bowl. When all was said and done, we brewed hot chocolate in those big mugs, ate a pan's worth of sweet treats, and watched the show from the very first season.
Back in episode one, the cast looked so young. As a fan, you didn't know that you'd come to love the sarcastic jokes from Chandler or the Thanksgiving episodes so much. Now, you're maybe planning on hosting your own Friends-inspired Friendsgiving. Did our episode help you out a bit? Sweet! You can always count on us to be there for you.
Source: Read Full Article