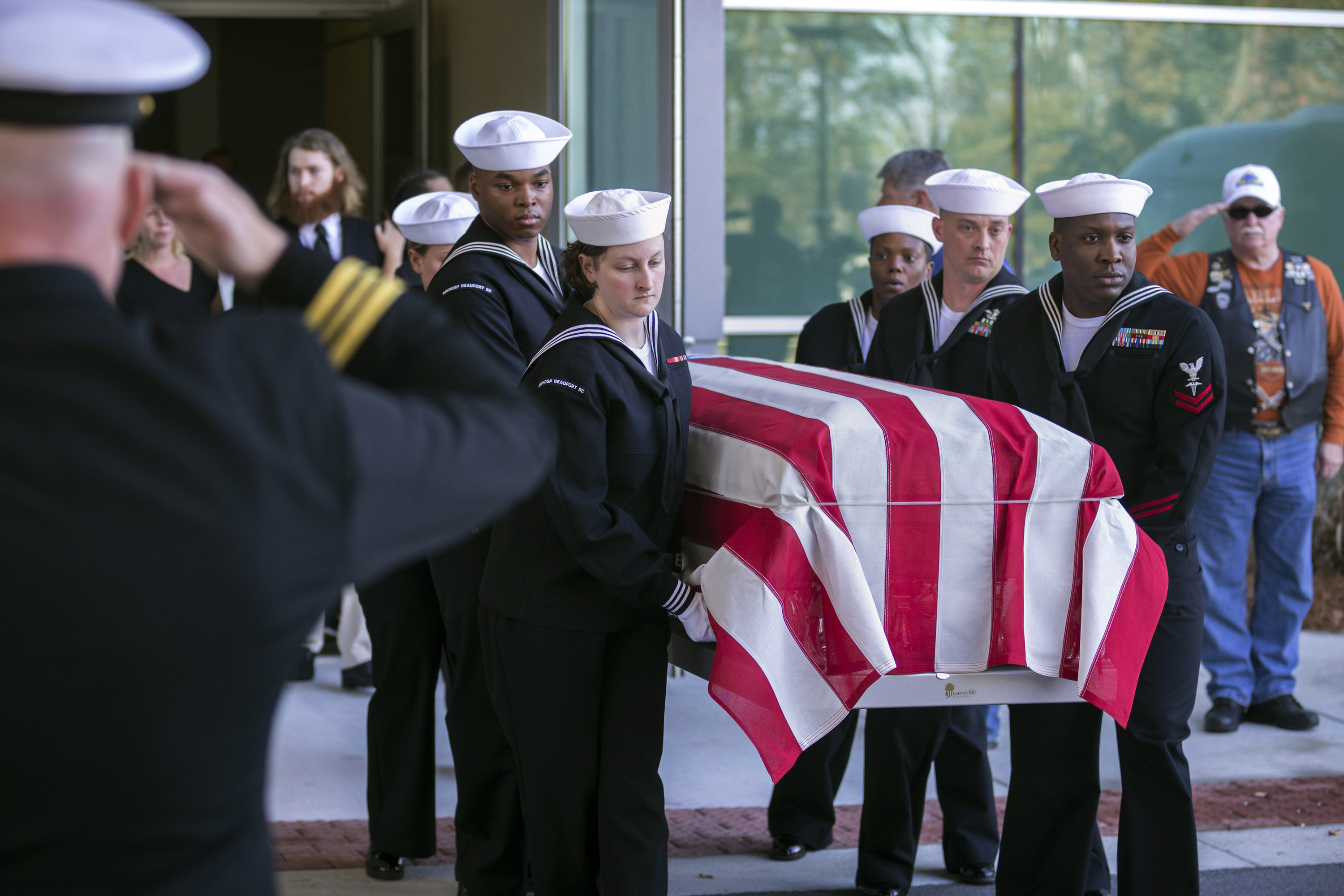 Members of a Navy honor guard carry the casket of Navy Airman Apprentice Cameron Walters, one of three sailors killed by a Saudi shooter at Naval Air Station Pensacola.
The mass shooting at the Naval Air Base in Pensacola, Florida, that left three sailors dead was an act of terrorism, Attorney General William Barr said Monday.
Mohammed Alshamrani, a second lieutenant in the Royal Saudi Air Force, had expressed anti-American and anti-Israeli views on social media, including just two hours before the Dec. 6 attack, Barr said.
"This was an act of terrorism," Barr told reporters more than a month after the attack.
Alshamrani acted alone, officials said, and investigators have not found evidence that he was influenced by any one organization.
The investigation into the deadly shooting did, however, reveal Alshamrani held anti-American views and, during the deadly shooting, had made comments critical of the US military abroad.
The shooting lasted 15 minutes, Barr said, and it took eight minutes for law enforcement to engage and kill the shooter.
The investigation also revealed more than a dozen other Saudi Arabian students at the base held anti-US or jihadist views, and Barr said the attack suggested US officials needed to review the vetting process for the programs that allow foreign nationals to train at US bases.
"I wouldn't suggest or speculate the improved vetting would have prevented this particular event, but I do think it's clear—and the Department of Defense agrees—that we have to improve our vetting procedures," Barr said. "We have to remember that there are thousands of allied pilots and other military personnel who receive training in military bases throughout the United States."
Two hours before the Dec. 6 attack, FBI Deputy Director Dave Bowdich said Alshamrani made an anti-US social media post that was "similar" to Anwar al-Awlaki, a Yemeni-American imam who was believed by US officials to acted as a recruiter al-Qaeda.
As he targeted unarmed victims in the base, Barr said, Alshamrani also fired shots at a picture of President Donald Trump and one of his predecessors.
Mohammed Alshamrani
Alshamrani was killed by a sheriff's deputy responding to the shooting.
Alshamrani was one of several Saudi Arabian citizens training at the Naval Air Station Pensacola, a practice between the two ally countries for years.
FBI officials said at the time they were working with the "presumption that this was an act of terrorism," but the motive behind the mass shooting had remained unclear.
Several news outlets reported that a week before the mass shooting, Alshamrani had hosted a dinner party with three other students where they watched videos of mass shootings in the US.
Shortly after the shooting, six other Saudi students studying at the station were also detained by officials for questioning. Their detention followed reports that some of the foreign national students had recorded some of the shooting at the station. Barr said Monday those students appeared to be unrelated to the incident and had just started recording the commotion after the shooting began.
Defense Secretary Mark Esper later told Fox News that the Pentagon would be reviewing how foreign nationals are vetted before taking part in similar military training programs.
Although no other Saudi students were found to be linked to the incident, Barr said the Saudi Arabian government has recalled 21 students, after the US investigation into the shooting revealed the students had been found with material "unbecoming of an officer." They included 17 students who had jihadi or anti-American content on their social media and electronic devices, Barr said. Fifteen students were in possession of child pornography.
The US attorney's office has reviewed the 21 cases and found there was not enough evidence to file charges against any of the students, Barr said, although they could face charges in their home country.
"The kingdom has assured me that it will review each of these cases under their code of criminal justice and their criminal code," he said.
As part of their investigation, Barr said officials have been trying to get access to two iPhones that were used by the gunman. Moments before he was fatally shot, Alshamrani was seen trying to destroy the phones by shooting at them.
FBI officials have been able to reconstruct the phones, but have not been able to gain access to them because of the phones' lock and encryption features.
The agency has obtained search warrants for the devices and asked Apple for help to unlock them, but the company has refused to cooperate with the request, Barr said.
"We have asked Apple for their help in unlocking the shooter's phone but, so far, Apple has not provided any substantive assistance," Barr said.
Federal officials have long been critical of Apple's locking features for their phones, including the company's decision not to cooperate with law enforcement's efforts to try to unlock the devices without the owner's password.
After Apple refused to help authorities unlock the phones of the perpetrators in a terror attack in San Bernardino in 2016, the FBI reached out to a third party to get access to the phone.
"We're not trying to weaken encryption, and data security is part of our mission," Bowdich said. "But even with a court order to date, we cannot access the contents fo the two phones."
More on this
Pensacola Naval Base Shooting: The FBI Is Investigating With "Presumption" Of Terrorism

Olivia Niland

·

Dec. 8, 2019
A Saudi Military Trainee Killed 3 People In Florida In The Second Shooting At A Navy Base This Week

Julia Reinstein

·

Dec. 6, 2019
A "Hero" Of The Pensacola Naval Shooting Died After Telling First Responders The Shooter's Location

Amber Jamieson

·

Dec. 7, 2019
Salvador Hernandez is a reporter for BuzzFeed News and is based in Los Angeles.

Contact Salvador Hernandez at [email protected]

Got a confidential tip? Submit it here.
Source: Read Full Article