The 75-year-old – who made his name starring in films of Shakespeare plays – was arrested at a Wetherspoons in Kent last year after allegedly pulling out the fake weapon to frighten employee Melissa Green.
Prosecutor Mary Jacobson told Maidstone Crown Court that McEnery also had what appeared to be a magazine of ammunition.
"He produced what Ms Green described as a black hand gun, apparently out of nowhere, pulled out the magazine, put it straight back, all in front of her," she said.
"She was very frightened and felt he was intending to frighten her. She immediately moved away from him and screamed for help."
As a colleague rushed to help, McEnery is said to have held the gun in the air and said "it's just a water pistol", before leaving the pub.
The jury were played CCTV of the toy being pulled out.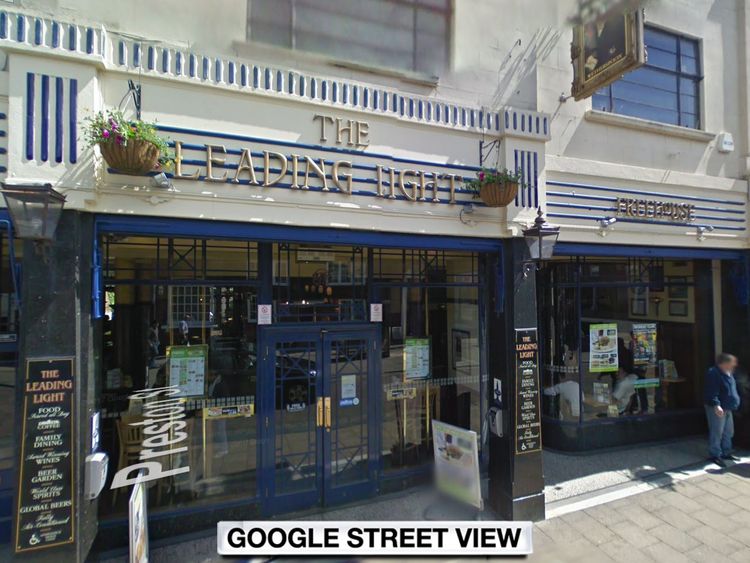 The incident happened on 8 August 2017 at the Leading Light pub in Faversham, which McEnery had previously been banned from.
Prosecutors said Ms Green had first asked him to leave after he followed her inside at the start of her shift at around 8.20am.
He was later arrested by armed officers at a houseboat in the town, from which the water pistol was also recovered.
McEnery admitted in a police interview that he had handled it in public.
However, he insisted that he never intended to frighten Ms Green, claiming he had gone to the pub to help her with her events organisation career and had only pulled out the water pistol as he searched for a pen.
He later told police that he was an alcoholic and did not remember a separate alleged incident involving the water pistol at another venue in the town, binElla wine and champagne bar.
Along with co-defendant Steven Majewski, 42, of Canal Road, Strood, he is accused of brandishing the same fake weapon while drunk at the bar between 1 July and 8 August last year.
The court heard one of the men allegedly threatened to shoot staff after they were refused service, before Majewski briefly pulled out the imitation gun.
McEnery – whose television acting credits include The Bill and Silent Witness – told police he could not remember the incident because he had been "slaughtered on Captain Morgan's rum".
But he admitted harbouring "scornful" feelings towards the bar and bemoaned that it was visited by "rich people with Ferraris, drinking champagne".
McEnery – once married to Dynasty actress Stephanie Beacham – denies possessing an imitation firearm with intent to cause fear of violence at the Wetherspoons, and he and Majewski deny a similar joint charge regarding the alleged binElla incident.
Majewski also denies another separate charge of possessing the same fake gun with the intent to cause fear of violence at another man's motorhome between 1 October and 31 October last year.
The trial continues.
Source: Read Full Article