While most people think of rosacea as a persistent redness of the skin, it can also result in rough texture, acne-like breakouts, and general swelling on the face. When there are so many potential irritants in skin care products — like artificial dyes and fragrances — it's important to use only the best products for rosacea that won't inflame your pre-existing condition.
A balanced beauty routine addresses skin concerns through multiple channels. For example, a cleanser that's best-suited for rosacea-prone skin might not be enough on its own. Finding supplemental products like toners, moisturizers, and creams will allow you to build a comprehensive skin care ritual that'll calm current flare-ups and keep potential irritation at bay. The best products for rosacea will be free of artificial scents and coloring and should also include calming, soothing ingredients that'll help alleviate persistent symptoms like redness, dryness, flaky skin, itchy bumps, and acne. But they should also help repair your skin's natural protective barrier, maintain its moisture levels, and keep your complexion clear, calm, and healthy, even in the worst months of winter.
Whether you've got a mild case of rosacea that leaves you with too-rosy cheeks or you're suffering from same major chapping that you wish would go away, this list contains five of the best skin care products for treating both of those issues and more.
1. The Best Soothing Cleanser For Rosacea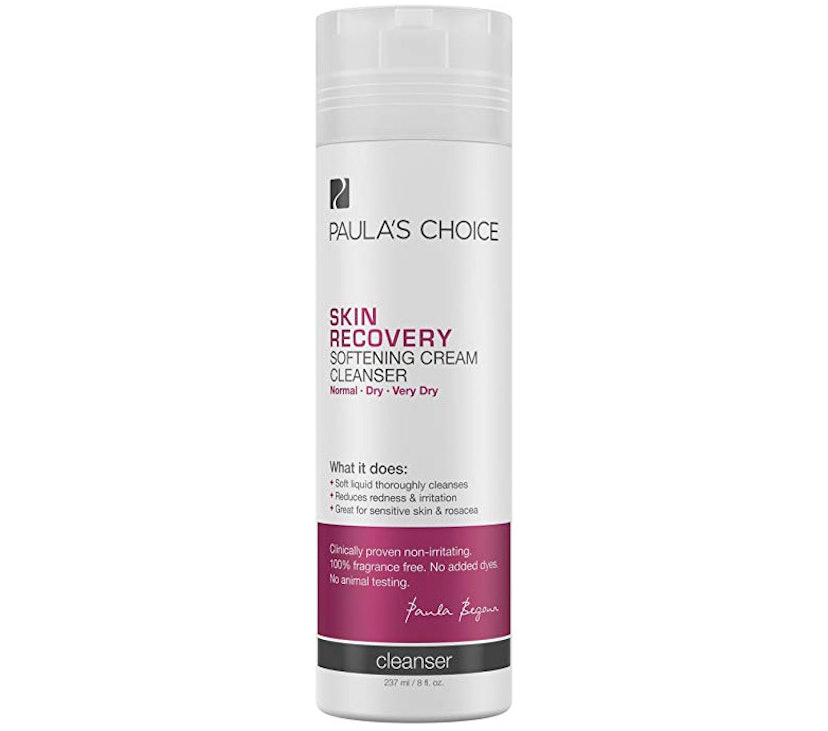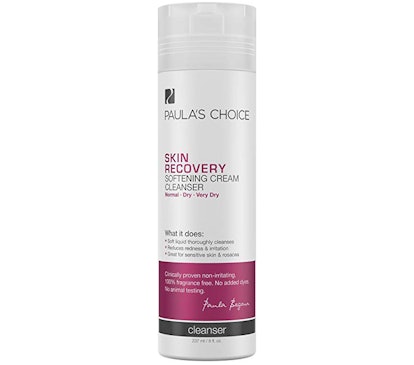 Paula's Choice Skin Recovery Softening Cream Cleanser
$18
Amazon
A gentle yet effective cleanser from one of my all-time favorite skin care brands that soothes afflicted skin while simultaneously leaving you squeaky clean and breakout-free.
This cleanser from Paula's Choice — my go-to brand for all things skin-related — is made for normal to very dry skin types, so folks with rosacea can trust that it won't strip your face of much-needed moisture. It's made without any artificial dyes or fragrances, like all Paula's Choice products, and is so hydrating that it leaves your skin baby soft once it's been washed off. The creamy formula contains ingredients like soybean oil and chamomile flower extract, which work to moisturize and soothe skin without clogging pores and causing breakouts. It's safe for all skin types, including sensitive, and is cruelty-free to boot.
2

The Best Redness-Reducing Moisturizer For Rosacea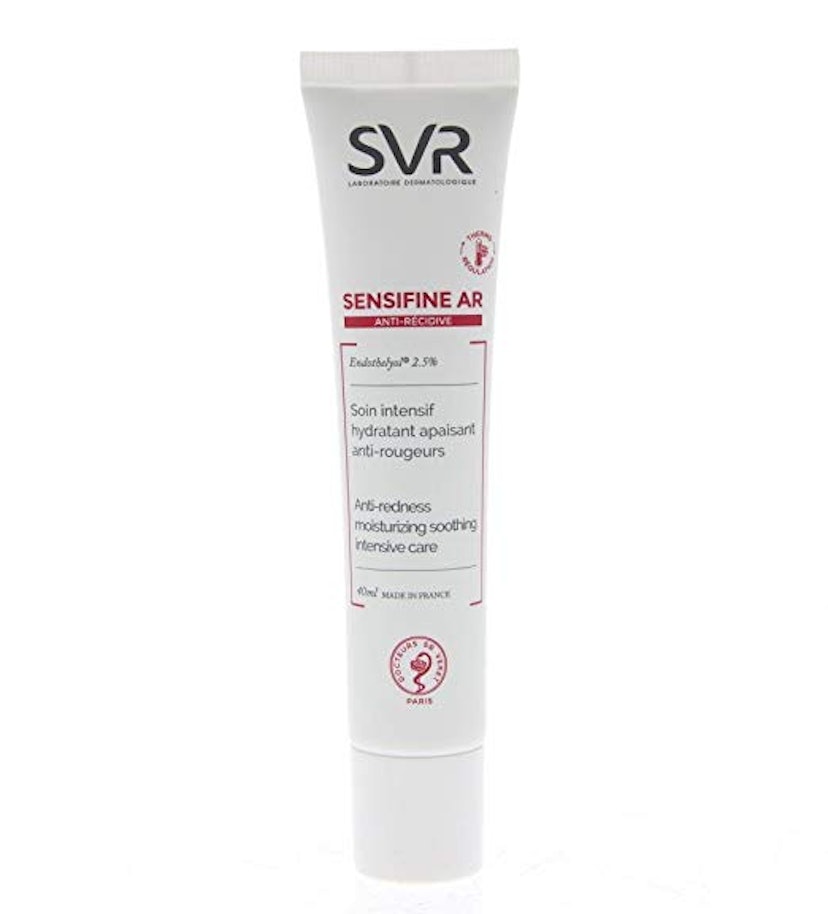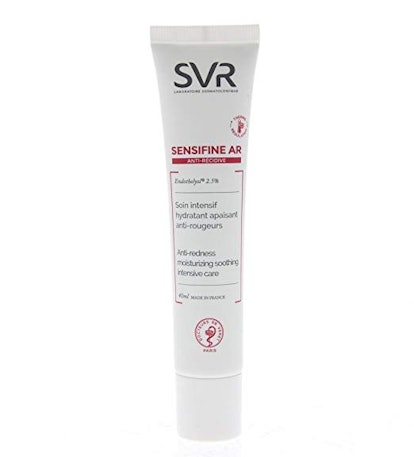 SVR Sensifine AR Moisturizing Soothing Anti-Redness Care
$23
Amazon
A lightweight moisturizer specifically formulated for rosacea and redness from a reputable French pharmacy brand.
French Pharmacy brand SVR makes super effective products that are often recommended by dermatologists, and this anti-redness moisturizing cream address rosacea like a champ. It's made with 2.5 percent endothelyol, which is known to drastically reduce general redness and the appearance of blood vessels by increasing skin circulation in the applied areas. Additionally, licorice extract and vegetable squalane help clarify and hydrate skin, which provides extra protection against rosacea outbreaks. The cream itself has a greenish tint but is not color correcting, so it becomes transparent once blended into the skin. Upon application, the wearer experiences an immediate cooling sensation, but the treatment itself works gradually over time, offering all-day relief for literally all skin types. And if that isn't enough, this hypoallergenic and non-comedogenic formula is also free of preservatives, fragrance, parabens, meaning it won't irritate your skin or clog your pores!
3

The Best Face Mask For Rosacea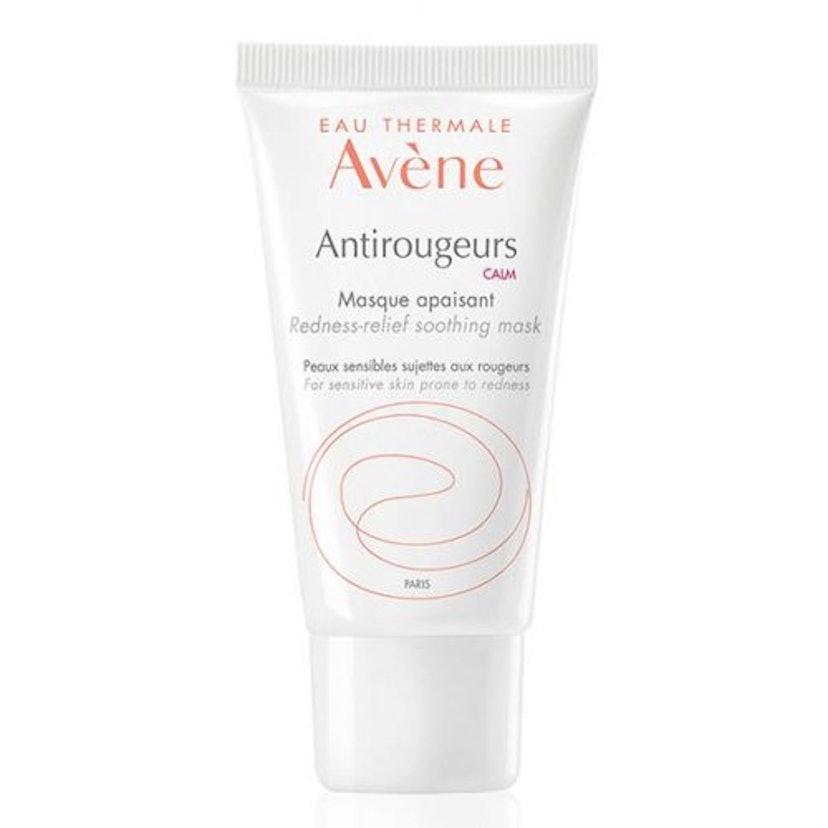 Avène Antirougeurs Calm Redness-Relief Soothing Mask
$35
Amazon
An amazing treatment for rosacea that provides instant from harsh symptoms and helps skin repair itself in order to protect against future flare-ups.
Avène makes a whole line of amazing redness-relieving products — their cleansing milk and day cream are both top notch — but this soothing mask stands out because of how hard it is to find a calming mask that really works. And yet, this one really does. It's the perfect healer for those days when your usual moisturizer just isn't cutting it; throw it on to prime your skin for a face of makeup or even as a quick-fix to reduce redness if you want to go comfortably bare-faced. I know she's pricey, but a little goes a long way. The thick, green-tinted formula is hypoallergenic and free of fragrance, soap, parabens, and oil, so it shouldn't irritate sensitive skin or cause breakouts. And because of a hefty dose of glycerin in the formula, it will help reinforce your skin's natural protective barrier and help it retain moisture. So with this product, you're not just getting immediate relief, but you're also equipping your skin with the necessary tools it needs to repair itself from rosacea over time.
4

The Best Color-Correcting Cream For Rosacea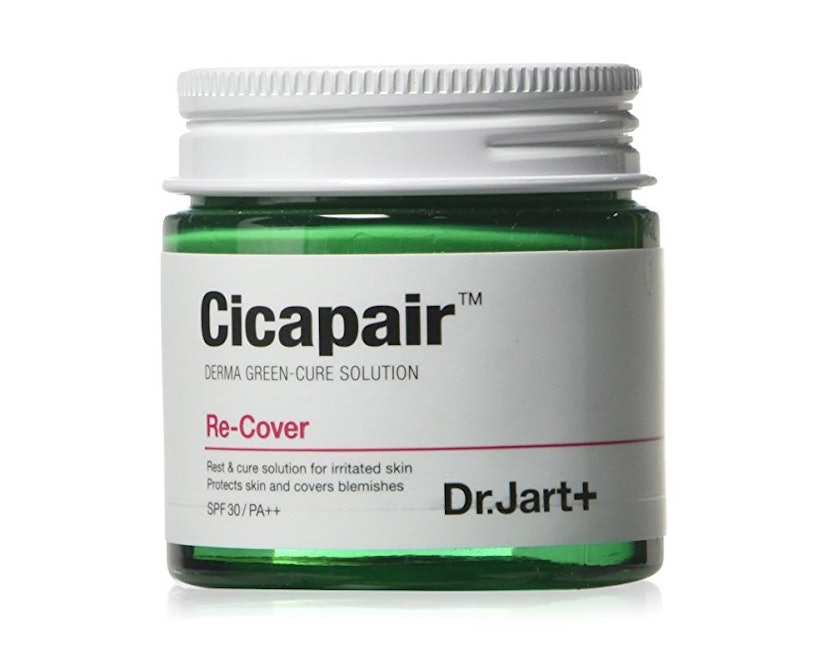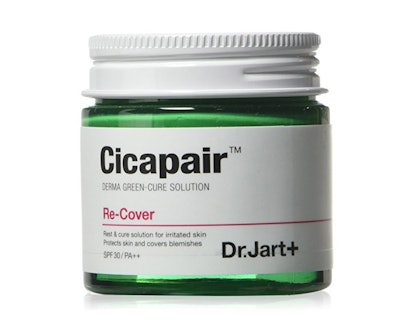 Dr.Jart+ Cicapair Re-Cover Cream
$27
Amazon
A green-hued color-correcting cream that helps repair the skin's natural protective barrier while concealing rosacea flare-ups and redness to the point of nonexistence.
Dr.Jart+ has an amazing line of Cicapair products that are specifically formulated for folks dealing with redness, and this cream, which doubles as a moisturizer and BB cream, is one of their best. It's tinted green and blends into a medium-coverage skin tint — though fair warning that it blends out beige, so if you have a darker skin tone, this might not work for you. The key ingredients here are centella and raspberry leaf extract, which help soothe skin, reduce redness, and brighten tone over time, ensuring that this product doesn't just cover, but it really does correct, too. One other thing to note is that it is on the thicker side, so if you're someone who typically prefers lightweight creams, you might not love the texture. However, because it's so concentrated, a little goes a long way.
5

The Best Redness-Reducing Tonic For Rosacea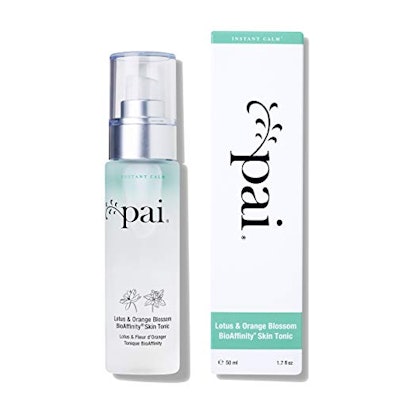 Pai Lotus and Orange Blossom BioAffinity Skin Tonic
$49
Amazon
While definitely on the pricer side, this all-natural tonic only has five-star reviews because of its highly-effective ingredients that provide fast-acting rosacea relief.
This rosacea-reliever from Pai is advertised as a tonic, works like a toner, and is applied in a fine mist like a spray. Three for the price of one; you just can't beat that. Formulated with gentle but totally effective all-natural ingredients like lotus water and orange blossom, this tonic soothes, hydrates, and preps skin for the rest of your routine and a full face of makeup, but it even works on its own to provide the fast-acting reprieve from rosacea symptoms that you need STAT. It's formulated specifically for very sensitive skin, so you know that no matter what you're dealing with — acne, dryness, allergies, or irritation — it should be safe for you to use. In fact, everything Pai makes is certified-organic, and this formula is also 100 percent alcohol-free and void of irritants like artificial dyes and fragrances.
Bustle may receive a portion of sales from products purchased from this article, which was created independently from Bustle's editorial and sales departments.
Source: Read Full Article